Round Square is an international conference held once a year by about 150 private schools around the world. Tamagawa Gakuen, a member school of Round Square, also holds the "Tamagawa Conference" sponsored by the Round Square Executive Committee every year for the purpose of giving students new experiences and deepening understanding of "IDEALS"- the six ideas of international meetings and Round Square.
This year the event was held from the 18th to 20th of July, and about 90 students participated in various workshops and discussions under the theme "Human – rights issues".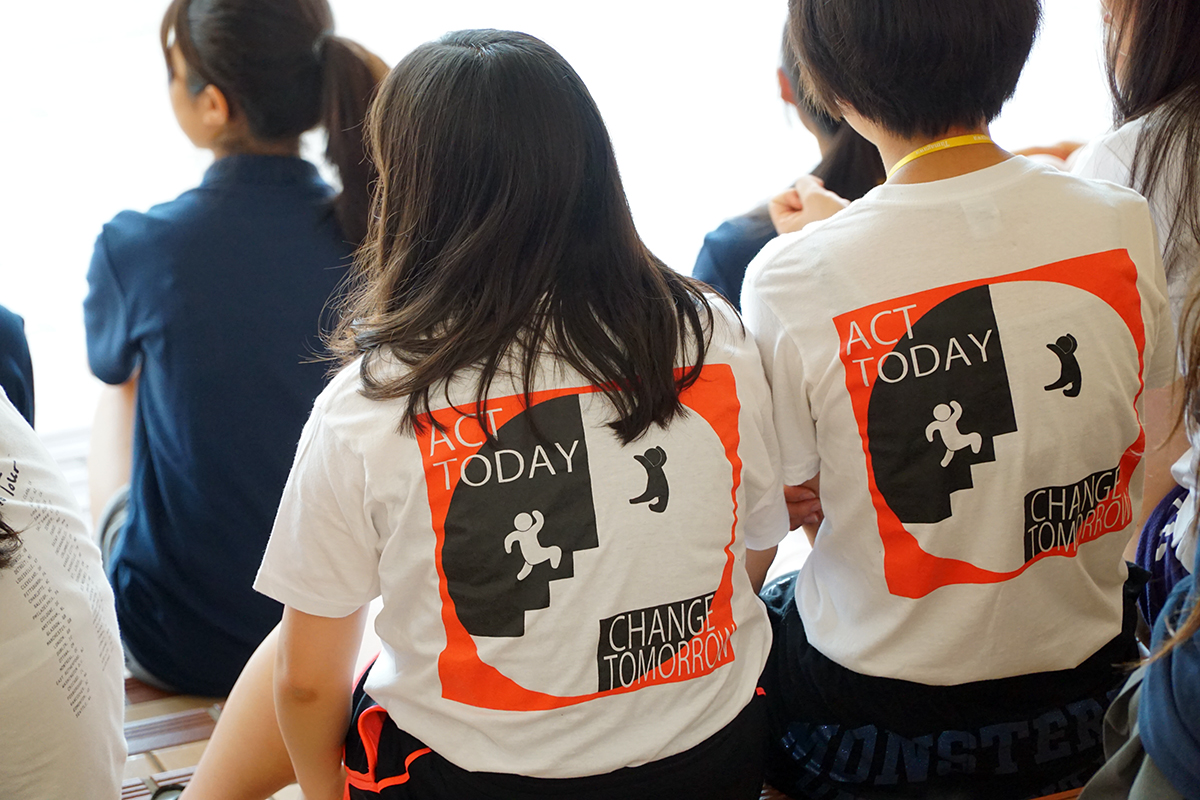 The first activity was "Tamagawa Adventure Program (TAP)".
Through various activities that aimed to highlight the importance of connections with other people the students were able to relieve their nervousness and connect with each other.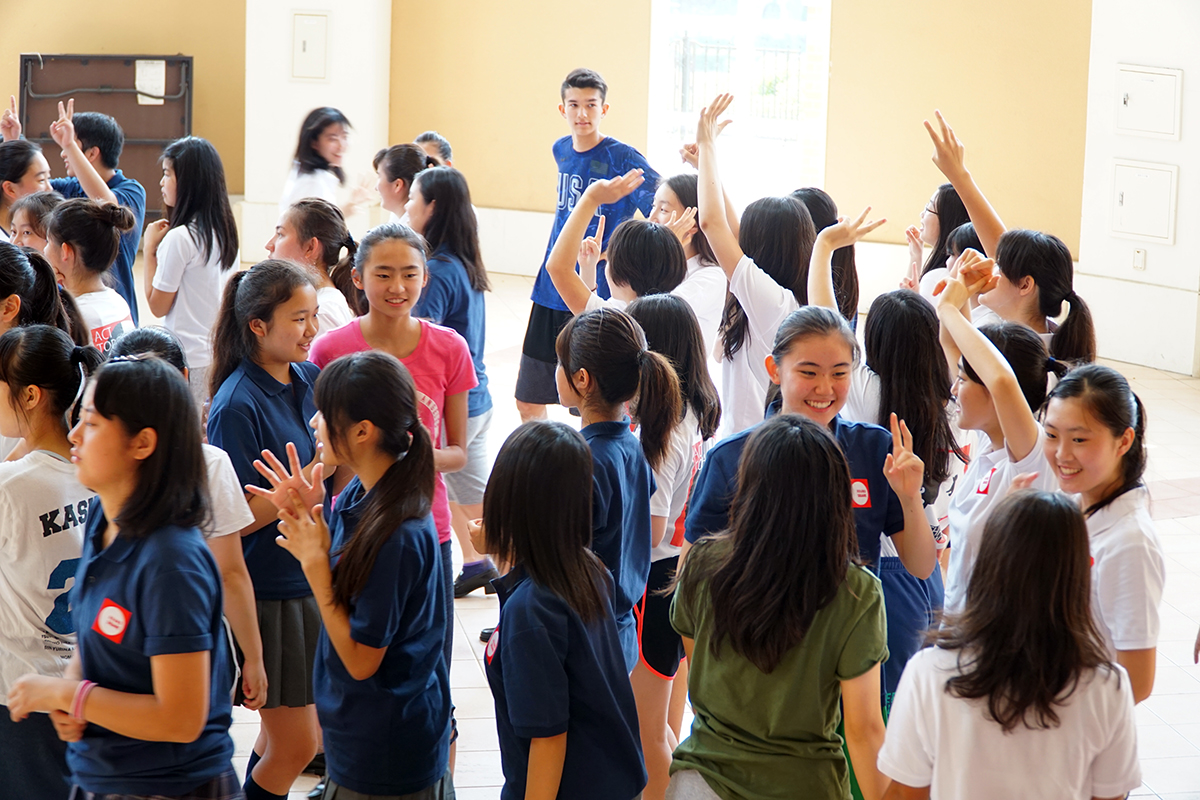 "When we go consider "human rights" and "human beings", we will eventually face the question of "What is 'myself'?". "Do you have something you are doing to learn about yourself? Please discuss it amongst yourselves." The students were instructed.
Students started doing activities after listening to the instructor's explanation. As they explained what they found from looking for common ground and a game where they had to transform their own weaknesses to strengths, they began to smile and feel at ease with each other.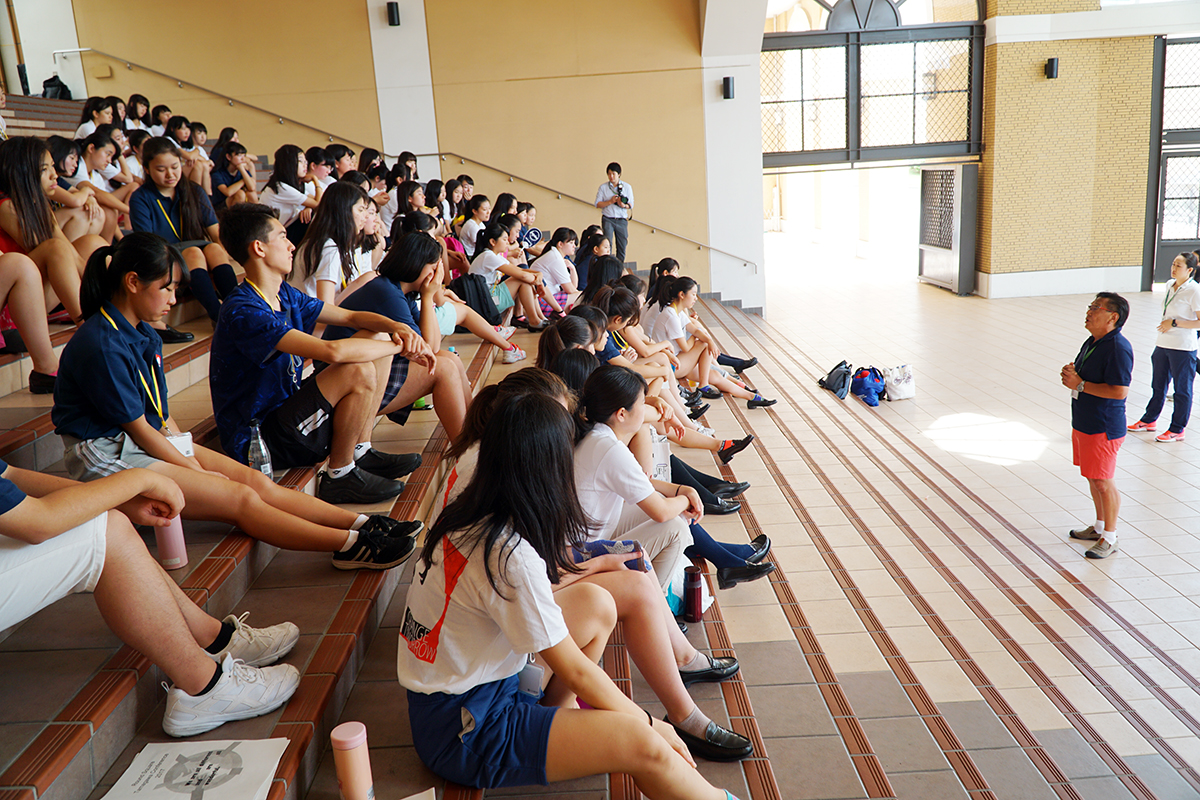 Through the activities during "TAP", they discovered unexpected aspects of themselves and their friends' personalities. Also they were able to relax and they were well-prepared to study and enjoy the next 3 days.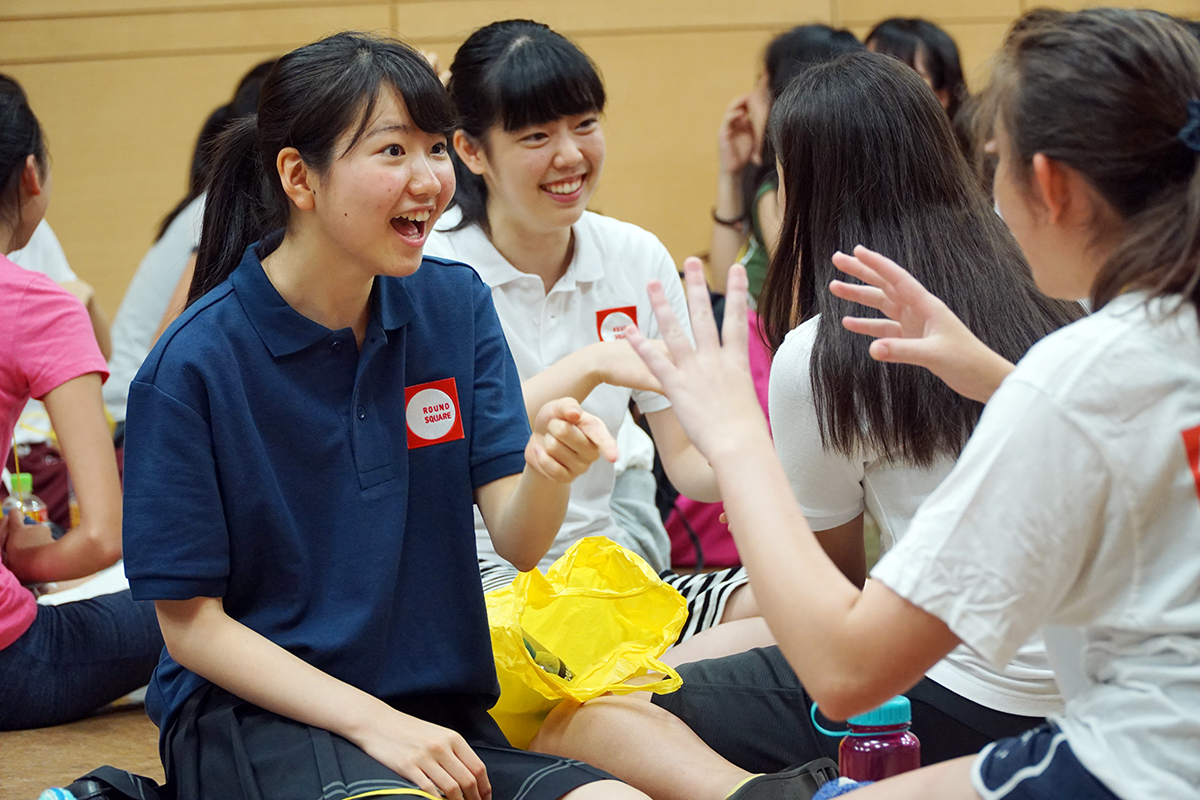 In the afternoon, the Model United Nations was held with an agenda of "child labor". Students selected a country to be a representative of from 15 countries in the developing or developed worlds. They worked to come up with solutions which could benefit all countries.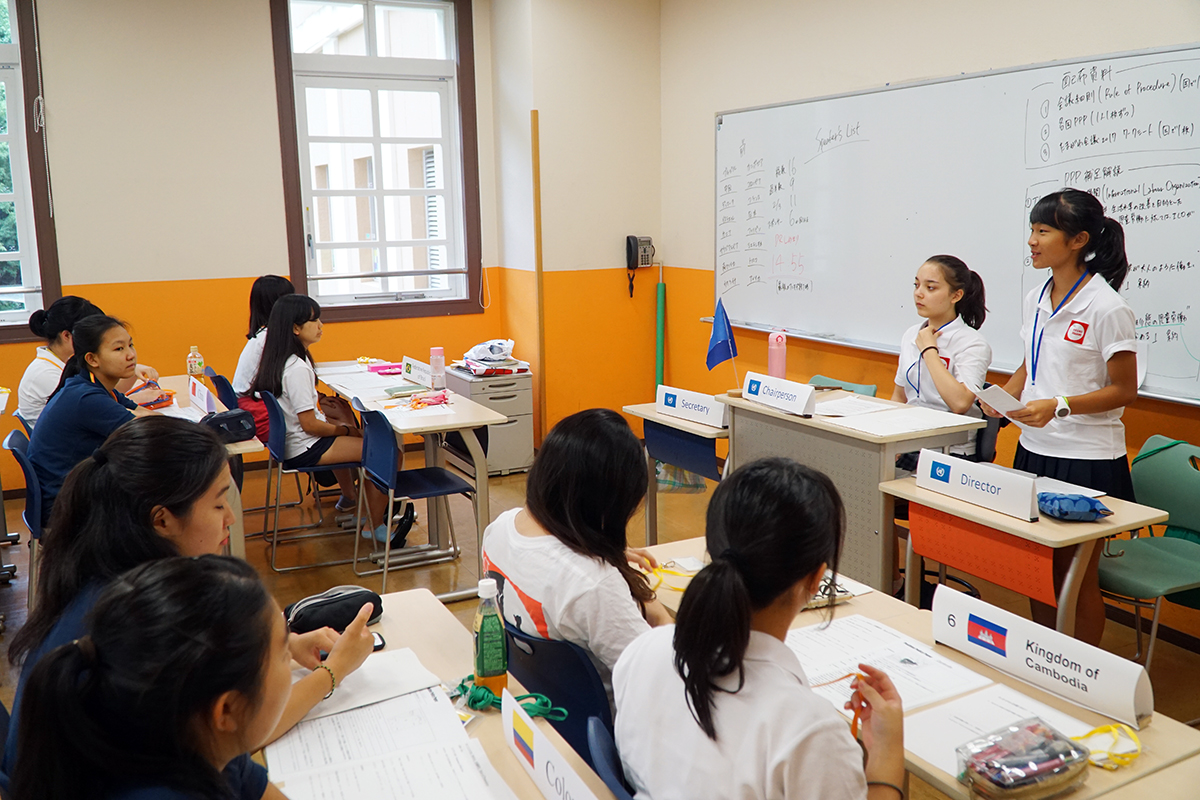 "I am reviewing education to eliminate child labor, I am looking for a country who can support that. When my country develops I will supply my country's supplies."
"I would like you to spread knowledge on child labor problems in developing countries to developed countries."
While expressing their views, active discussions were held to make better solutions for each country.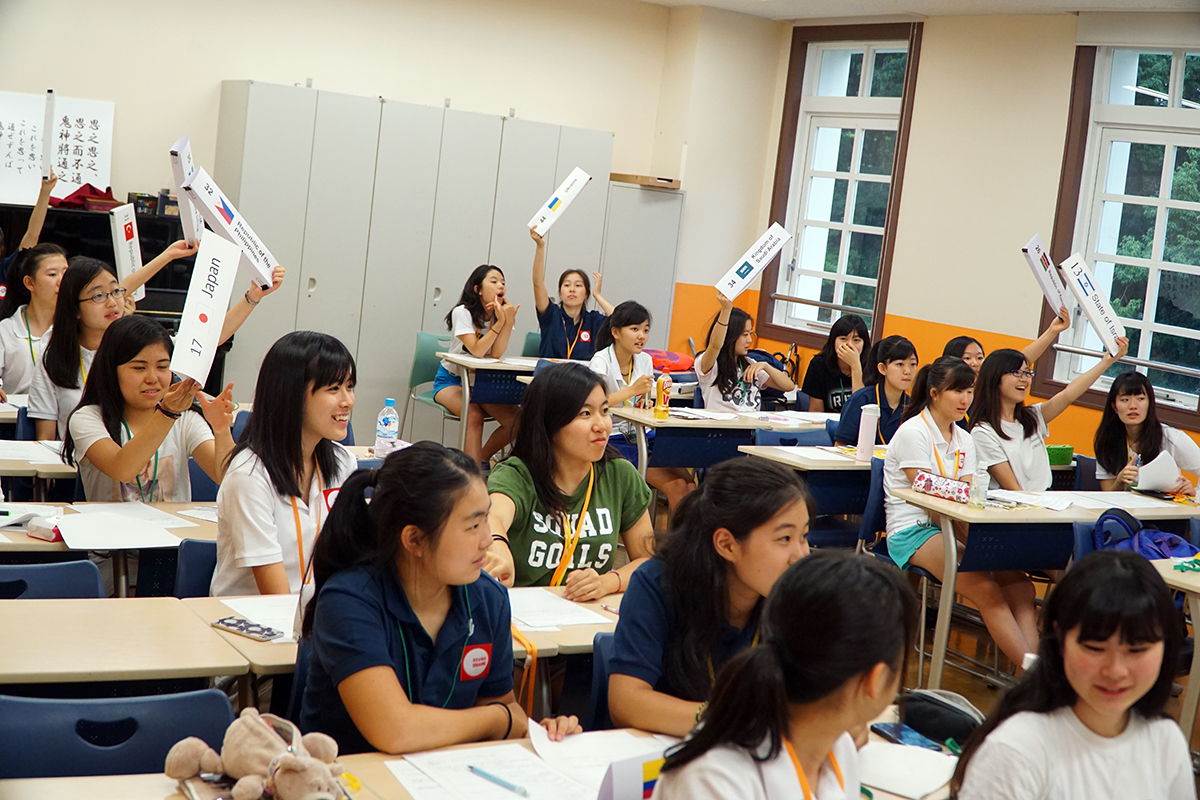 In the end, the different countries successfully created a proposal that was mutually beneficial and it passed. Happy with having solved the problem the students smiled in success.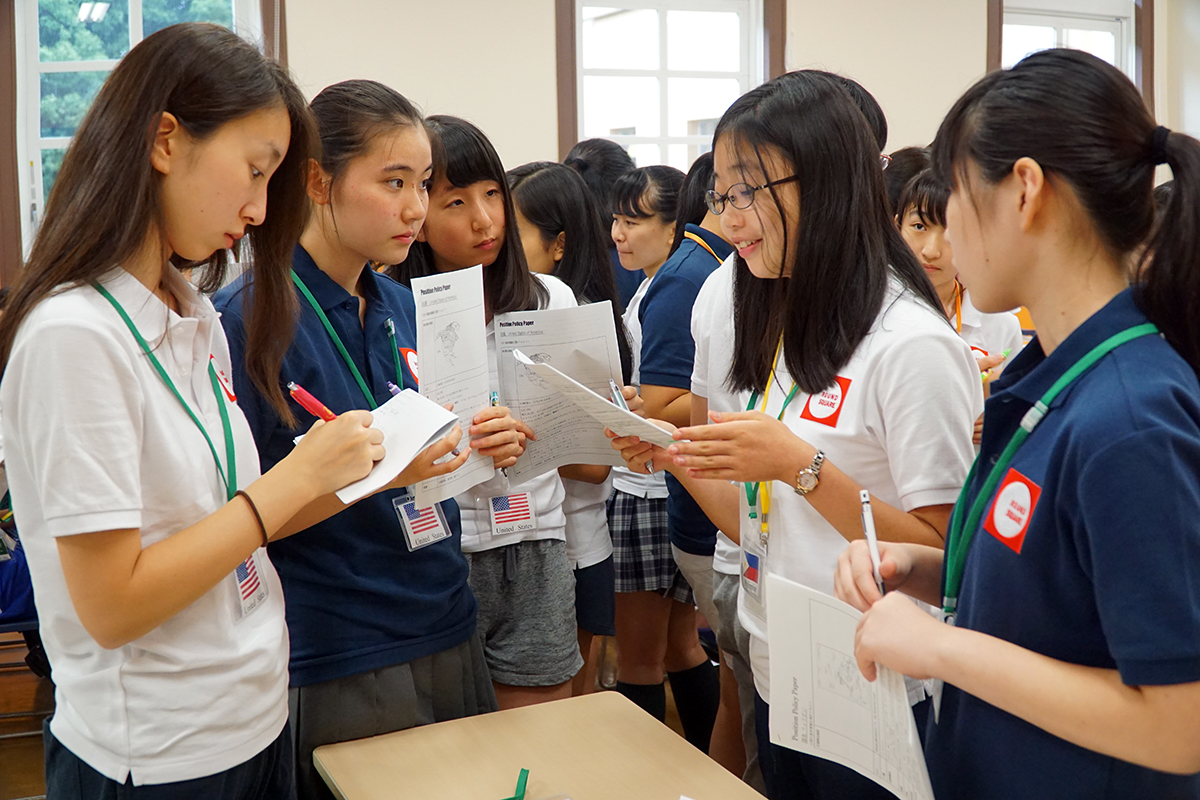 On the second day, the Global Career Course and Baraza, a group discussion of the contents of the course lecture, were held.
Mr. Fumino Sugiyama was invited as a lecturer who could further understanding of sexual minorities (LGBT) and promote supporting activities. Based on his own experiences, he talked about the current situation surrounding sexual minorities.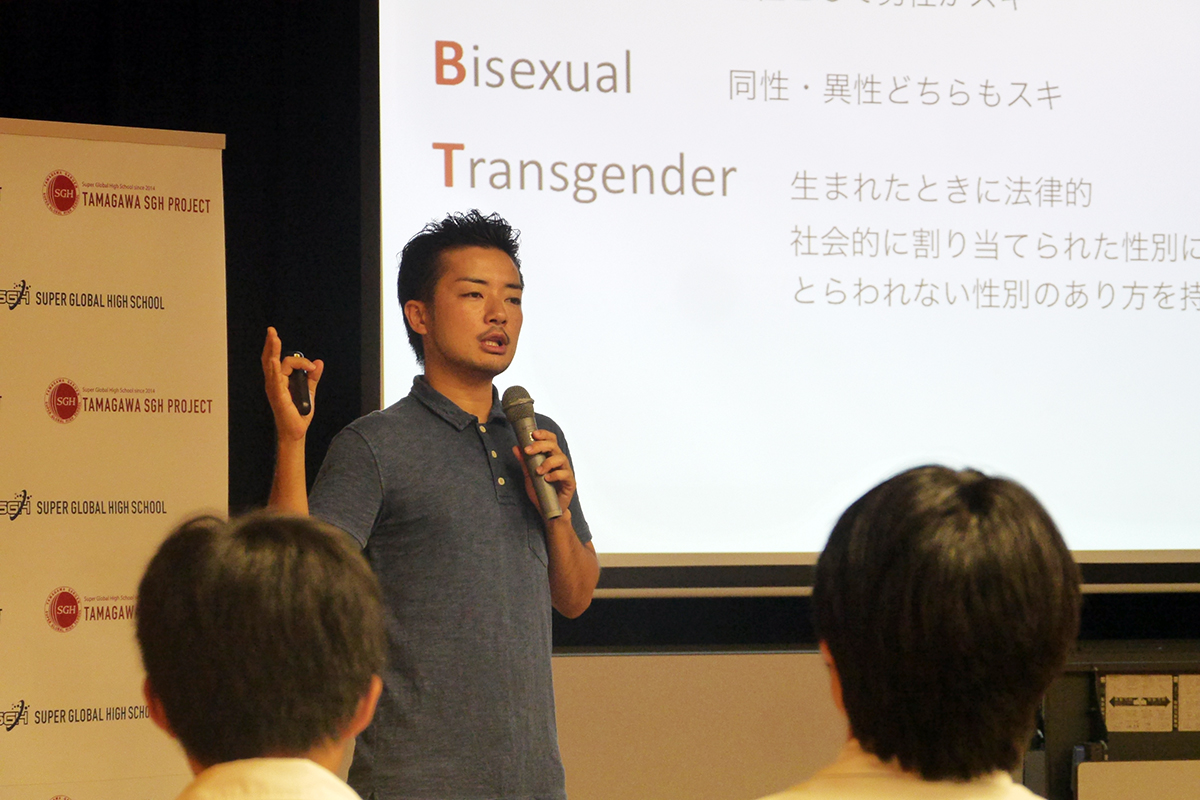 "What is 'sex'?" he asked. Students were quickly drawn into Mr.Sugiyama's speech, which spoke about the theory of 27 classifications of gender or sex. The students realized that issues surrounding transgender are surprisingly close to them.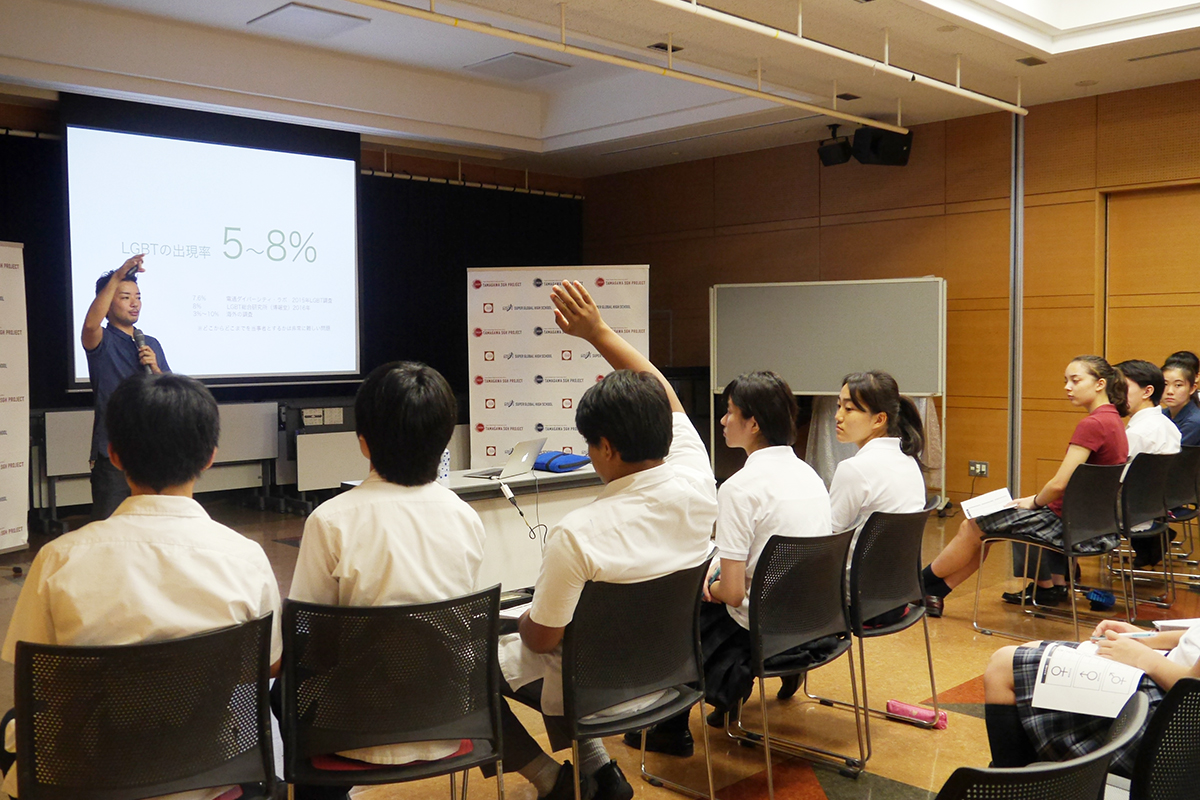 Mr. Sugiyama suffered from alienation from a young age. He grew to accept himself after facing challenges in love, family, friendship, and career. Overcoming those conflicts, he was able to get people to understand himself.
Even though their situations were different, the students were able to see the humanity of Mr. Sugiyama's position.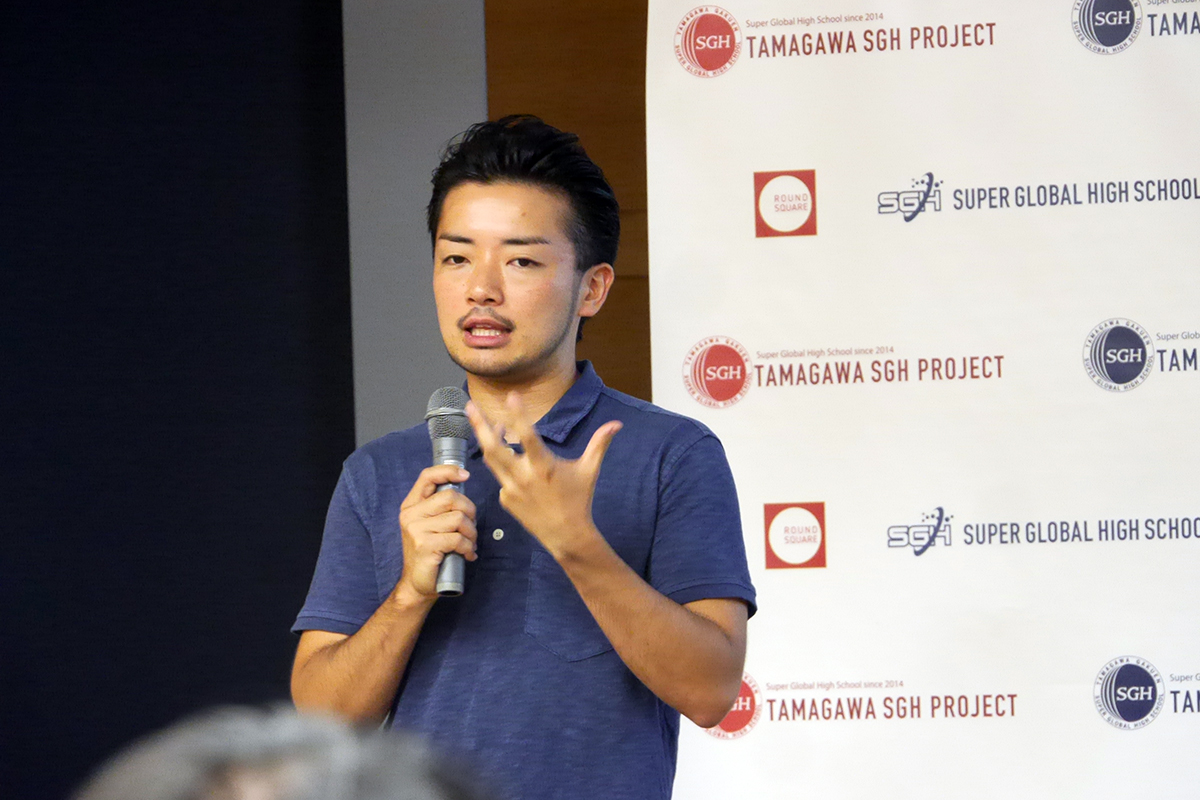 'Firstly, "I" have to be happy'he said. The students learned the importance of accepting diversity and "living my way" through Mr. Sugiyama's way of living.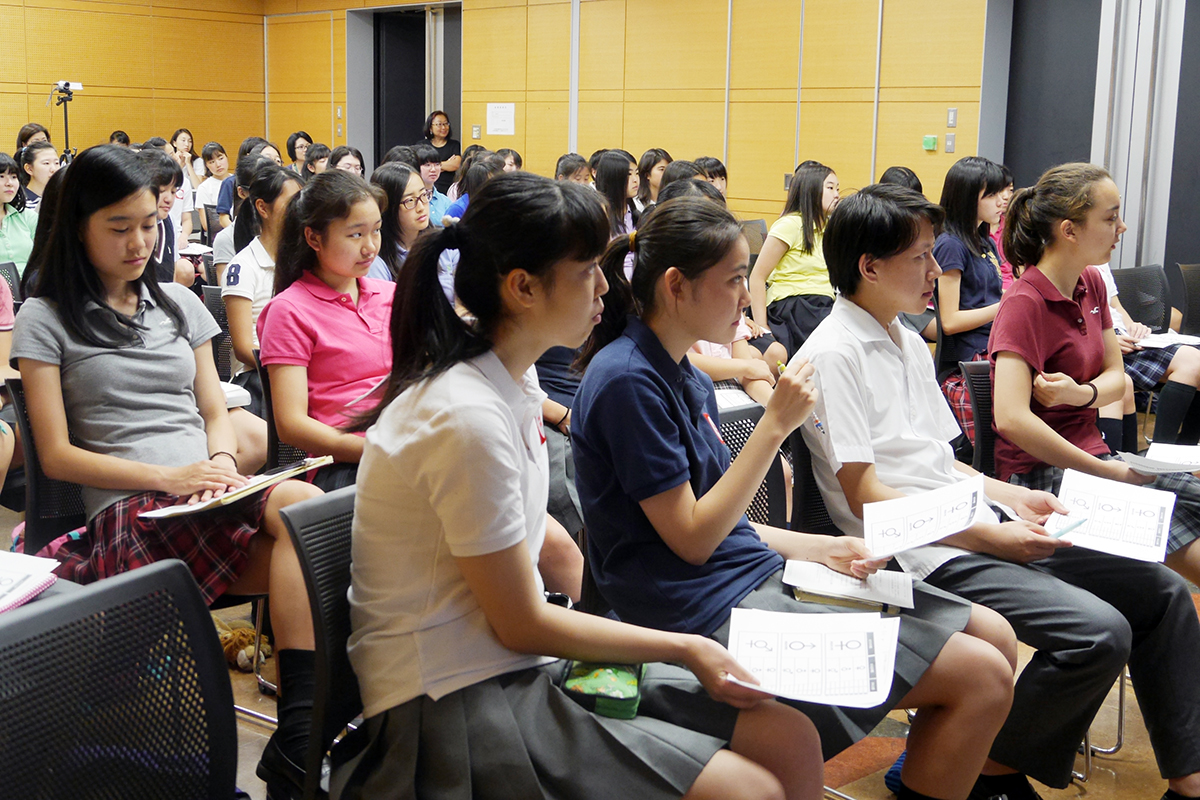 In the subsequent Barraza, the students talked about "what we felt" and "what we can do" in teams.
Most of the groups had impressions like; "I did not know about LGBT." "I was surprisingly familiar to us."
They began thinking about what they could do from there.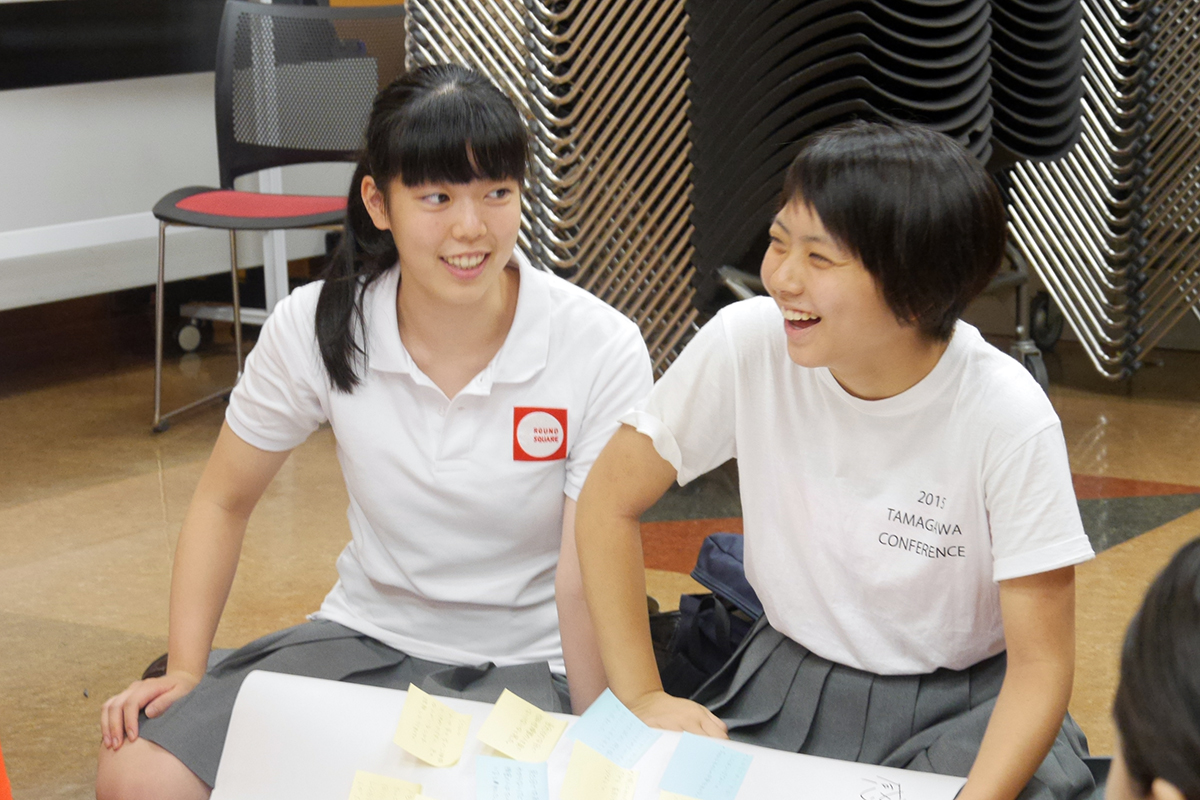 In the presentation, each group proposed the idea of creating opportunities to "know" and to create a society where diverse individuals could live.
"I think it is important to continue taking action from now on, not just ending here." Finally, the chair made a speech giving his own opinion, and the discussion ended with applause.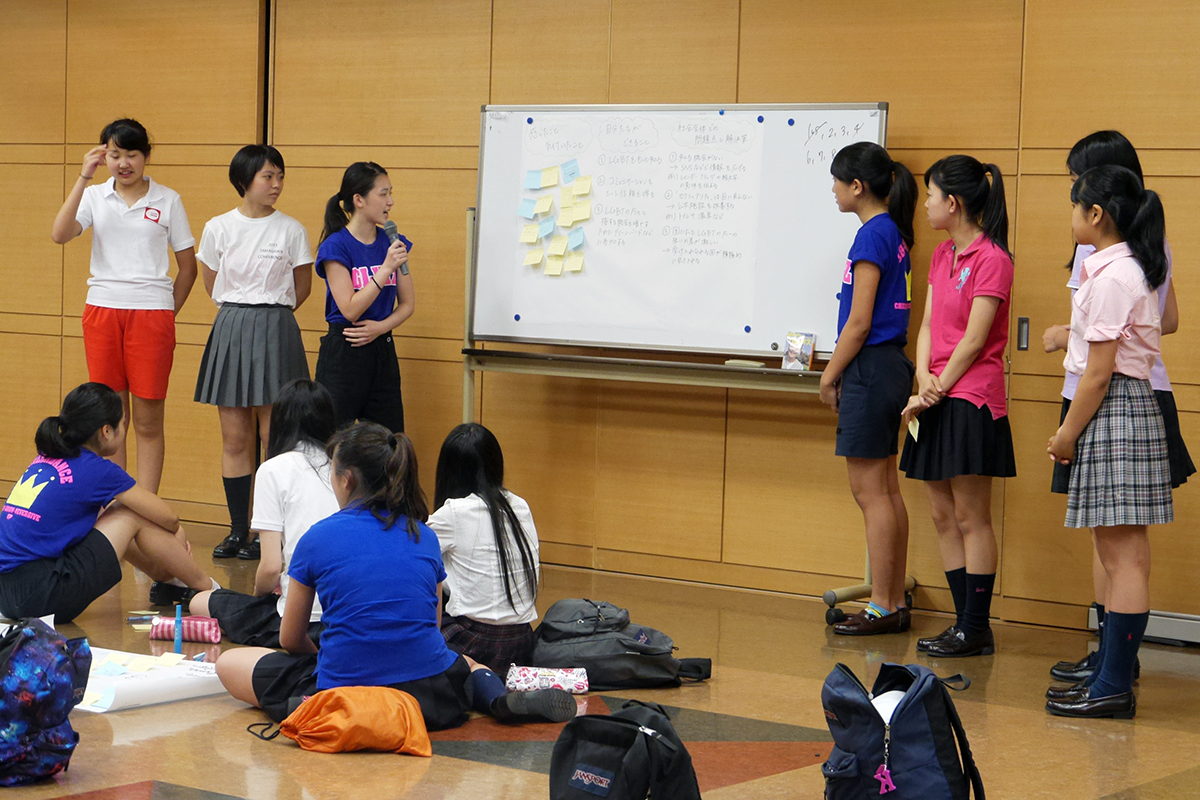 In the morning of the last day of the "Tamagawa Conference", students learned about the current situation of refugees in the world and they participated in a workshop to think about what they can do through UNIQLO 's Sustainability Project "Let's Deliver the power of Clothes".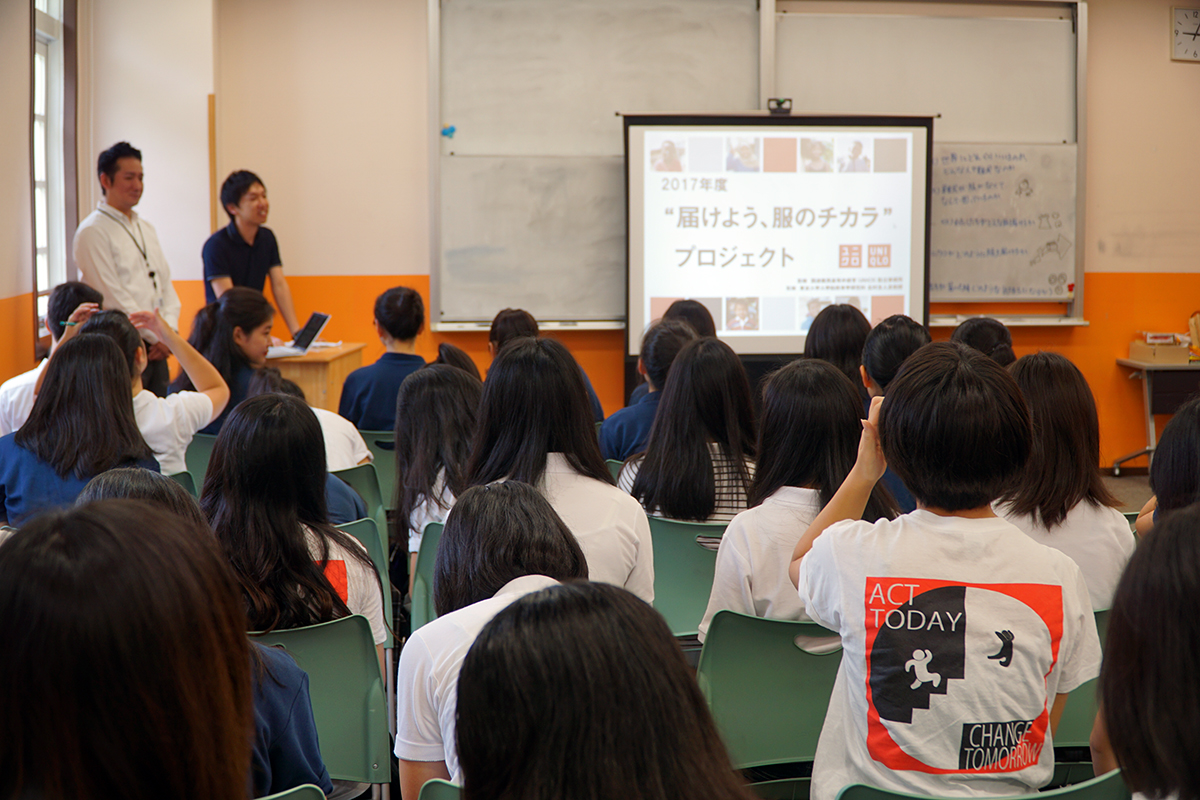 The lecture was given by from Toru Yasuda of the general affairs department and Yuusaku Tabe, Machino Tsurukawa store manager.
"Refugees are people who were originally living in the same way as you are."
Through the familiar themes of "clothes", students learned that "refugees", who they thought were very distant from their lives, live in the same way as themselves and that there is a reality that life is threatened by not having clothes.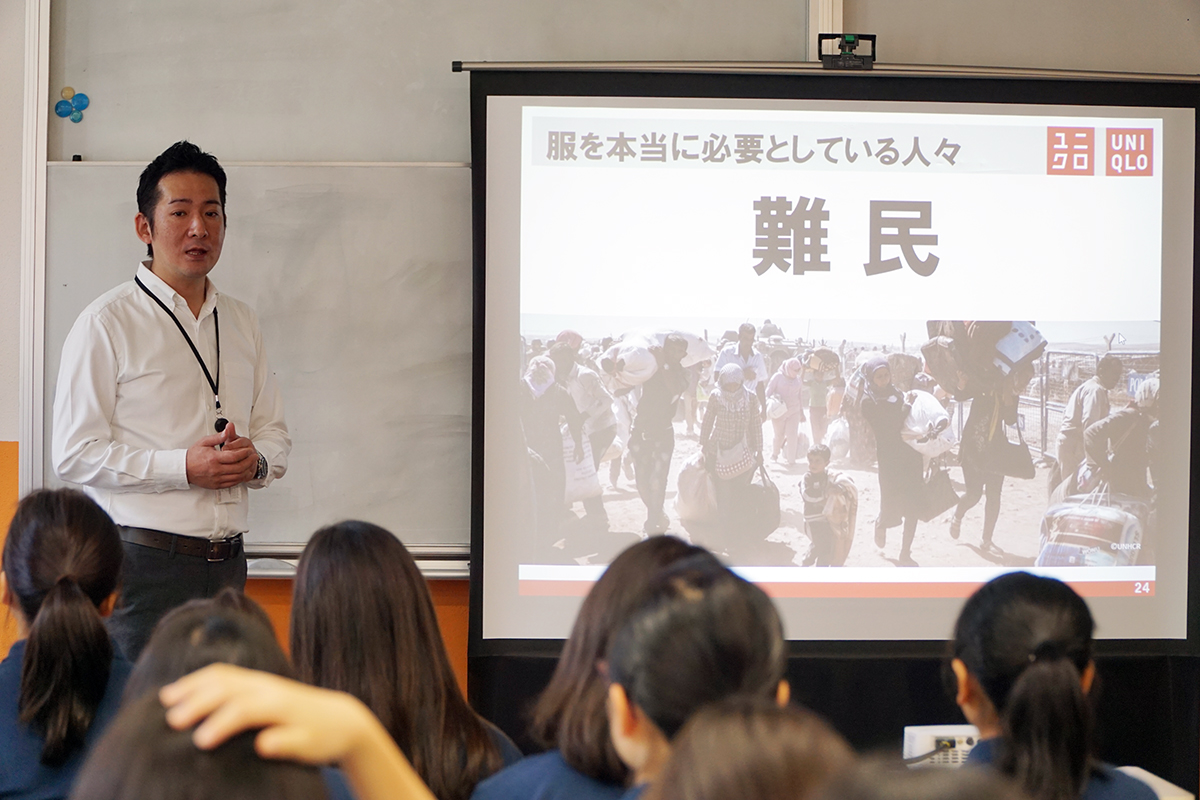 Students realized the significance of UNIQLO 's Sustainability Project "Let's Deliver the power of Clothes".
Later, they began making picture-story shows that encourage children in the kindergarten to join this project, which will be done after the "Tamagawa Conference"
What kind of people are refugees? What kind of good thing happen when we donate clothes?
They created books with various ideas so that the ideas could reach kindergarten children.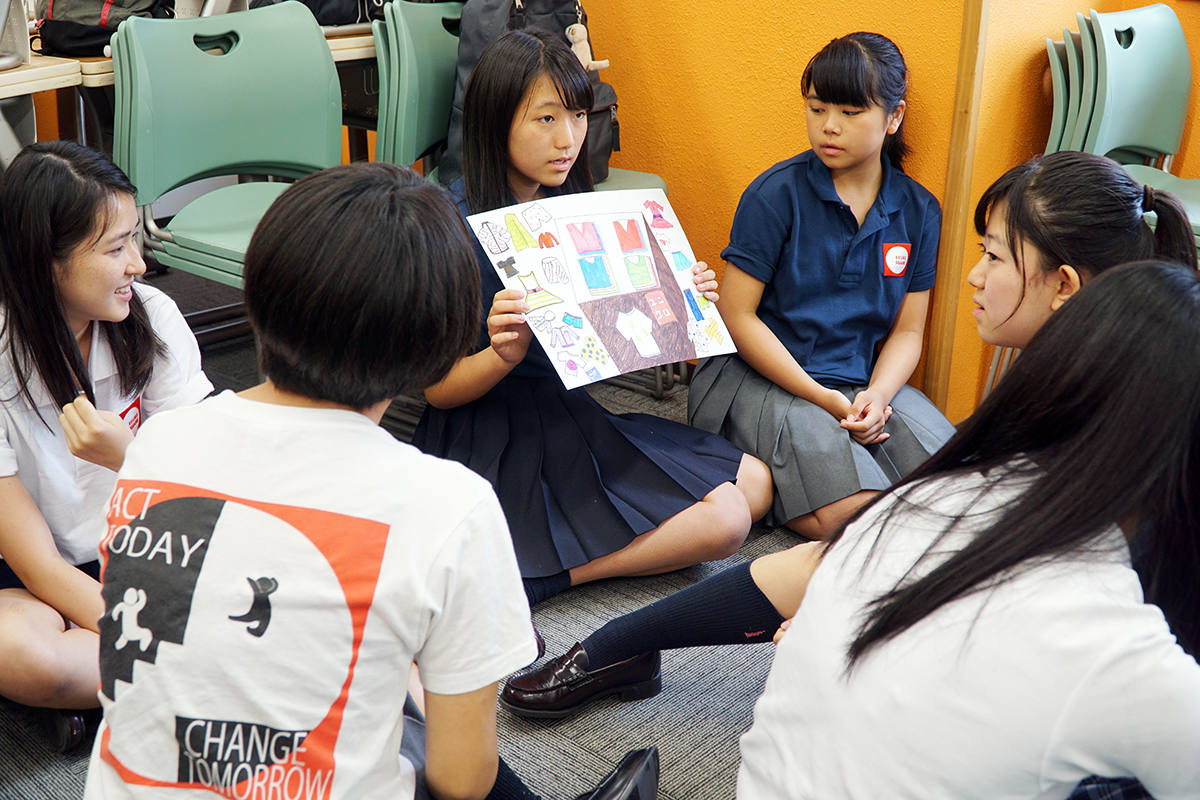 In the presentation practice before the actual show, they talked about "the power of clothes" with skits or humorous messages.
While realizing the difficulties in communicating with children, it was a fulfilling time for students to learn what they could do to combat international problems.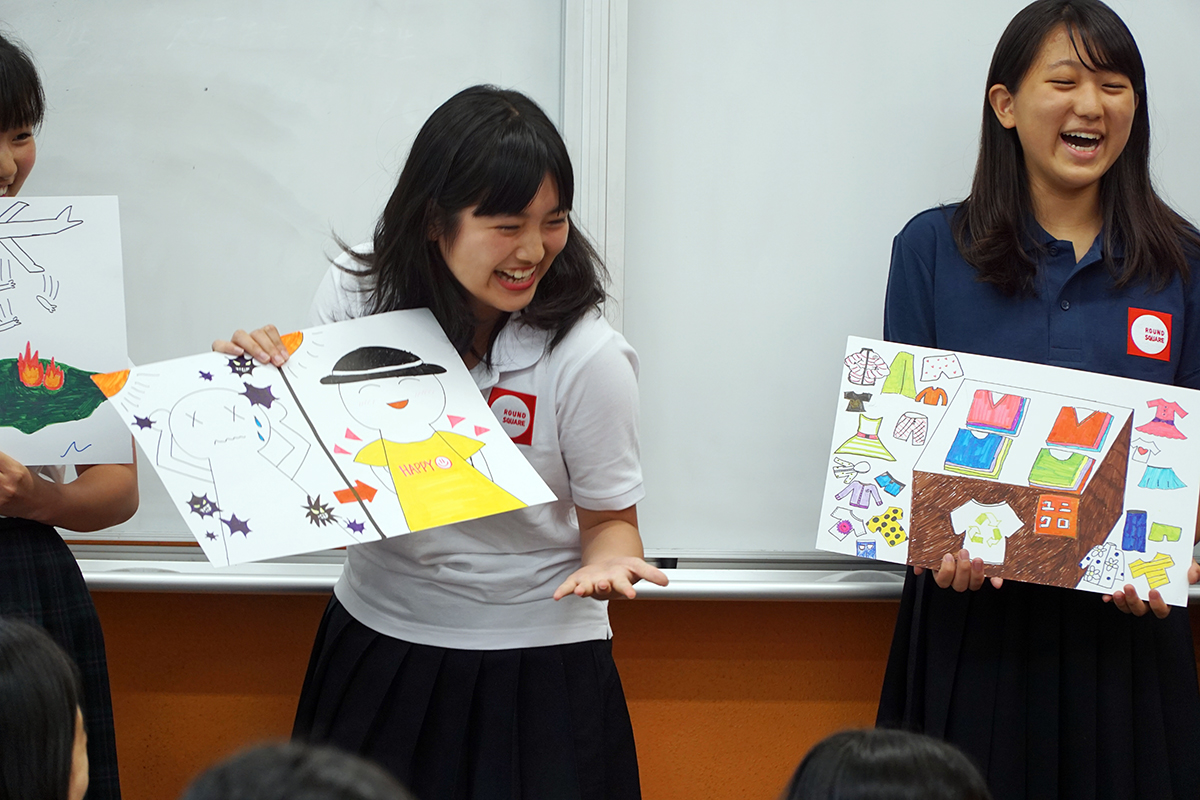 The afternoon session started with activities to think about "discrimination" through movies.
They watched several movies which were filmed in different eras and discussed in groups about the trends in "discrimination", "reflecting social circumstances", and "human rights" expressed in those movies. They noticed that the problem of "human rights" was also expressed in the movies they watch.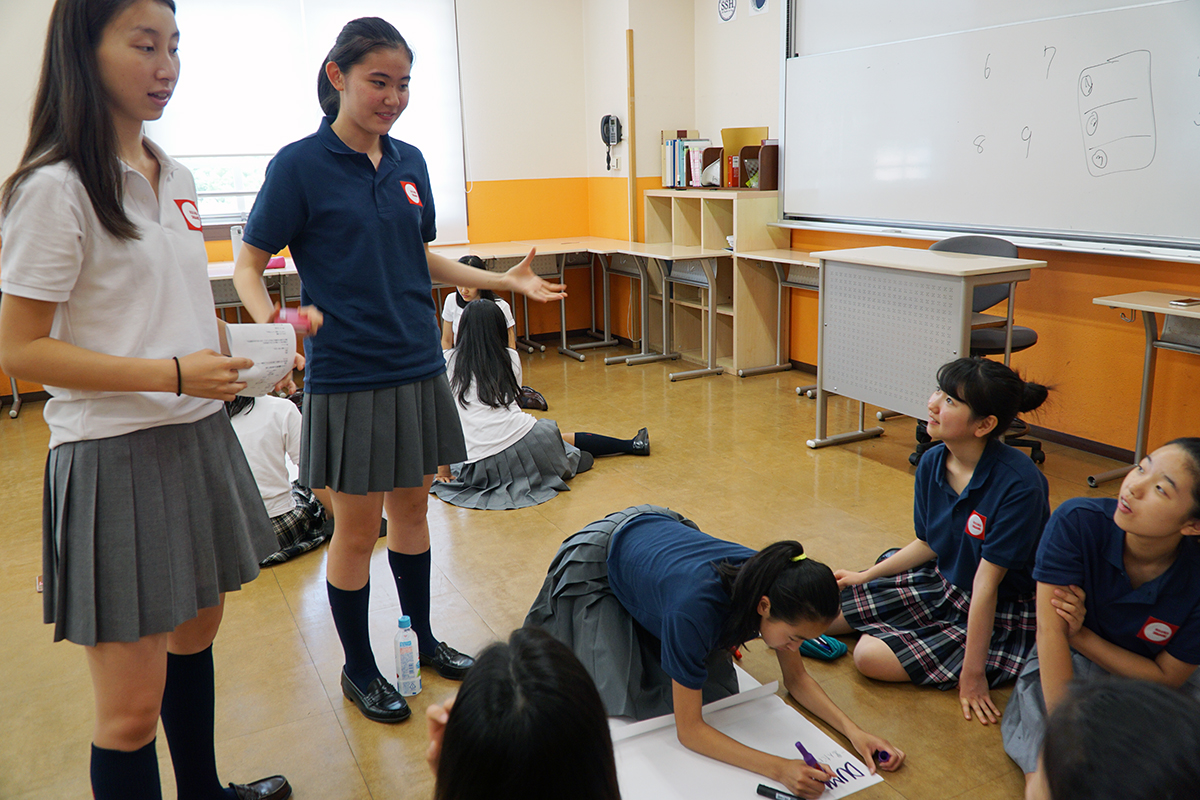 Along with the discussion, they participated in a 'handicapped people experience'.
They were divided into roles of a person who cannot see and a role of a person who is helping him/her, guiding them by hand, and they walked a course with obstacles. By actually holding hands together and walking together, they learned about the difficulty people with disabilities face as well as the difficulties of the people who support them.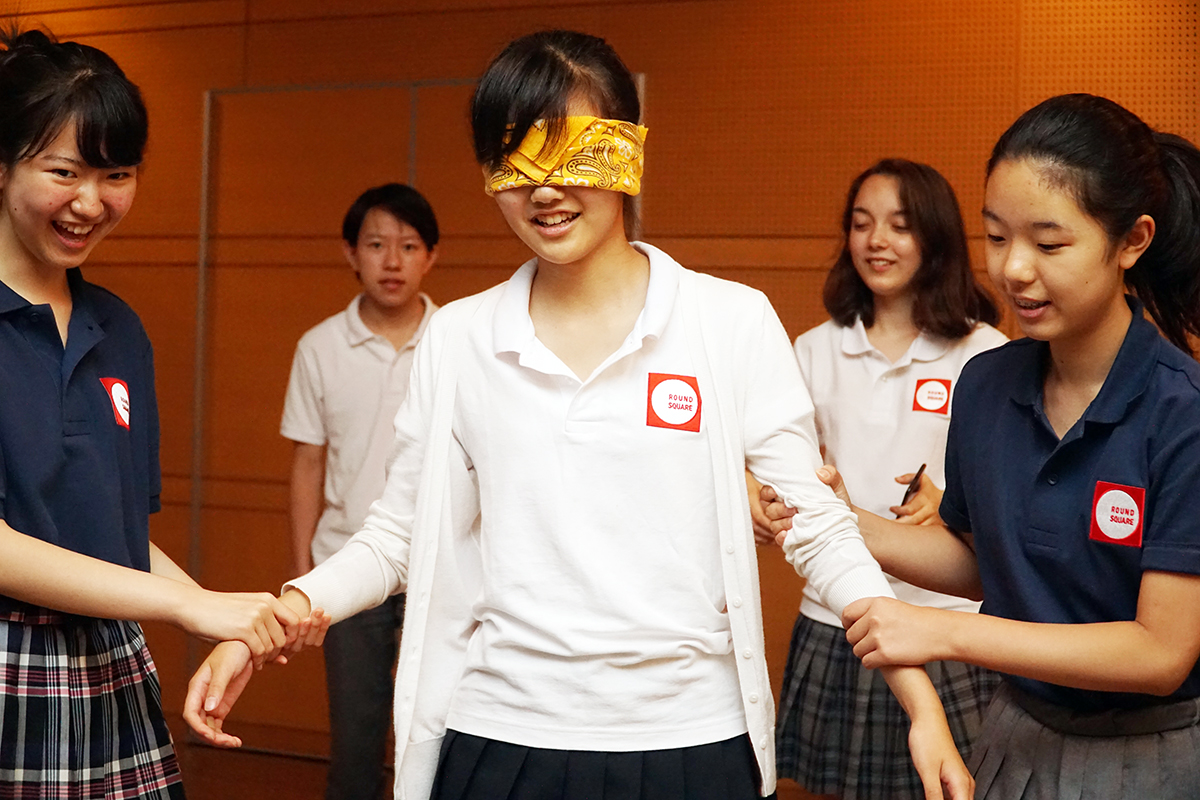 Lastly, they discussed "discriminatory terms". They talked about whether terms such as "half", "communication disorder", "homeless", or "male and female" are discriminatory terms and how others feel when they are called those things.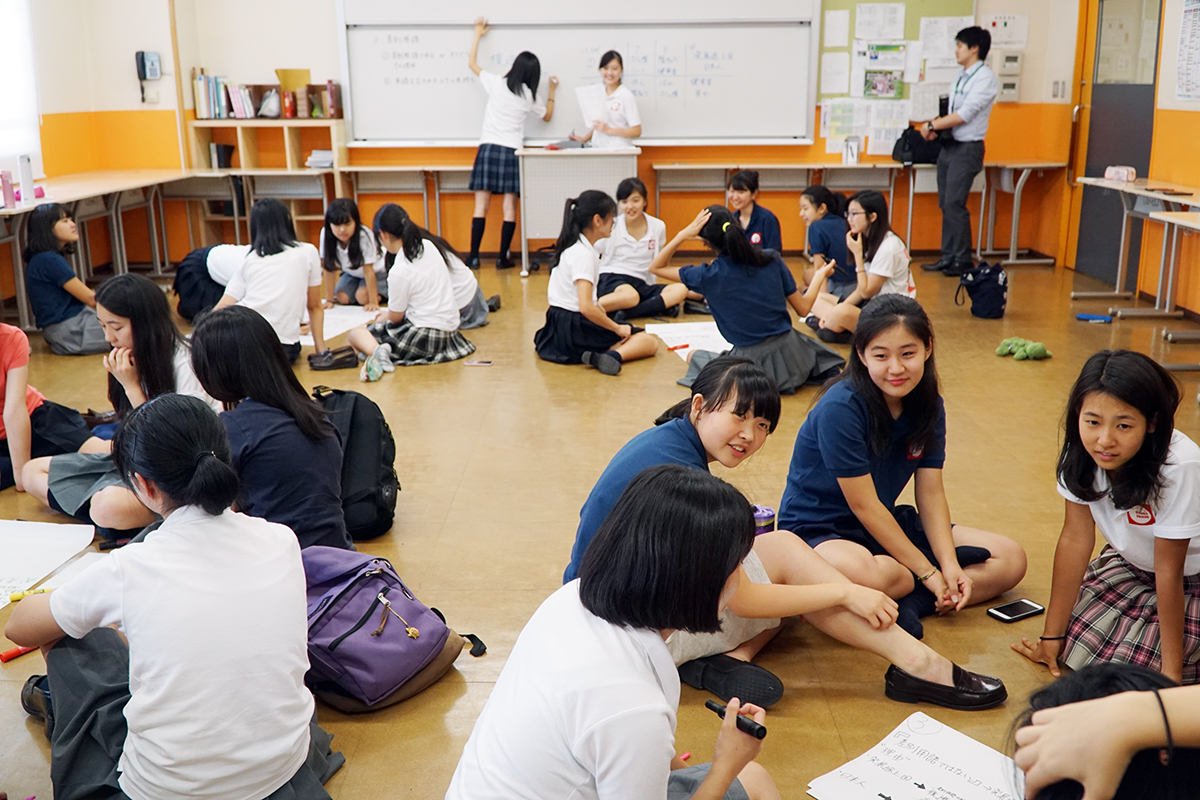 "The word 'men and women' is not discrimination, right?" "But then, we can say 'women and men' and not feel weird at all, right?" "Depending on the situation of the people saying it, how we feel differs." the discussion gradually took on heat.
The debate with "no answer" based on the feeling of the word was deepened by giving opinions from various perspectives, and it led to more understanding of "discrimination" and "human rights" for the students.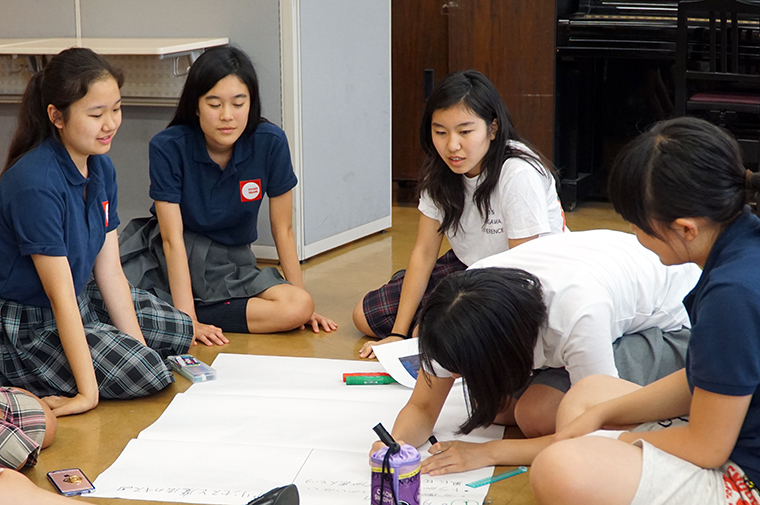 Lastly, they shared a summary and their thoughts on the workshop in the afternoon.
They linked what they learned in the last 3 days, and they conveyed that how this changed the way they think about "human rights".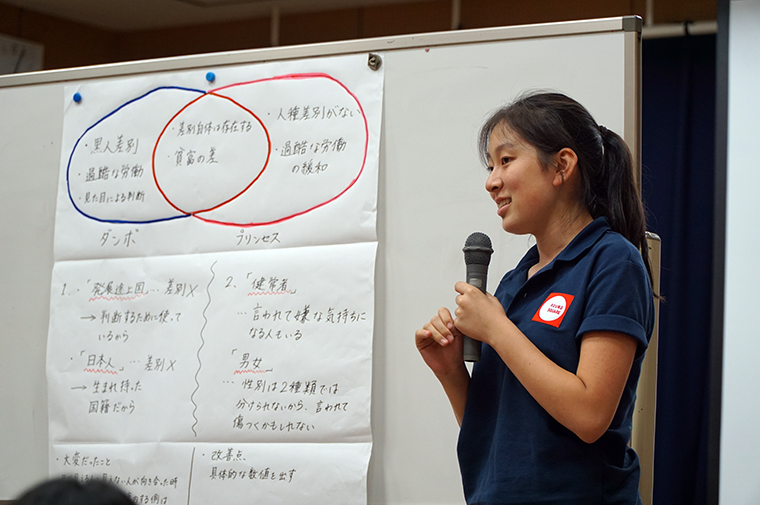 "Although I have been learning about human rights, I learned new things from hearing various new opinions, which I could not get from studying by myself." "I got a new perspective from hearing about the issues around LGBT."
The growth of "self" was reflected by the words they spoke, after three days of learning new things, thinking on their own, and experiencing things themselves.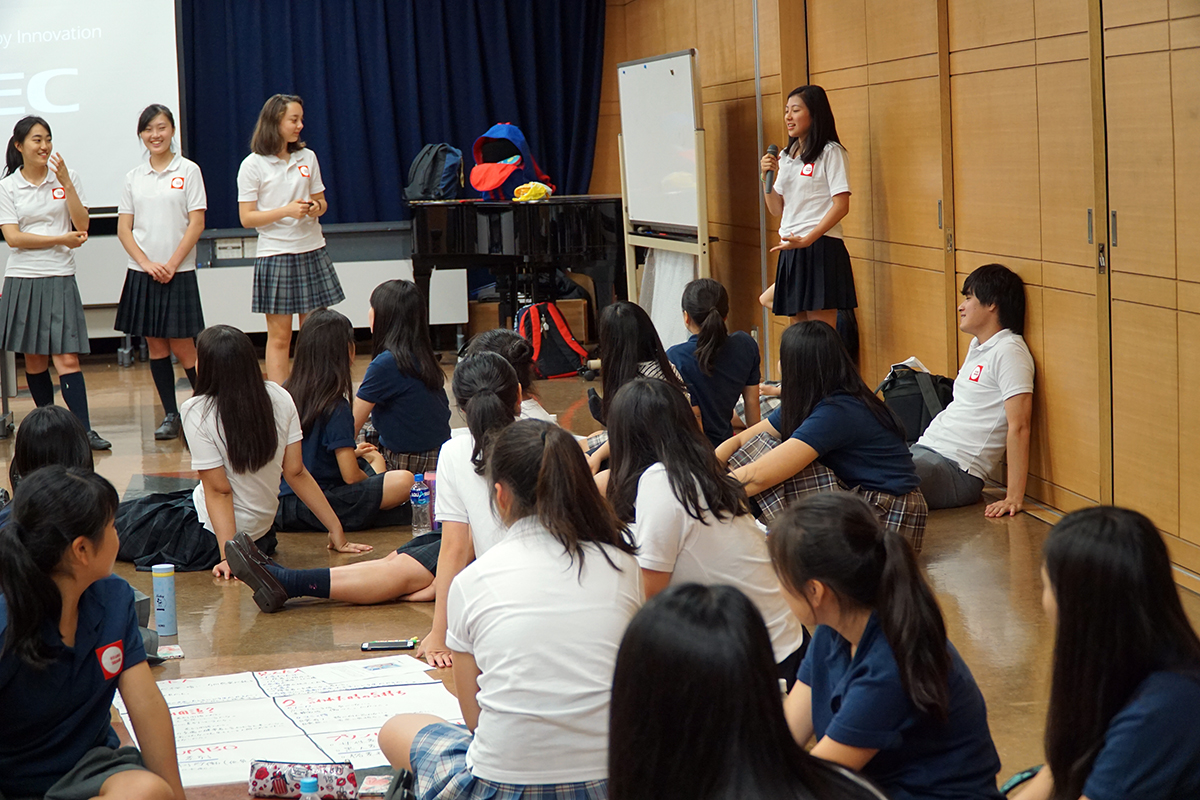 This year's "Tamagawa Conference" ended.
The students had a deeper view of a global way of living and expanded their own views on how to accept human diversity.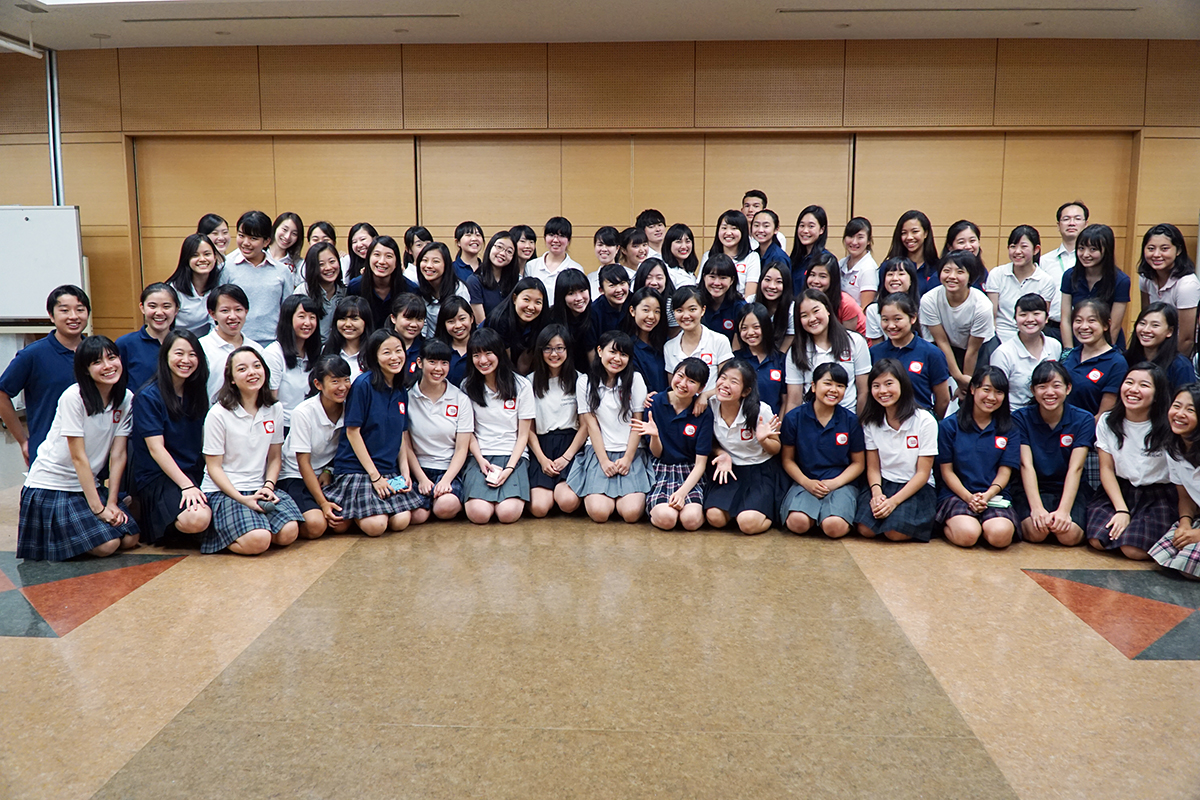 【Lecturer Profile】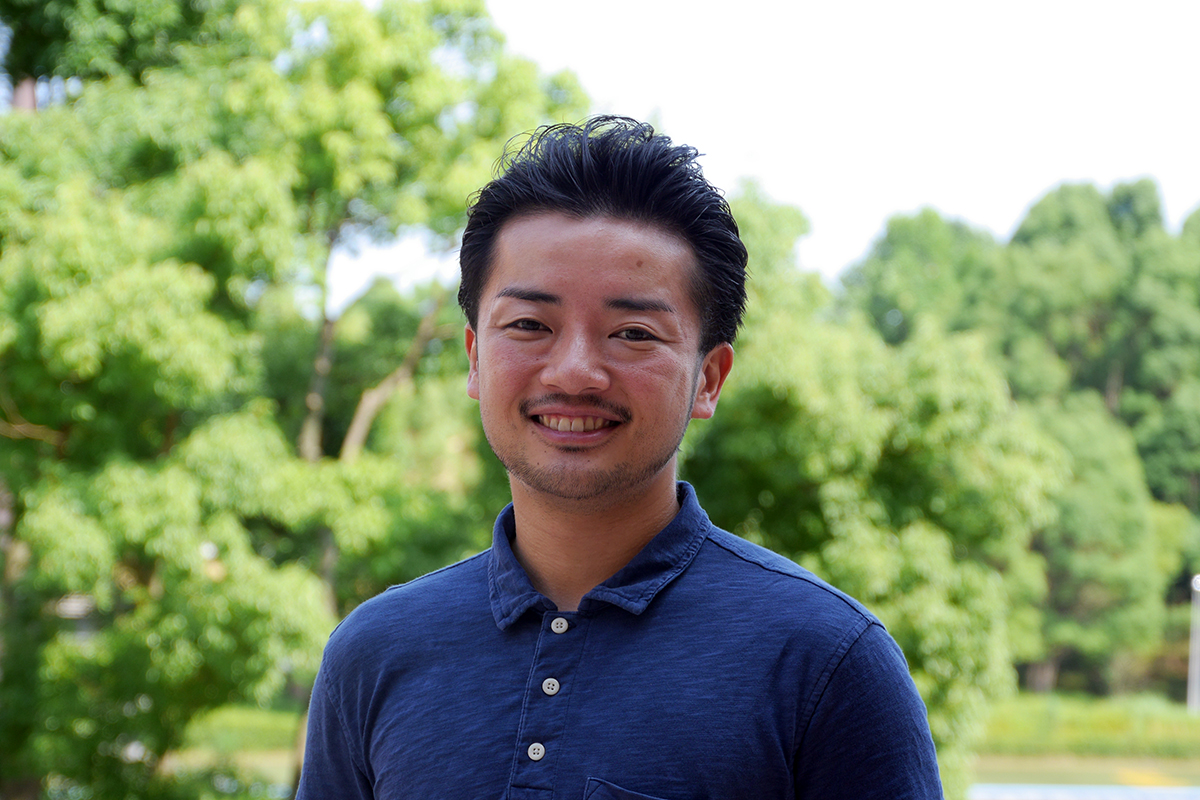 Fumino Sugiyama
Former Japan girls fencing representative. After studying gender theory at Waseda University, he published "Double Happiness" (Kodansha) which interlaced research and the actual experience of receiving a diagnosis of gender identity disorder. The book became very popular and it was translated into Korean and also published in a comic version. Currently, he is the co-chairperson of the NPO Tokyo Rainbow Pride, Japan's largest non-profit organization of LGBT pride parades, and a school representative of the NPO Heart-wo-Tsunagou-Gakkou (Connect our Hearts School) which supports children in sexual minorities. He also serves as a member of the Shibuya Ward Equality and Diversity Society Promotion Committee and is involved in issuing Japan's first homosexual partnership certificate in the same area.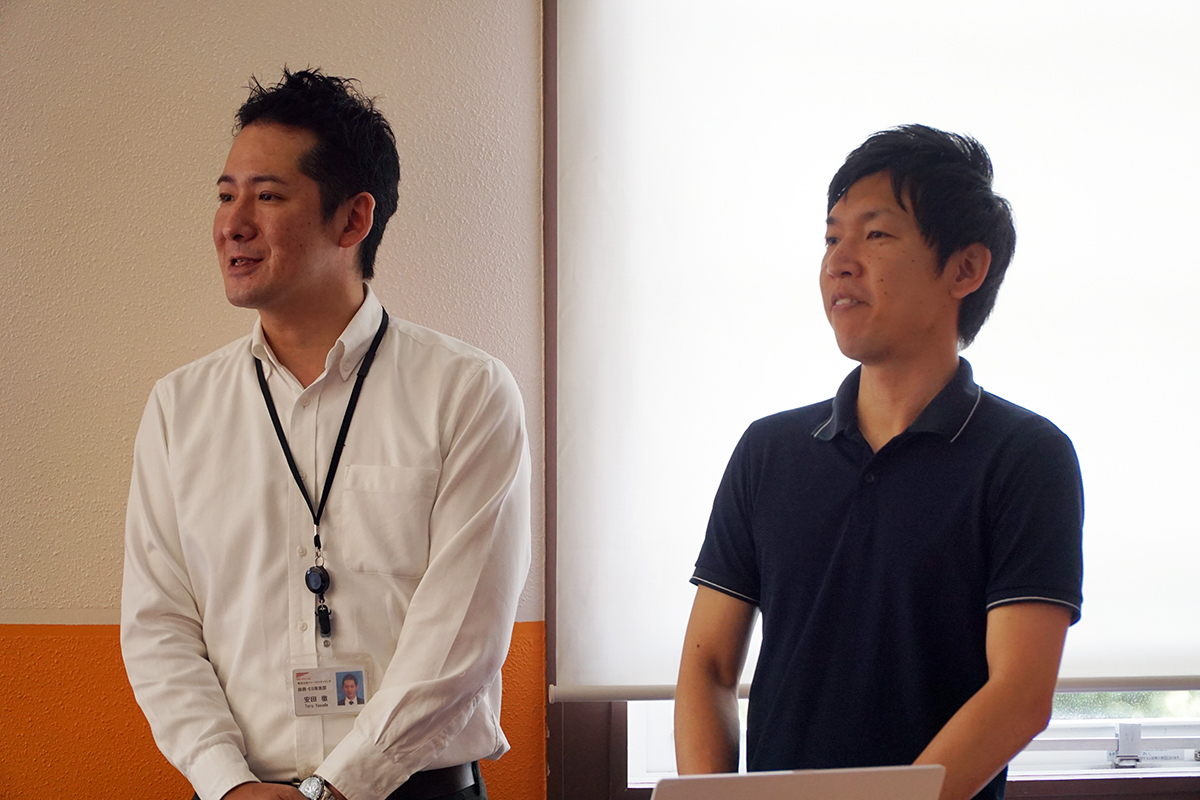 Toru Yasuda
After graduating from Tamagawa University Faculty of Literature in 1999, he worked as a P.E. teacher at Tokai University's Sagami Senior High School. Then, he joined FAST RETAILING CO., LTD, and was assigned to Shizuoka City. He worked as a store manager in various cities in Japan and also worked at the Shanghai office in China in 2012. He has been in his current position since 2015.
Yuusaku Tabe
UNIQLO Machida Tsurukawa store manager. Graduated from Kyoto University law school in 2010. Joined UNIQLO CO., LTD. in 2011. He was assigned to a store in Osaka, and became the store manager after six months. One year later he was assigned to the Tokyo headquarters marketing team. Afterwards, he returned to the store, and was appointed as manager in various stores, currently in the Machida Tsurukawa store since 2016.