The "SGH SSH Student Research Presentation Meeting" was held to conclude this year's Tamagawa Gakuen SGH activities.
Tamagawa Gakuen is working as a designated school of SGH (Super Global High School) and SSH (Super Science High School) promoting advanced science education.
This joint presentation was the first attempt held to look forward to the future of international learning and the necessity of connecting across academic fields. Both SGH and SSH are working on problem solving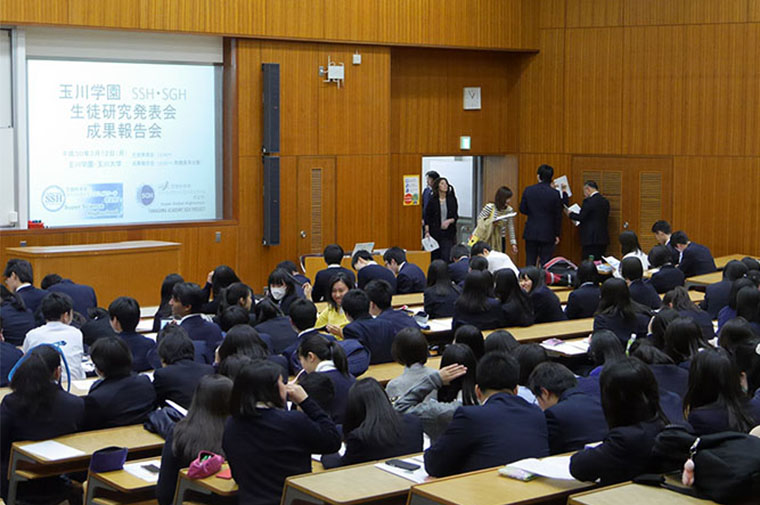 The presentation was composed of two parts; the first half was for students of SGH · SSH who conducted a research presentation. The second half, with 164 students from the 10th grade to 12th grade, presented their posters.
50 visitors including teachers from nationwide junior high schools and science-related organizations as well as companies and NGO's attended.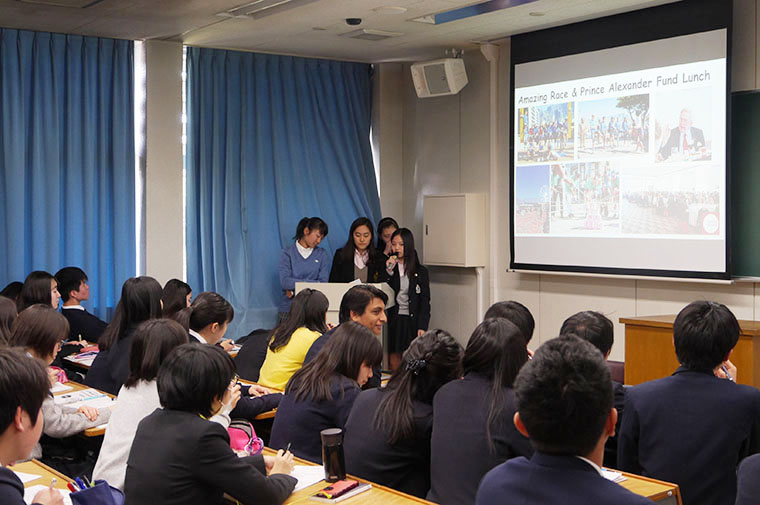 The research themes of the four students from SGH during the first half of the presentation were "Practice of Fair Trade Education", "Round Square International Conference 2017", "Multicultural Symbiosis and Mass Media", and "Transition of the Situation in the Middle East and Paradigm Shift".
Each student spoke about what they felt based on their own experiences. Things such as their research motivation, commentary and consideration, simulated lessons and field visits were considered.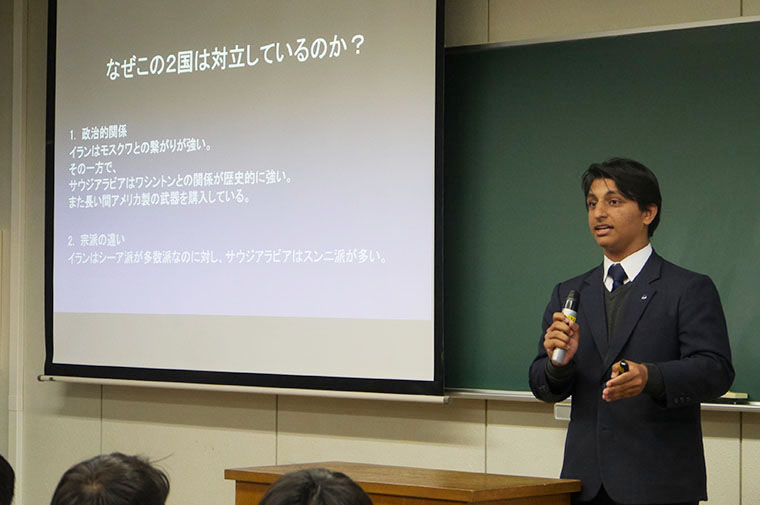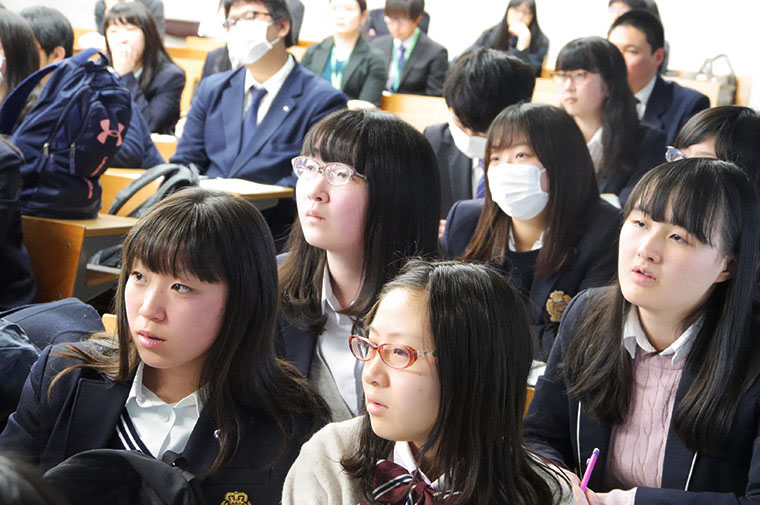 "I taught in a class to raise awareness of Fair Trade. I learned that many people understood fair trade and felt its necessity after reading the questionnaires after class." "I thought that it is not always the most important fact that the information of the department is conveyed, it is also important to see and listen with our own eyes and ears."
They explained the findings from the results of the research that they had accumulated over several months.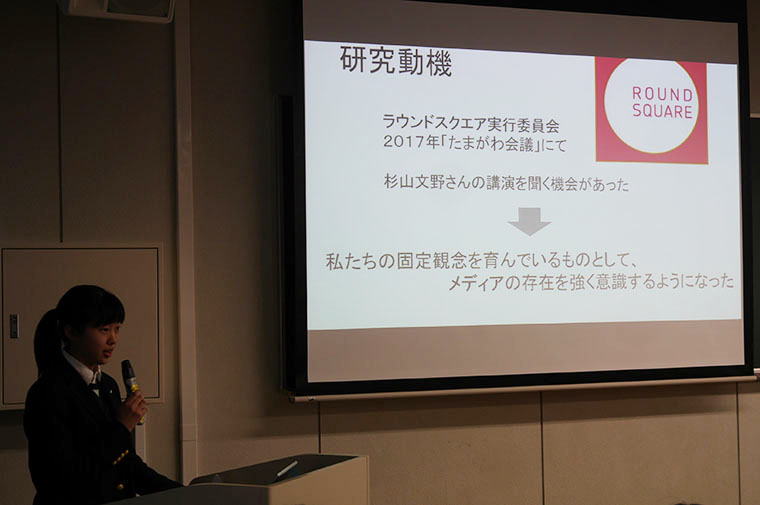 "I understand that there are merits, but what kind of disadvantages does it create in reverse?" "How do you think to measure the stabilization of the situation in the Middle East?" Were some of the questions put forward.
Every single question from the students who listened was answered thoughtfully. The venue was filled with an atmosphere of stimulating learning and each student helping others.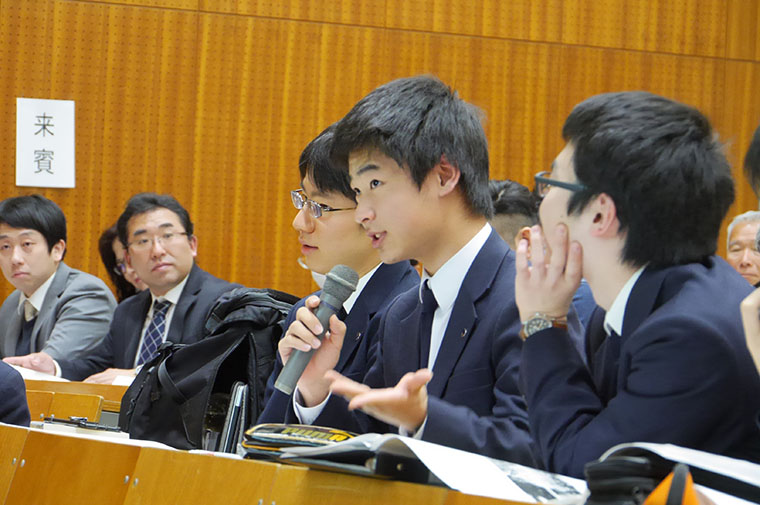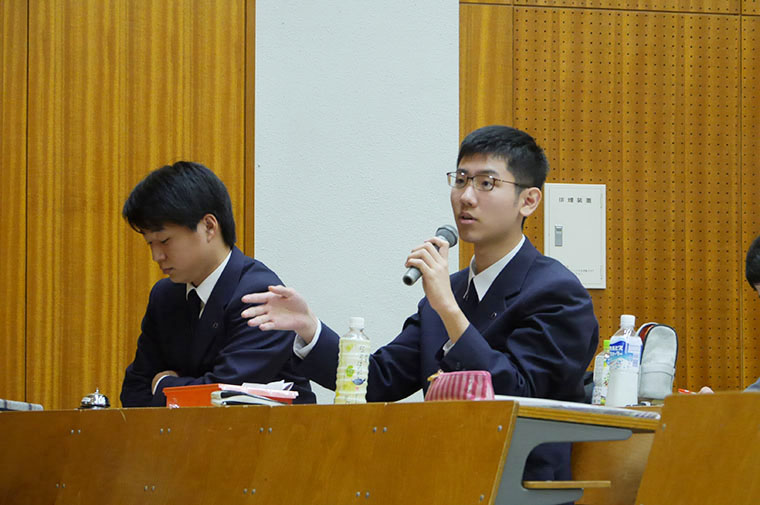 In the second half, spread over 16 classrooms, 50 students of SGH and 114 students of SSH presented their research results on posters. In each classroom, the presentations were held in two separate sessions in order to let students see each others presentations.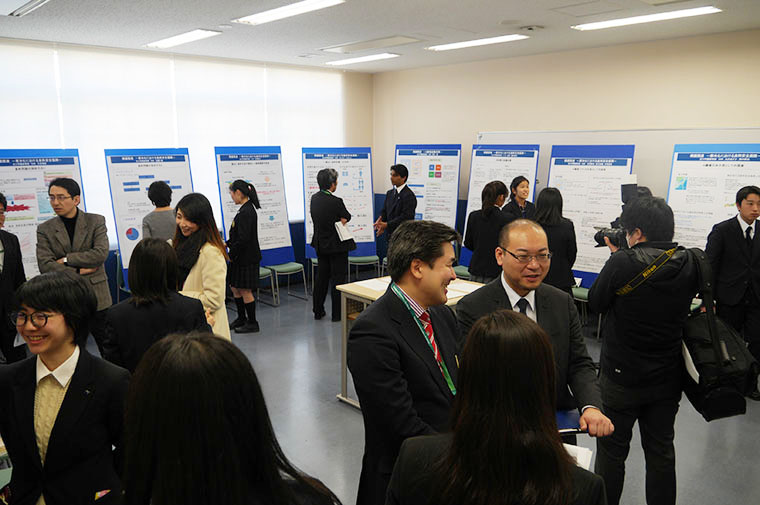 "Japan is giving financial aid but the acceptance of refugees is currently very low." "It is difficult to completely eliminate child labor, but first of all I think it is important that we have interest in the topic".
The students were not distracted by unfamiliar visitors, but looked their counterparts in the eyes and communicated clearly with them.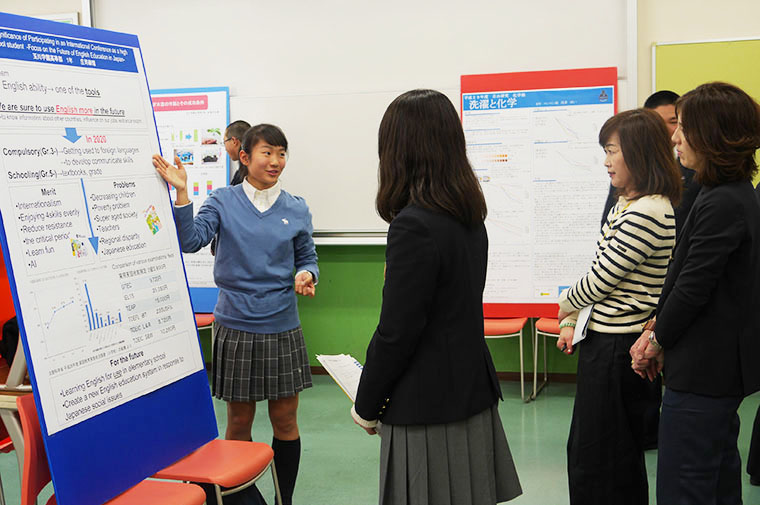 "Why did you choose this theme?" "What kind of activities are the funds raised is used for through the UNCHR?" "Why is the number in this graph decreasing this year?"
After the presentations, these types of positive questions were raised from the students who listened to their friends' speeches, and speakers actively exchanged their opinions and answered the questions clearly. They were motivated to deepen their understanding in different fields regardless of their background being in liberal arts or science.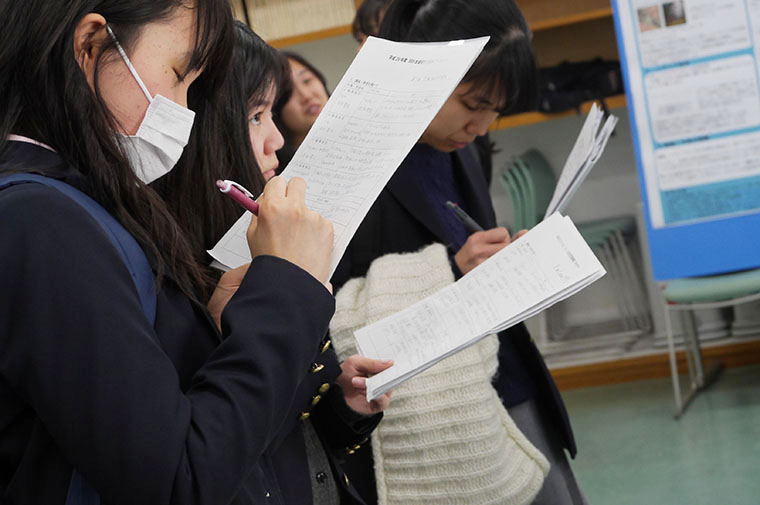 Also, there were some discussions around the venue.
"You are telling us that the high Swedish tax is the disadvantage, but in reality there are great merits." "Why did you propose this treaty? I thought it could be done by the private sector." "I think their human rights were not 'given' but 'won'." Through discussions, they reconsidered their opinions from different perspectives, reviewed the things that they thought as "normal", and a lot of deeper awareness was created at that time.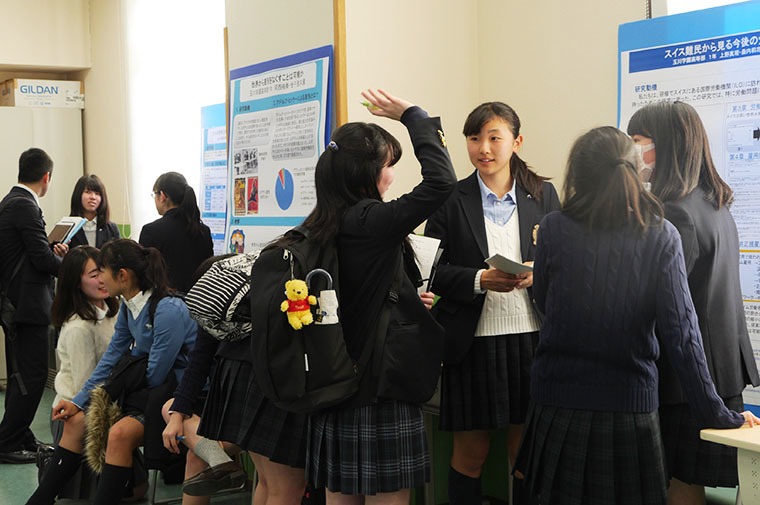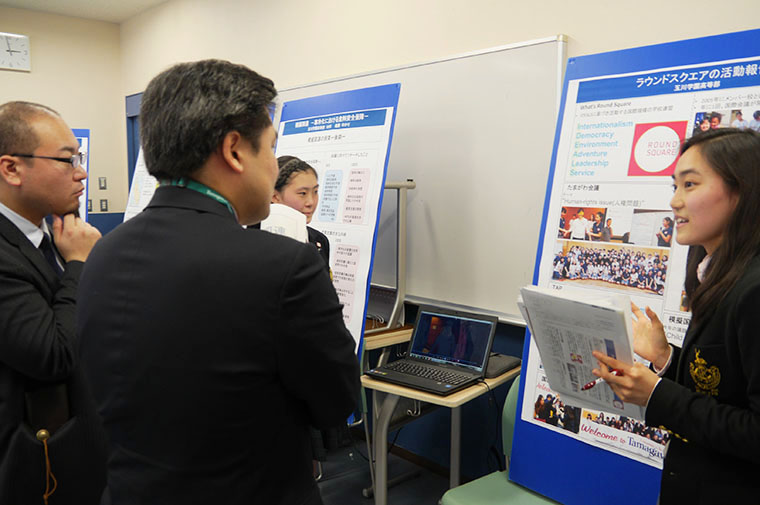 "How does the Model United Nations work? I'd like to go and see it." "This poster about international cooperation awareness seems like it was made by a professional." "I'm familiar with the area, but these facts are new to me." After receiving praise from the visitors, the students smiled happily.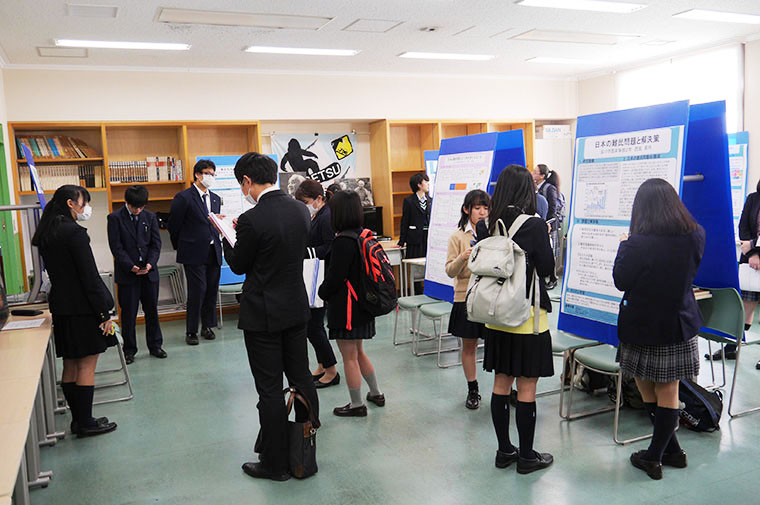 "I thought that withdrawal of the UK from the EU would have many disadvantages but I noticed that there are also some merits from talking with the presenter." "I was able to answer the question about whether 'I think childcare professionals'wages are low, but how should it be raised?' I was able to find some points to think about." The students conveyed their impressions. They realized the importance of diversity and learning about new perspectives with objective opinions.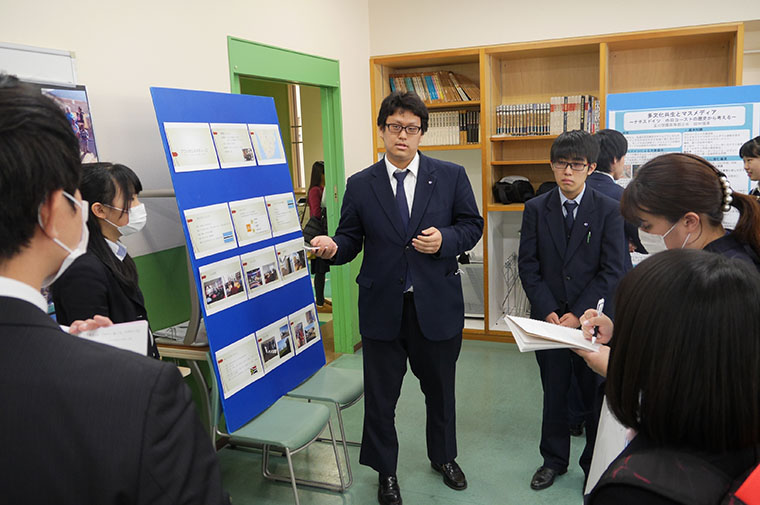 This joint presentation, helped students experience lots stimulating ideas through active exchange of opinions and exchange with people with different ideas and knowledge. Students discovered things about their own fields and strengthened their fundamental knowledge of the approaches of the international community.