A Global Career Course lecture was held on this day as a joint project of SGH (Super Global High School) and SSH (Super Science High School). It was a special lecture for about 800 high school students.
There were plenty of topics presented such as reports from both SGH and SSH students, a lecture by Ken Takai of Earth microbiologist, and a discussion session with Mr.Takai.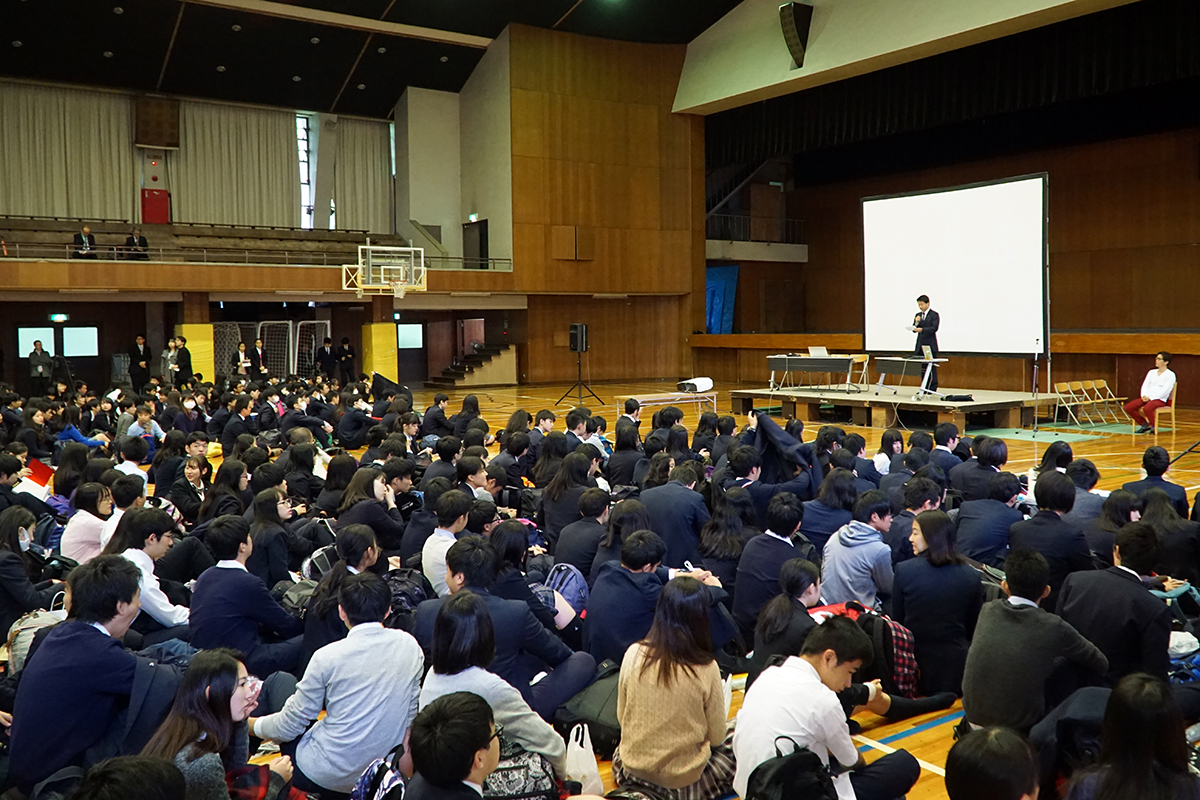 The first topic was a report by students talking about the "Model United Nations", one of the activities from SGH.
"There are many people who talk about global warming as an issue, but from now on, we must also make predictions about cooling."
Raising awareness of the problem, students gave a presentation about the Model United Nation held this year where the topic was about "Cooling".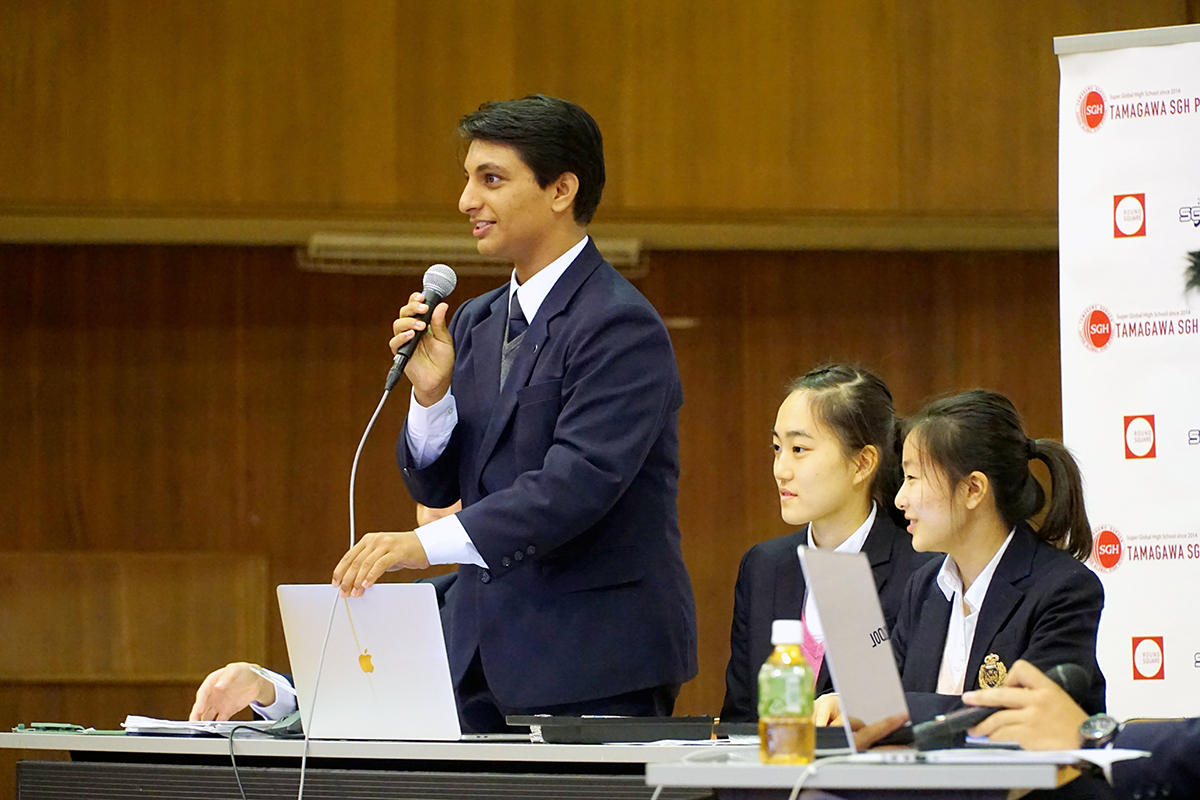 Following the SGH students, the SSH students reported on the research of the "Coral Study Group". They talked about their findings which related to transplanting coral in the sea near Ishigaki-Jima (an island in Okinawa Prefecture) in 2015 after built upon by using trial and error since 2011. They also introduced their research on coral's impact on the environment and ways to protect it.
After these two presentations, a question and answer session was held, and a lot of students who were inspired by the activities of their fellows had raised further questions.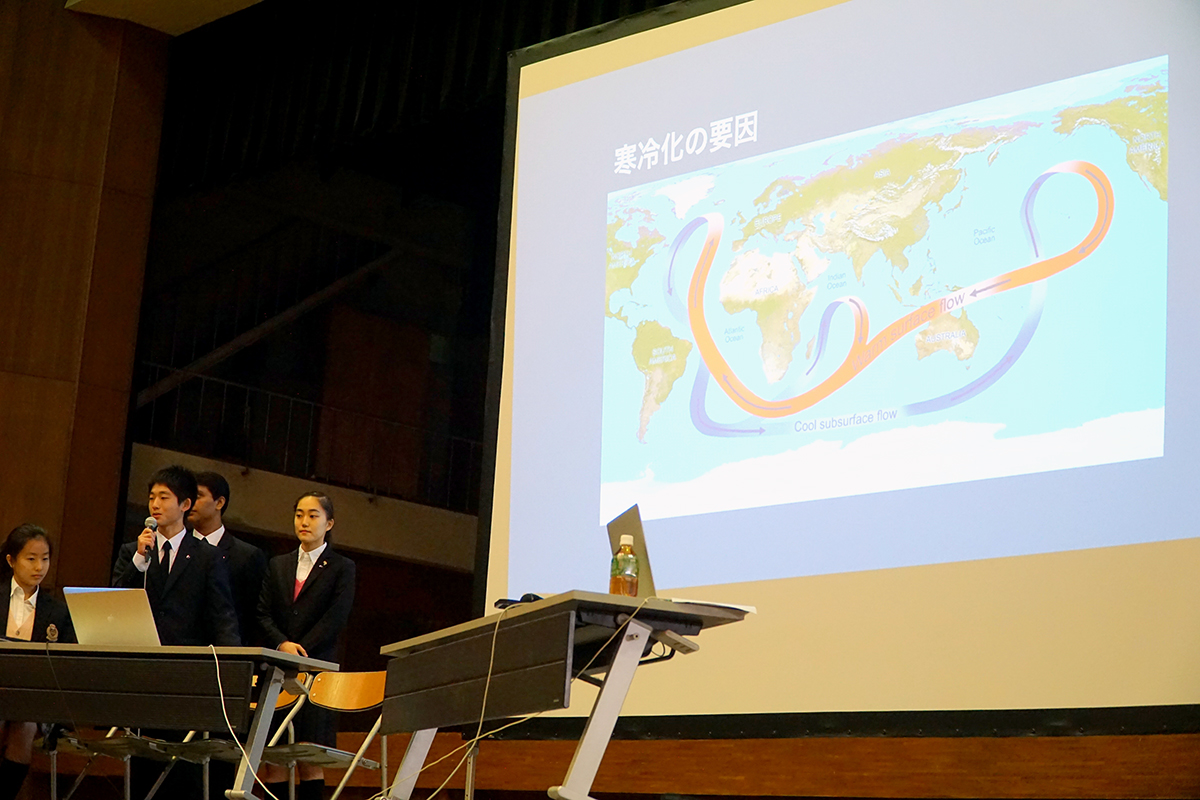 Furthermore, a discussion with the theme "The Social and Science Way" was held concerning two activity reports, and the mc student brought a lot of students and teachers in the venue into the discussion.
They explored the usefulness and problems in science, the characteristics of society, and the connection between society and science.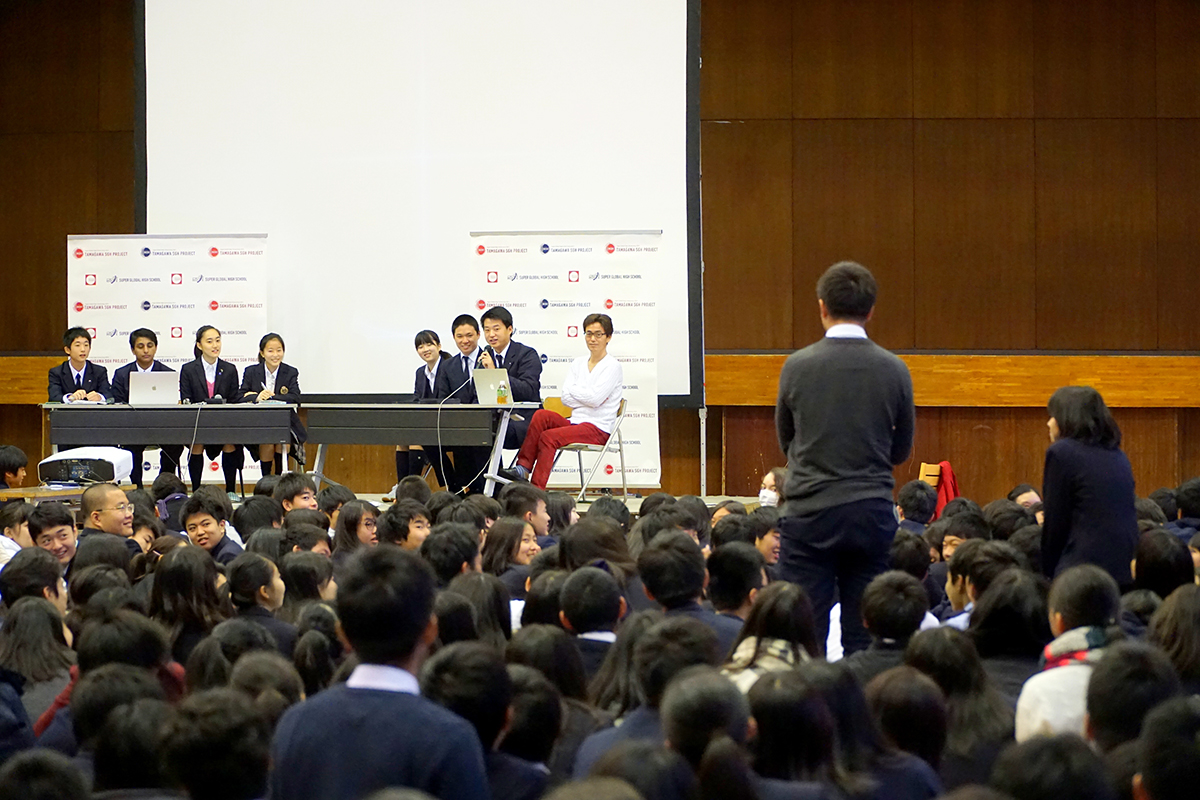 Then, Mr.Takai Ken's lecture started. It was the main event for the day. As a global microbiologist exploring the origin of life at the Japan Research and Development Institute (JAMSTEC), Mr. Takai appeared in various TV programs including NHK's deep-sea special program and drew the students in with his unique speaking style. Students were excited to listen to his speech which was delivered with confidence.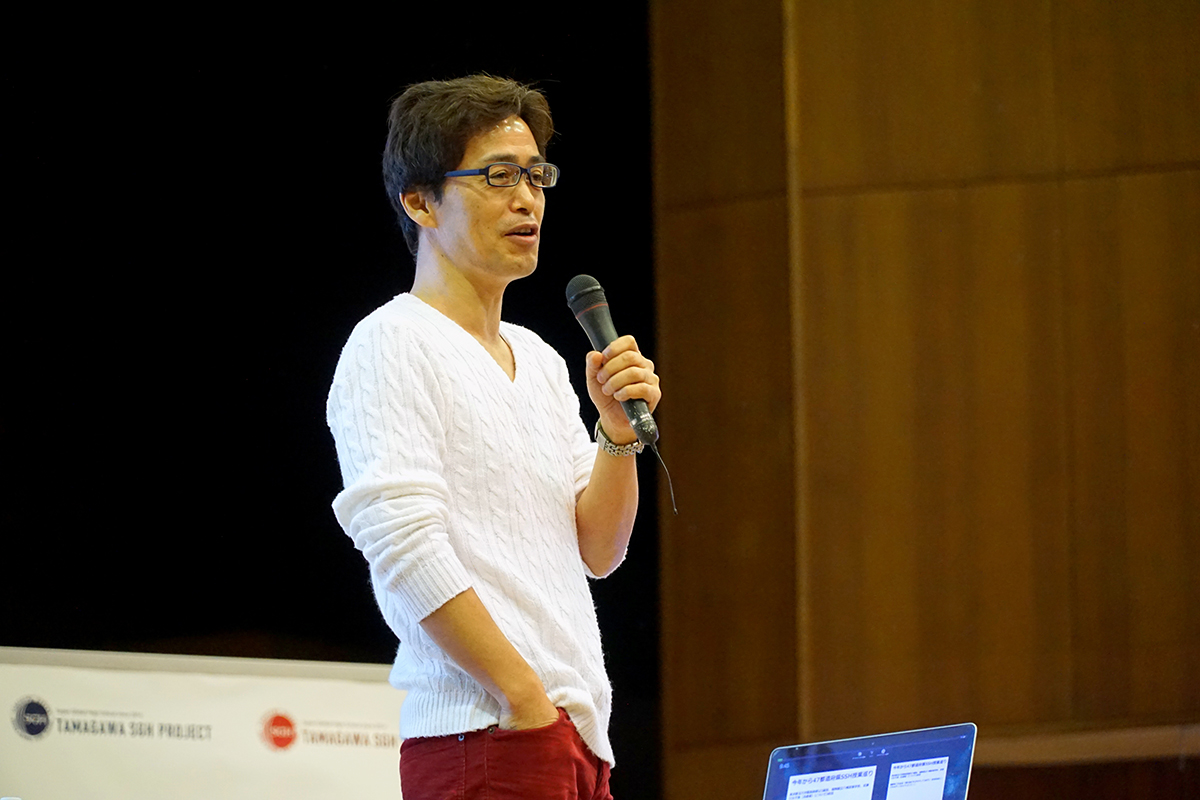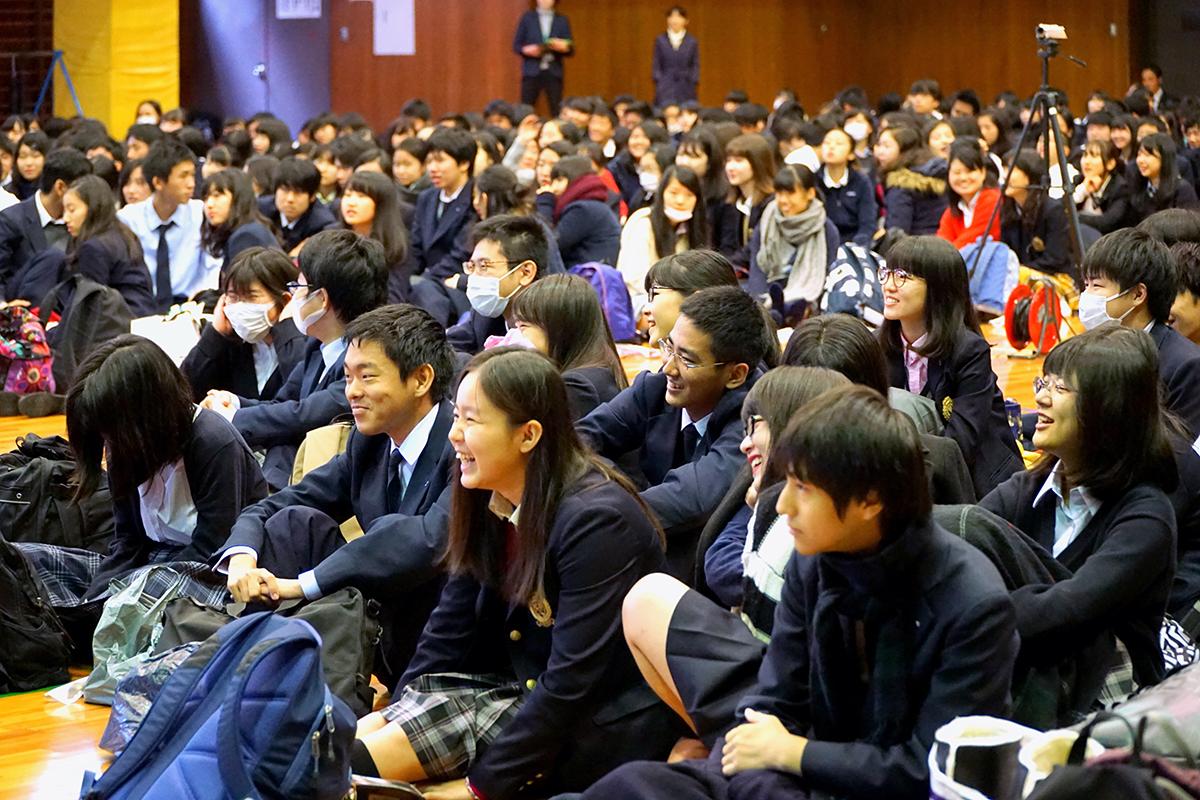 "What I want to talk about today is the story of 'Why do you learn?'. In fact, you want to learn naturally as you are human beings, and I will show you the scientific basis." Mr. Takai began.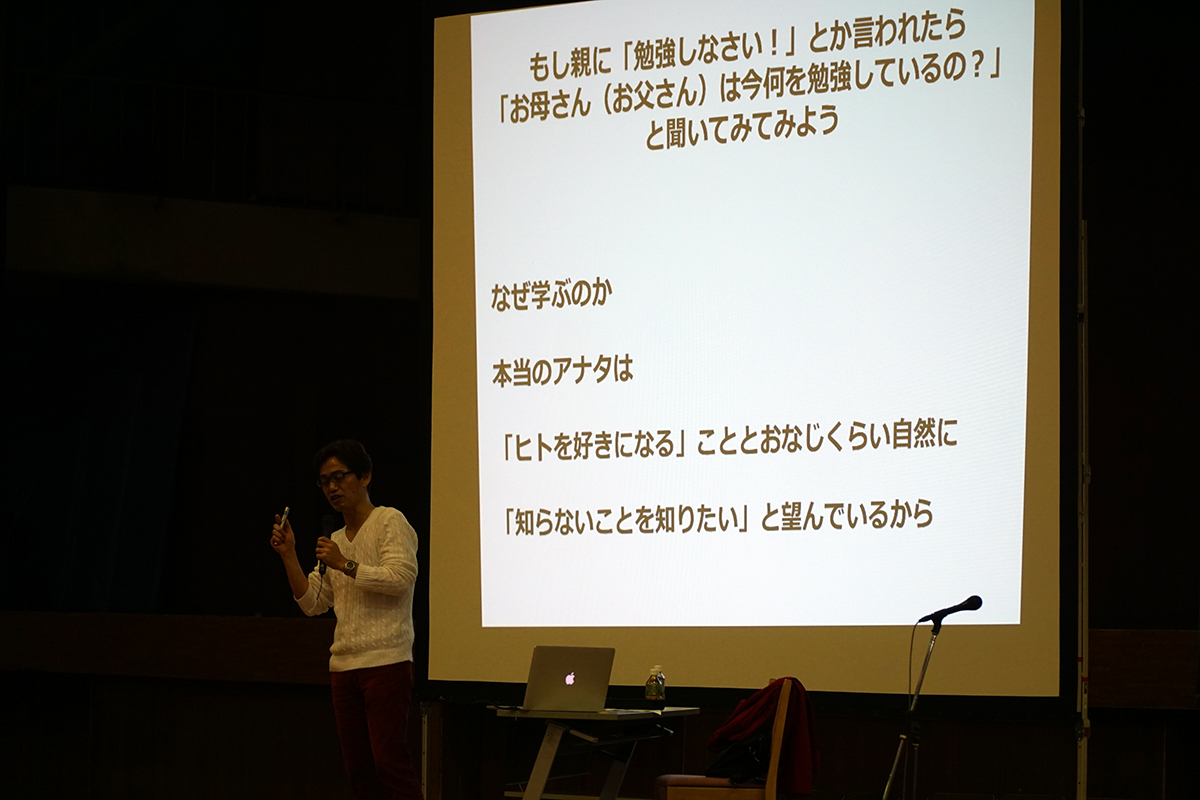 "Among the thirty-three thousand genes that express the personality, there are 'genes to want to know'. There are only
30, about 1/1000 of them, but they are supposed to create the 'want to learn' desire inside of you. It is important to think to make yourself study to achieve this."
The human connection he touched on, like biological viewpoints and feelings, was easy for the students to understand, and the intellectual curiosity of the students were greatly stimulated.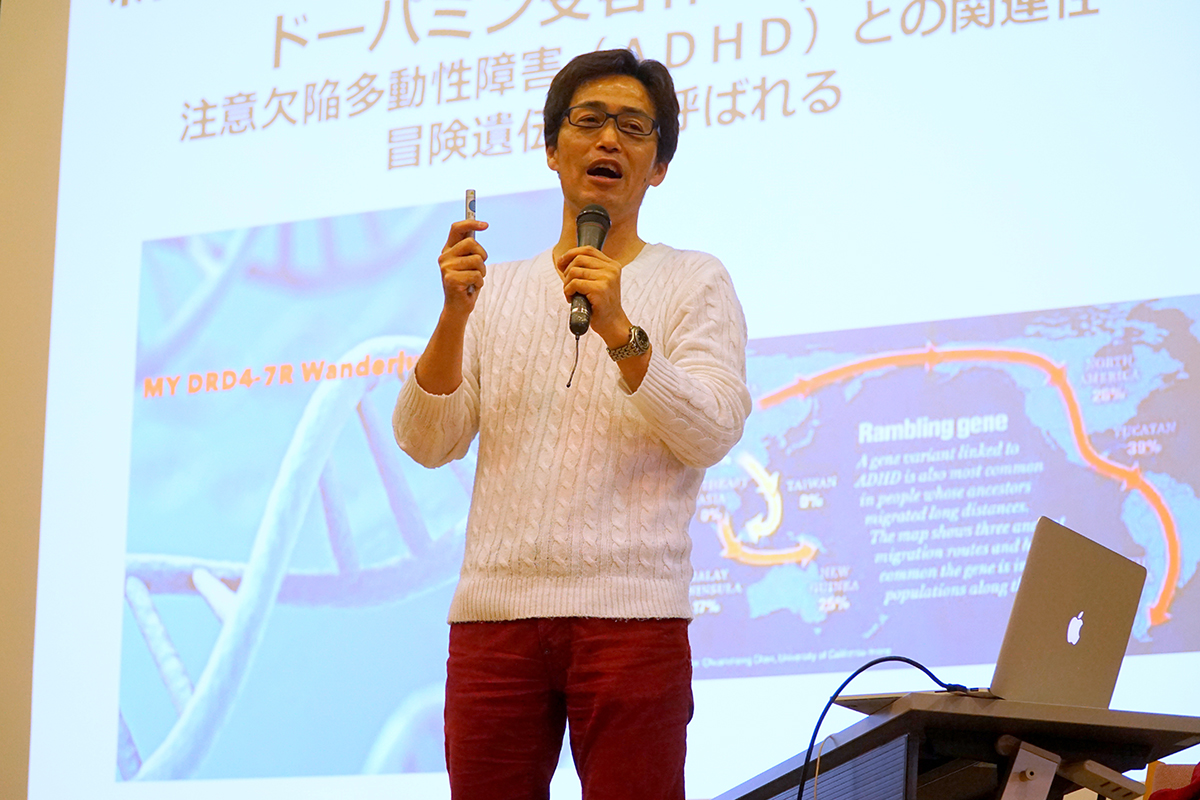 "And one more thing, there are problems peculiar to high school students, such as human relationships, love affairs, and studies, etc. I want you to think about 'science' when you face those problems. Science is not just useful to people and society. It enriches our hearts."
"Our troubles are not a big deal once we get away from them a bit, but when we are in the midst of them we feel like they are everything. The amazing part of science is that it makes it possible to have a point of view that jumps over the self a little."
When I was a high school student who was suffering from problems with human relationships and love affairs, I thought of the universe and aquatic creatures through the blue sky and rice paddies seen from the classroom window, and realized that my troubles are small relatively. – The "Value of Science" he spoke about in this story Mr.Takai resonated with each student's heart and brought increasing awareness.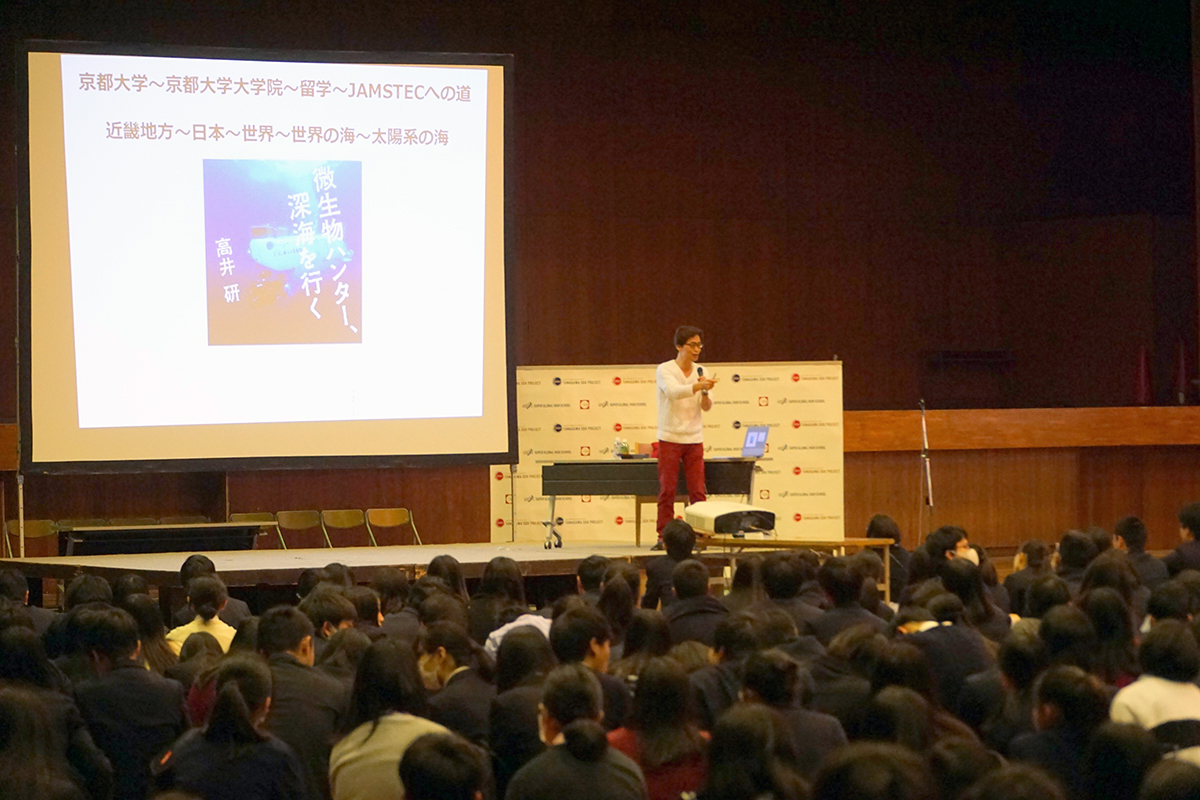 "We humans have used 'Science' to expand our world. This is the most important thing I want you to learn."
Mr. Takai, was able to make his own world bigger through learning science; through studying about the ocean and the solar system at Kyoto University, in the United States, and in JAMSTEC. His message told us that "Learning" exists in all of everyday life and it expands and enriches our world.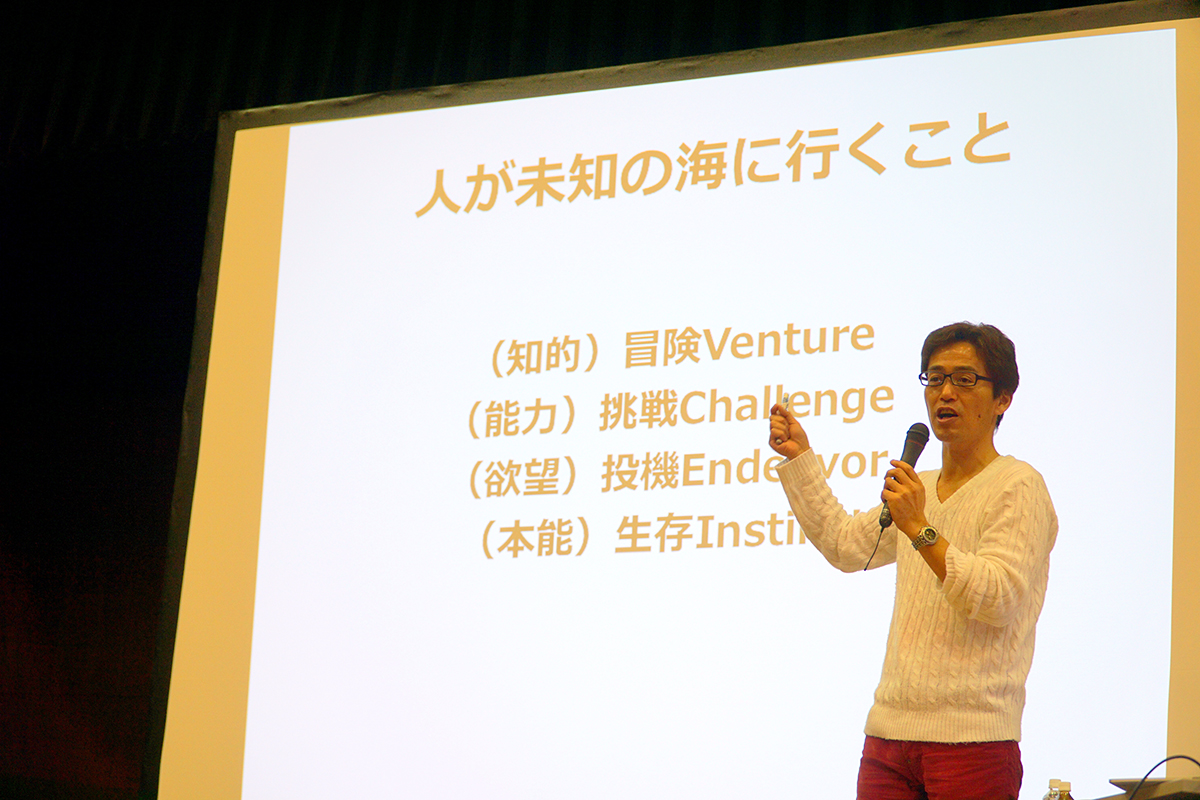 "Have you ever failed in a project?" a student asked.
"I've never felt that a project has failed. In fact it may have failed but 1% of success comes from 99% failure. The important thing is the flexibility to think 'I will succeed next time',isn't it?'"
After the lecture, Mr. Takai answered questions about science problems and frank questions about the future, with students who were interested in learning about how the researcher's desires and scientific questions of the world come together.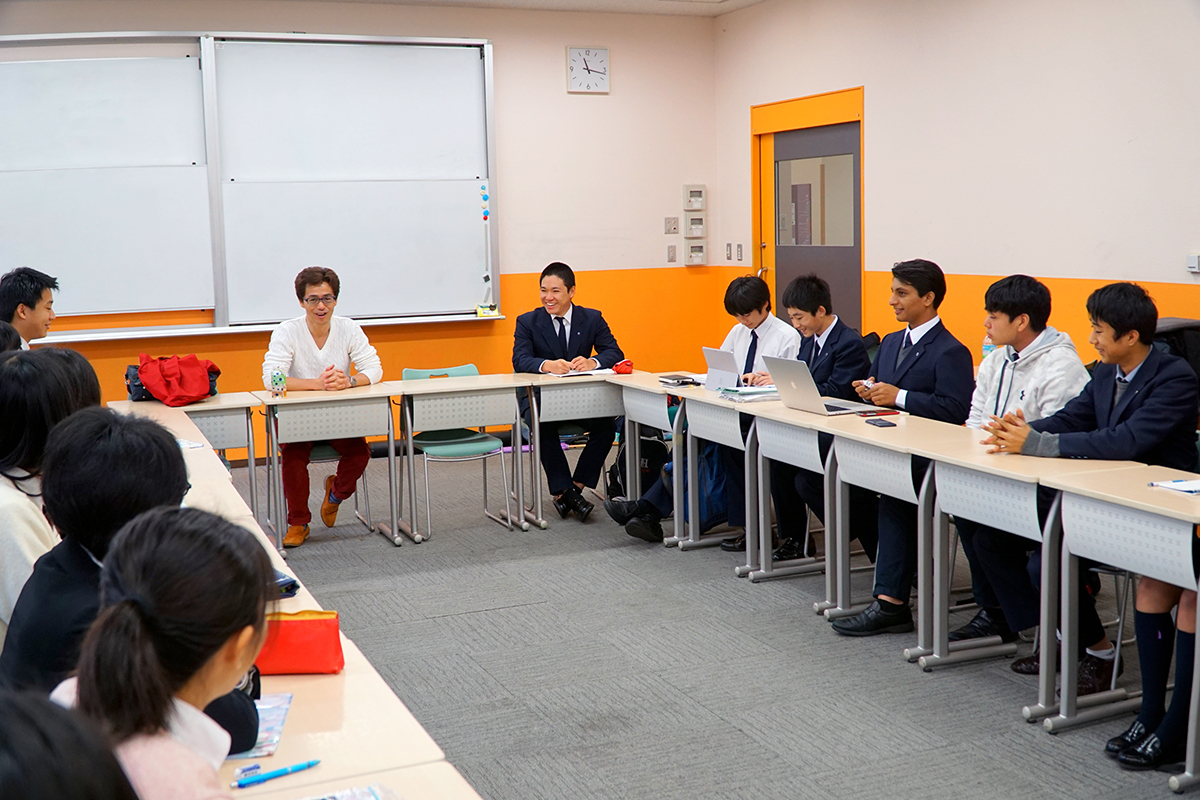 He quoted the dialogue from his favorite comic "SLAM DUNK" to talk about the importance of "not giving up" and the most important things when talking with others. The topics raised were diverse and the students had a very fulfilling time thinking about developing "learning" while having fun.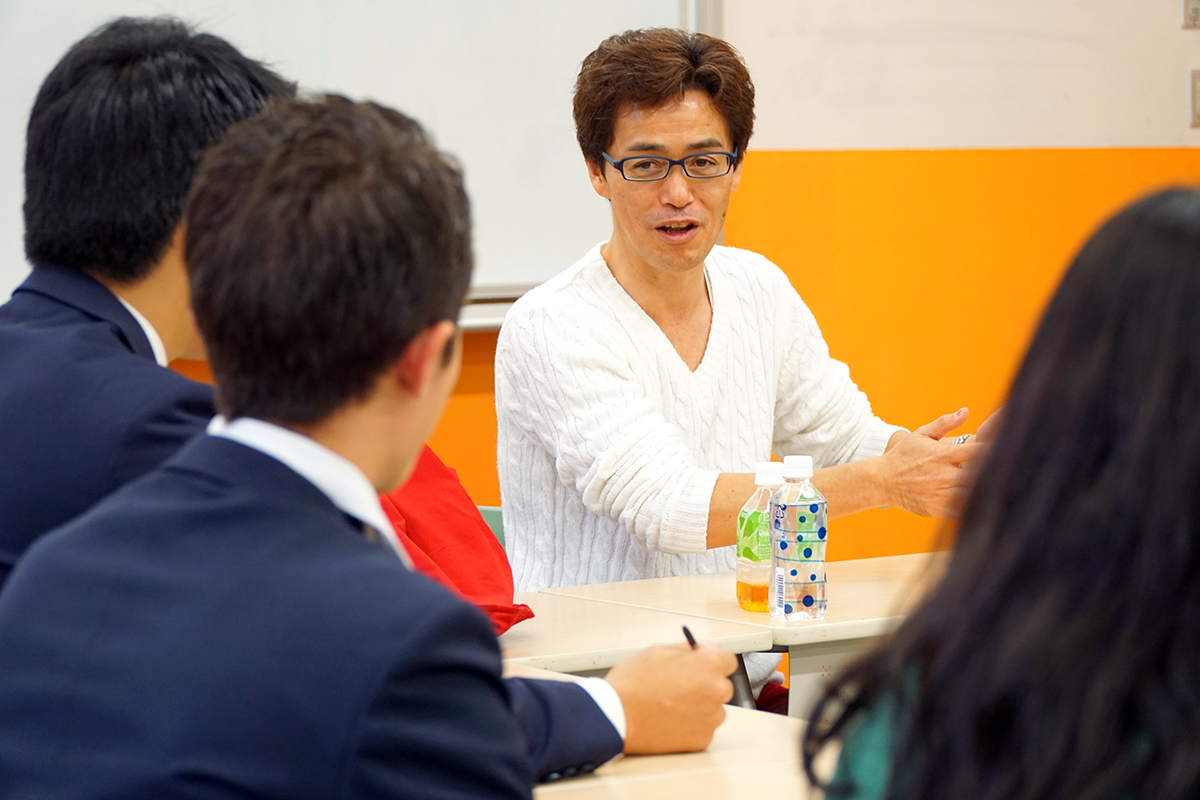 "I thought I have to research things that are useful for society to become a scientific researcher. It was the greatest motivation though, to know that I could research based on my curiosity."
"By listening to Mr. Takai's ideas, I feel I can now think flexibly about the future."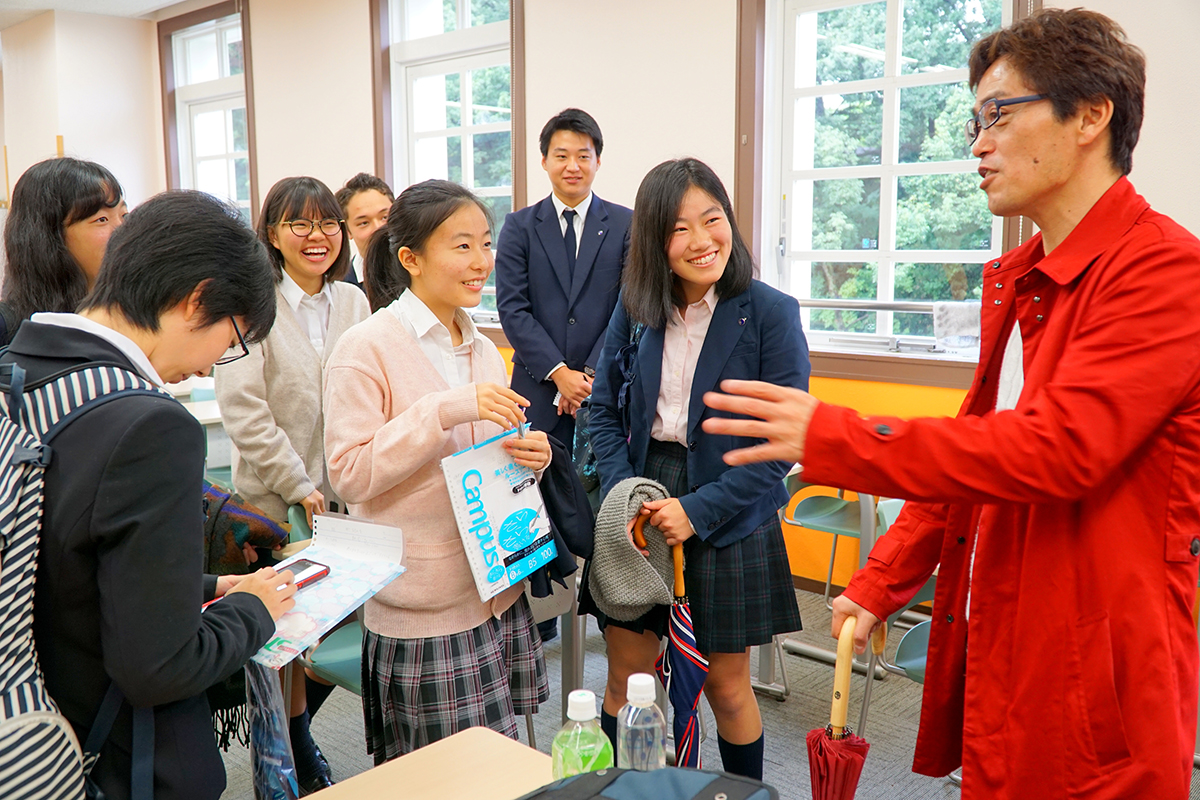 The Students learned new scientific perspectives and insights about human understanding beyond the framework of science and humanities from Mr. Takai, who enjoys "learning" from his heart and faces "Science" with a touch of childlike curiosity. The students advanced a step towards a free and creative future.