The lecturer of the Global Career Course lecture this time was Yoshiko Miyagawa, who graduated from Tamagawa Gakuen High School and engaged in international cooperation in the Japanese Red Cross Society, the Japan International Cooperation Agency (JICA), the Ministry of Foreign Affairs of Japan and etc. She talked about the chance of choosing that work and necessary skills to work in the international community, based on what she has learned and gained from her experiences.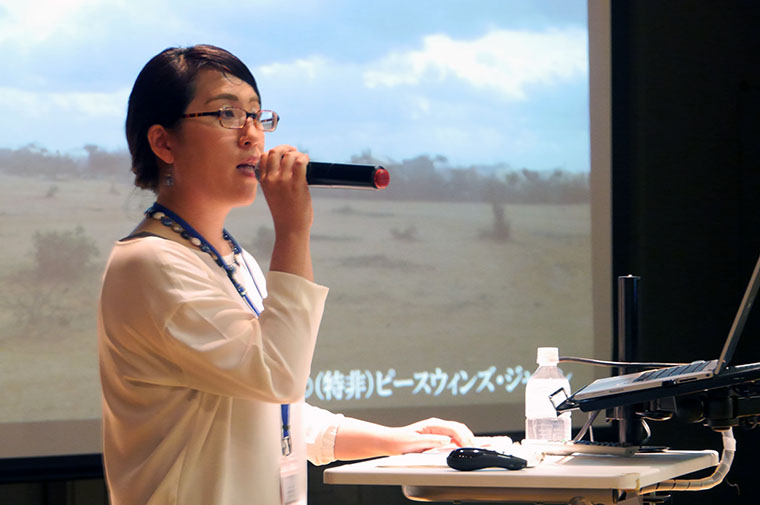 "There is my former classmate, teaching at this middle school." Such words of Ms. Miyagawa made relaxing atmosphere to the venue.
The lecture started with an introduction about areas and work that she engaged in. In the photographs with episodes of the area where 4,500 people use a well that should be used by 50 people in size, a small groaning by students occurred at the venue.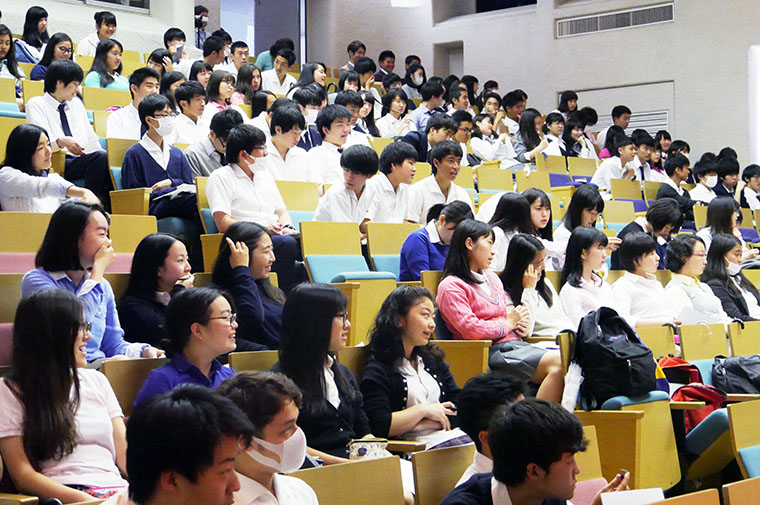 Next, Ms. Miyagawa talked about her milestones that she came to find the way to work for international cooperation.
Ms. Miyagawa, who wanted to become a cook until her second grade of junior high school, gradually turned her attention to the world since she entered Tamagawa Gakuen high school .
She was stimulated by friends who are learning English conversation, have experience of studying abroad, and who always extend their horizons outside. Secondly, news clipping assignment of Contemporary Society class was another milestone. Following articles of regional conflicts in the former Yugoslavia for one year, made her heart aches for the people suffering. , Most importantly, reading the grandfather's journals, which wrote the experiences of being held in ice-cold Russian Siberia as a captive after the World War II, gave a great opportunity for her.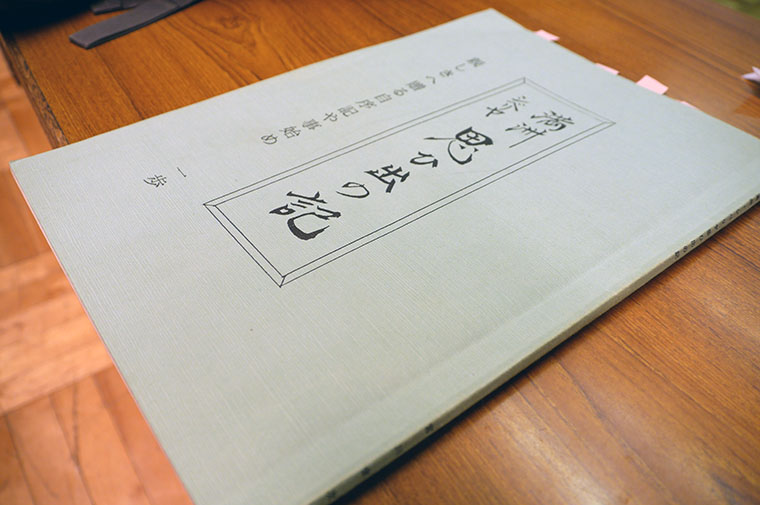 Although she was listening to stories of the grandfather of the life in Siberia since childhood, she read the journals again when she became a high school student. She started to think; "My life here is because my grandpa survived the war and the life in Siberia, so I want to use it with a purpose. What kind of things I can do for those who are suffering?"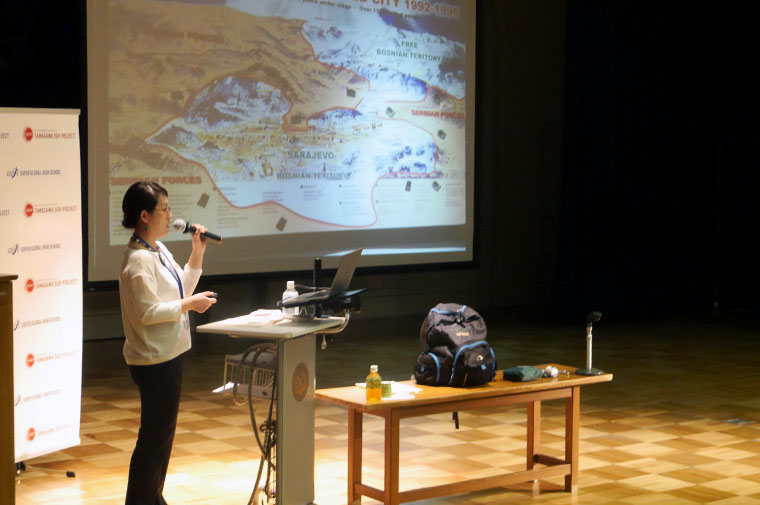 She soon decided to aim to work for supporting people suffering in the world. "I must know my own country first, to know the outside world." She studied political science at university, and after studying abroad she began to pave the way for international cooperation.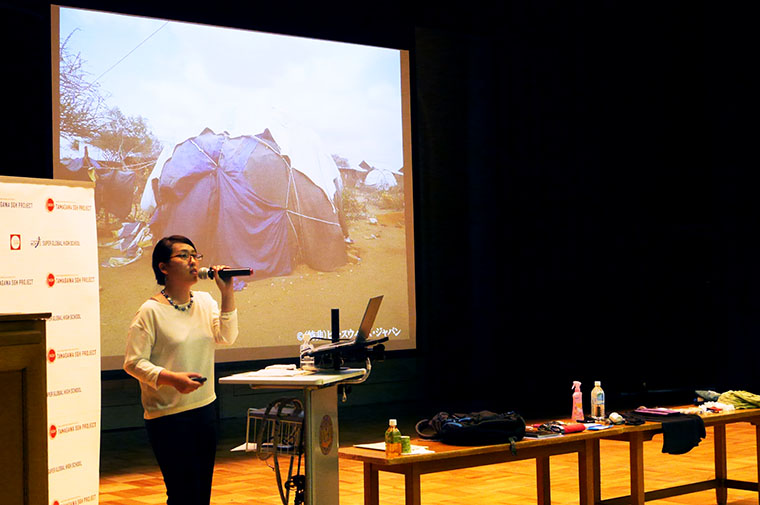 Then, she talked about the reasons of why each of the following, "English skills", "Knowing localities", and "communication skills", are important skills in international cooperation, based on her experience.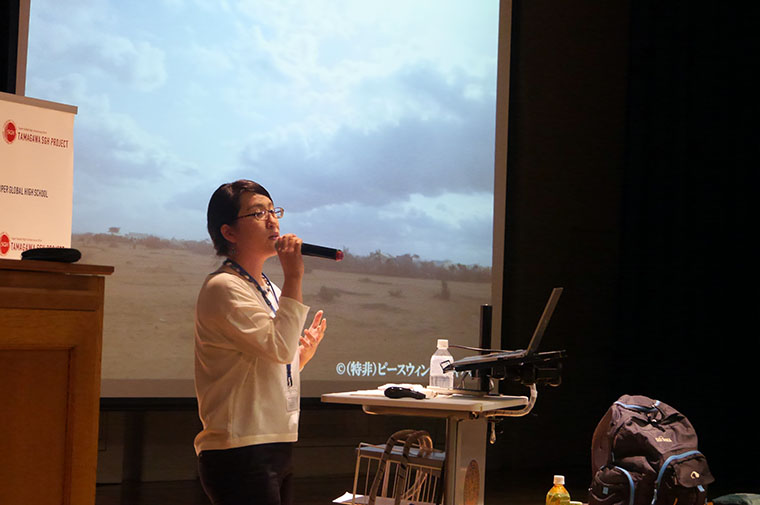 "Despite thinking at the desk that it is better to do this kind of support on this site, our assumption and needs by the people would be different. Because it cannot be solved only by theories or common sense, it is important to know the field, so we should learn from the local people."
Episodes with full of real feelings, reach to the listener with strong persuasive power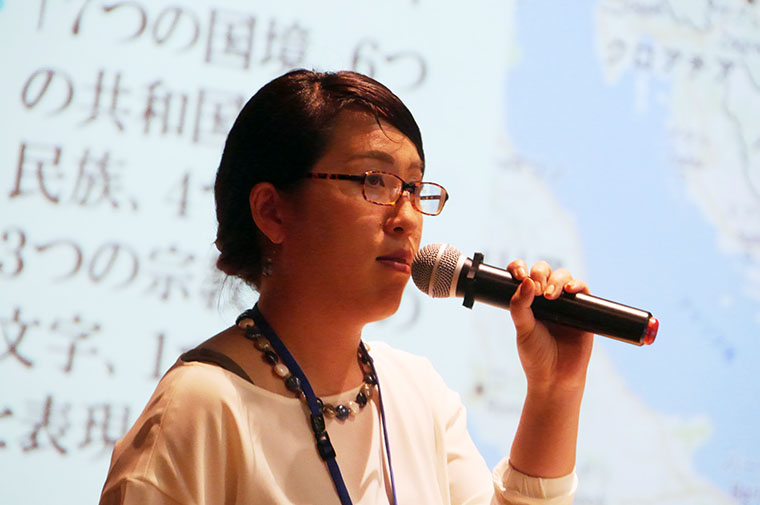 However, sometimes even though we work and polish such skills day by day, we may suffer in the face of reality that we cannot solve many things.
When she reach a dead end at work, she always bring her origins to mind; "I want to help those who suffer in circumstances, caused by conflicts or disasters, where individuals cannot resolve the situations by themselves."
She values the word "Onko-Chishin (an attempt to discover new things [truths] by studying the past through scrutiny of the old)" and "Muchi-no-Chi (wisdom to realize one's own ignorance)" all the time for better international cooperation, and work on her tasks.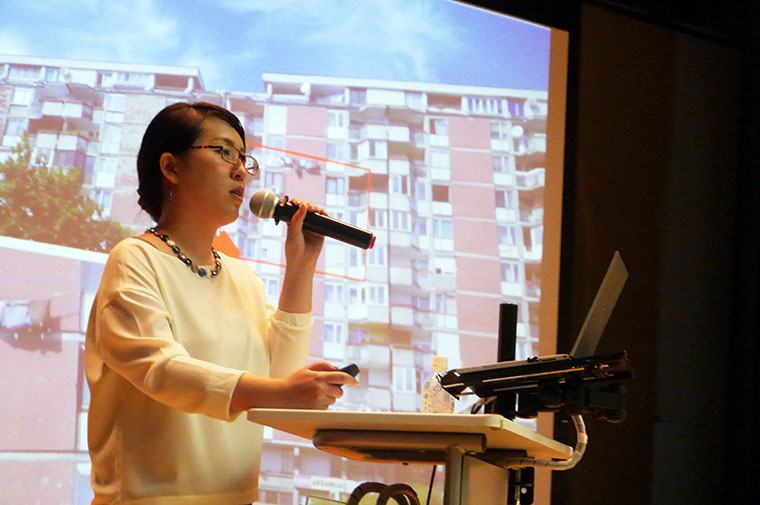 "Whether you would work for international cooperation or not, it is very important to know various things, to examine the past to think and act. I would like everyone here to learn many things from now and I hope you remember one thing in the story today and go home."
The students received Ms. Miyagawa's life-sized feeling in the message.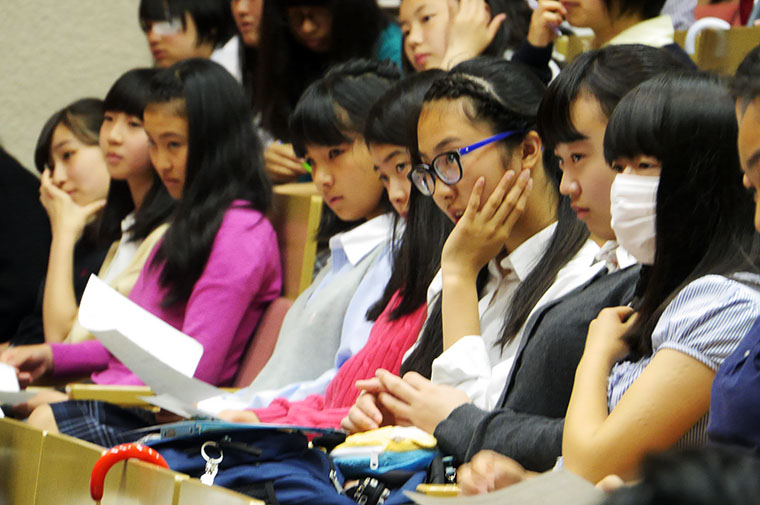 After the lecture, students ask questions before the items arranged on the desk. There were daily necessities and first aid kits for injuries, which she brings to the field site every time. The students found that some items are used for unexpected way and it was an opportunity to learn about the field, right after the lecture.
"I was worried that I was very weak and useless for helping people, but I am relieved because my senior feels the same. It made me feel 'I can be worried'. I understand the meaning of what I am studying now.
Students interested in a work of conflict resolution reported their impressions with a radiant expression to her.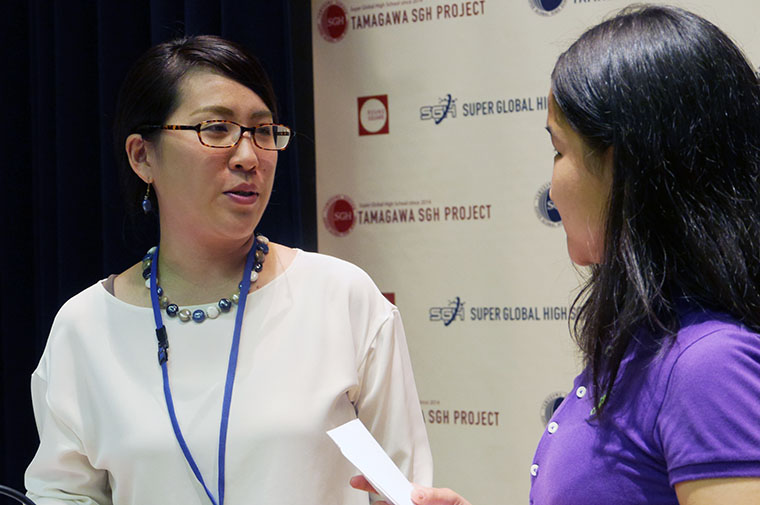 Students left the venue while discussing what to learn in order to make international cooperation. They learned that "Something important for ourselves" can be a great force for study and work.