The lecturer for the Global Career lecture this time was Kako Motosugi, a graduate of Tamagawa Gakuen who is taking part in a lot of overseas activities while in her third year at Sophia University in the Department of Foreign Languages.
She talked about her life at Tamagawa Gakuen, her activities in Africa, and what she learned there.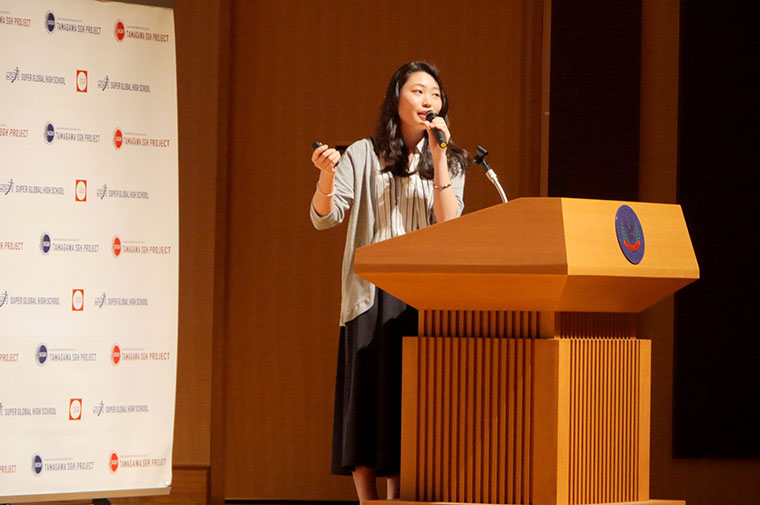 "First of all, let's all imagine a college life by closing our eyes a bit. What kind of classes do you want to take? What kind of campus is your favorite? Are you excited? Now, please open your eyes. How was it? Drawing your ideal image is very important."
The students were attracted to her from the beginning after imagining an "ideal university life".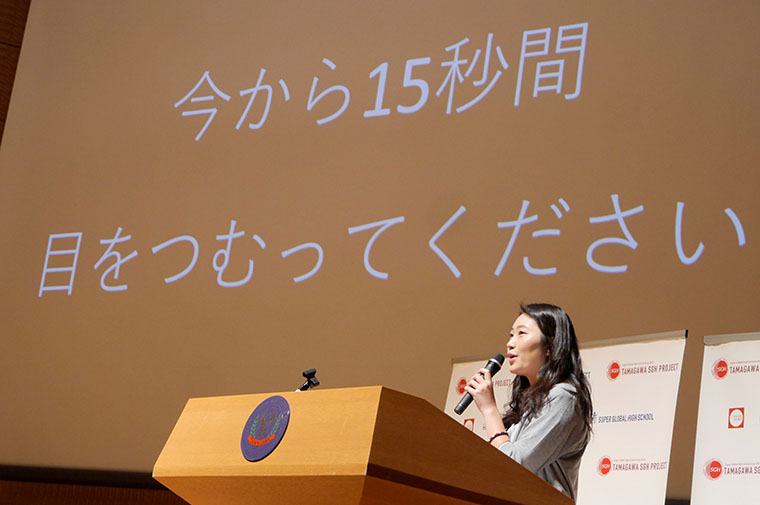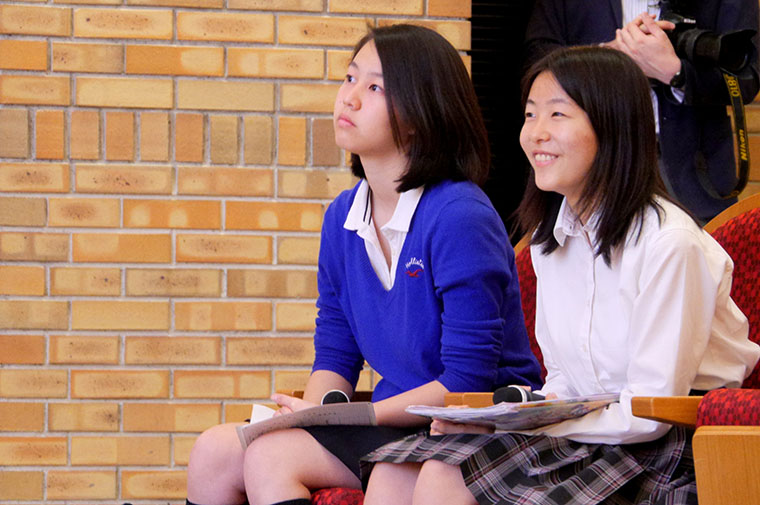 Ms. Motosugi, who had opportunities in various overseas experiences at Tamagawa Gakuen since her time in kindergarten, became particularly interested in Africa since she experienced a short exchange program in South Africa when she was in her first year of high school.
Originally, she was not very interested in South Africa but it was what the school offered, but later she received a great shock after witnessing the realities of life after the apartheid system.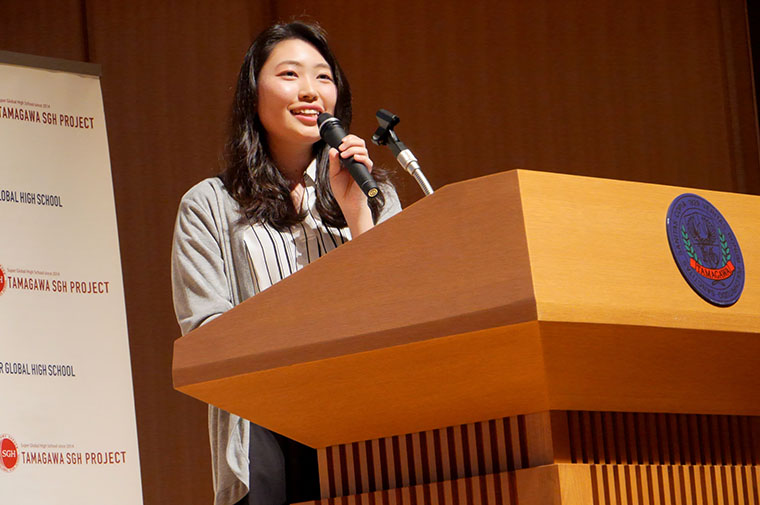 She remembered her feelings at that time. "I spent many days looking at the slums for three months, but I could not do anything for those in need. I began to wonder strongly if I could do something someday."
Based on this experience, Mrs Motosugi began to think of "Working for something related to Africa" and set that as a goal and her 'ideal image'.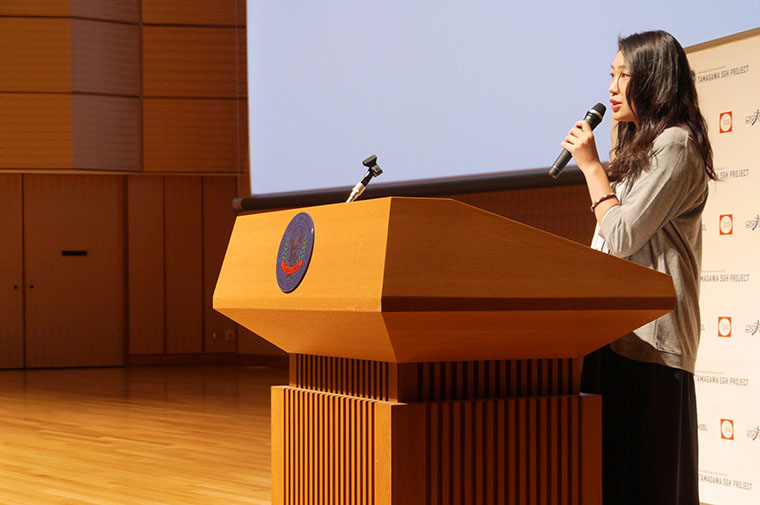 After returning to the school, she actively participated in the Model United Nations and Roundsquare activities to build her knowledge of Africa, she entered Sophia University, which provides a program to send university students to UN agencies. She realized the importance of getting "knowledge", "experience" and "confidence" as she got involved in activities every day in order to get closer towards her 'ideal image'.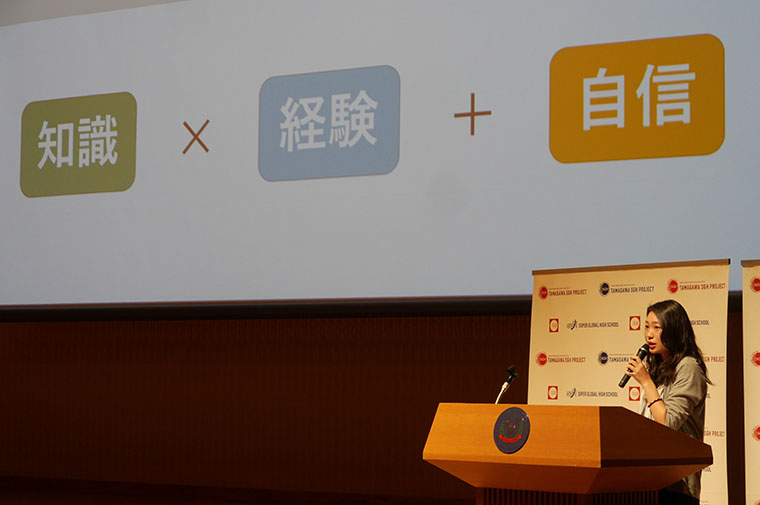 Ms. Motosugi said that deepening her "knowledge" and "experience" by participating in overseas volunteer work and taking lectures on international politics and economics and gaining "confidence" by meeting with various college students and sharing stories of their activities lead to more "knowledge" and "experience". She could feel the accelerated pace of her own growth.
"I think you can create "something only you can do" and "values which only you can make" my multiplying knowledge, experience, confidence." She said..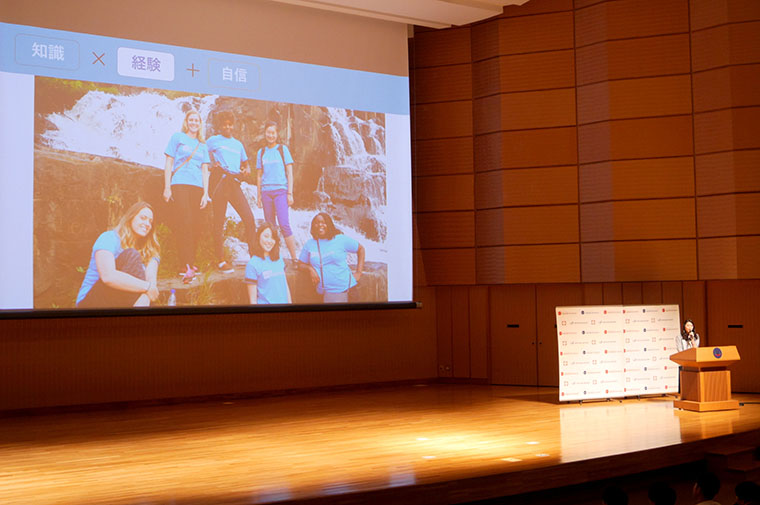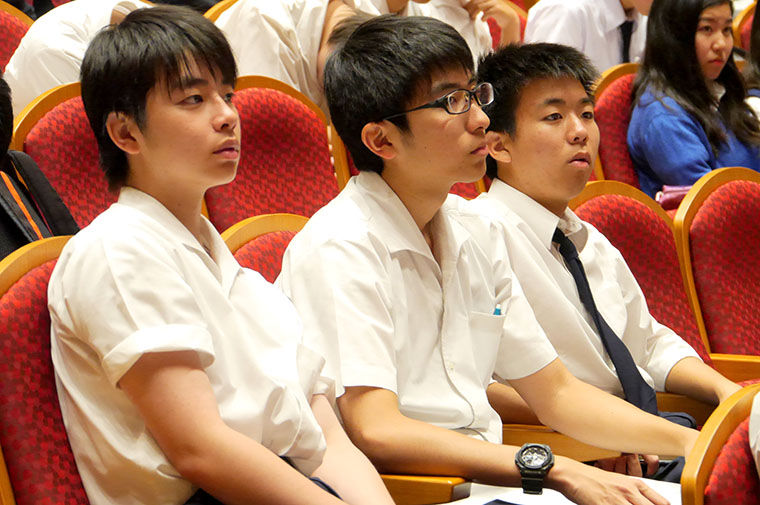 "In Zimbabwe, to where I was dispatched as a volunteer, hyperinflation has caused great confusion in the lives of people. I felt the failure of national economic policy hitting the people's life directly."
From that experience, she learned the influence of the "economy of the country". She began to focus on learning about harmonizing the social structure from the perspective of "economy" while considering learning development studies at graduate school.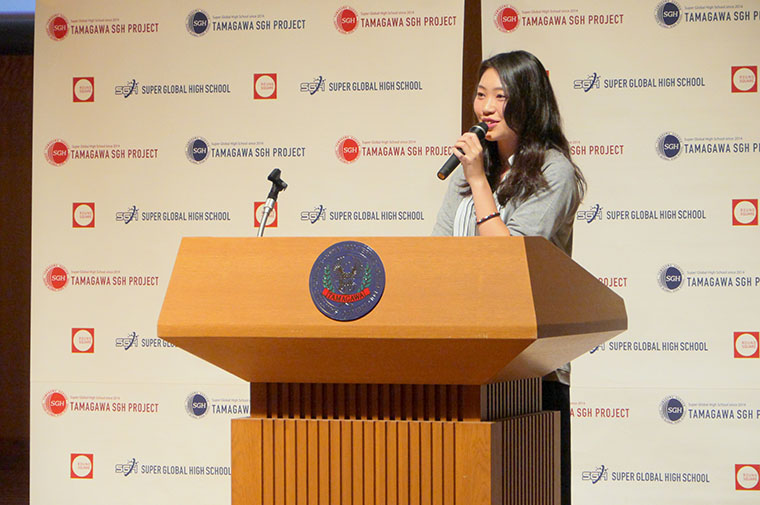 "Although it may be difficult to imagine the future now, imagine as it is a tentative plan. I am excited about being involved in Africa, but if you draw a future image that you are excited about, it will become the driving force of your own actions. I want to be really conscious about this while enjoying my university life without regrets. I hope you all spend a life without regret."
The real feeling she explained her stories included in the message at the end were echoed by the students.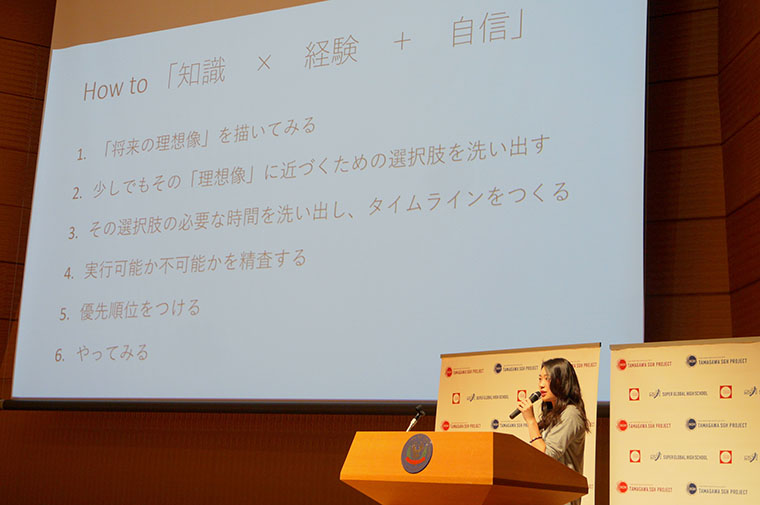 They asked questions like,
"What is the most interesting thing in Africa for you right now?"
"How can study in IB classes be helpful at college?"
"How can we improve our English skills?"
After the lecture, hands come up from a lot of students. Ms. Motosugi gently and politely answered them including those not only related to Africa but also to their career, taking account of her own experience as alumni.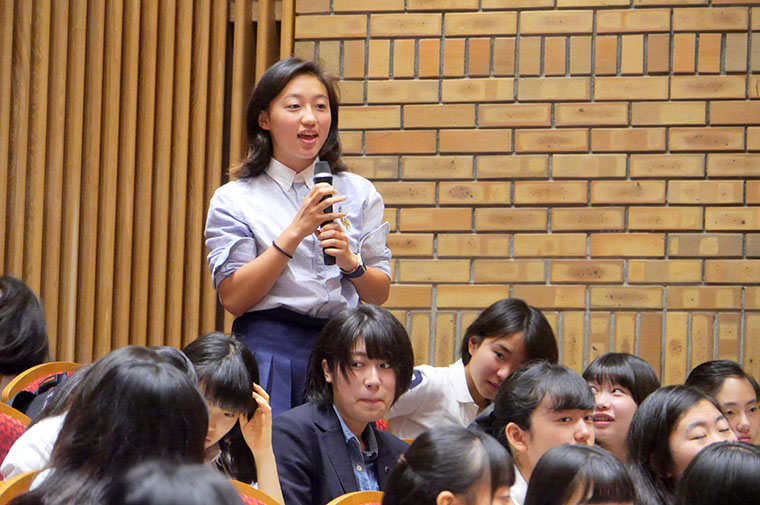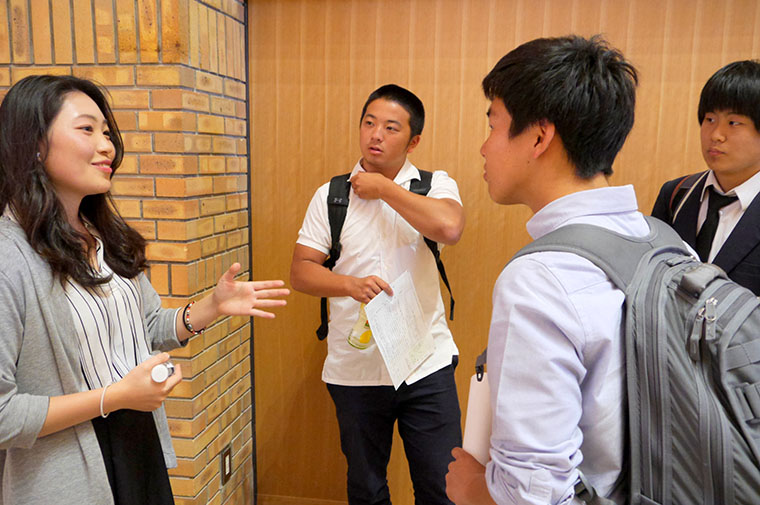 Students seeing their senior who drew her own ideal image helped them to draw images of their own. They were able to think about their future life course and career choice, and gained "courage" to advance to their own ideal future.