The first global career course lecture of the New Year was held with the theme being "Career development in the global age". The students were asked what kind of things are necessary for active global involvement.
Mr. Tetsushi Sonobe, who is the vice president of the National Graduate Institute for Policy Studies and has achieved a lot of things in the field of development economics, talked about the "necessary power" he obtained through his own experiences.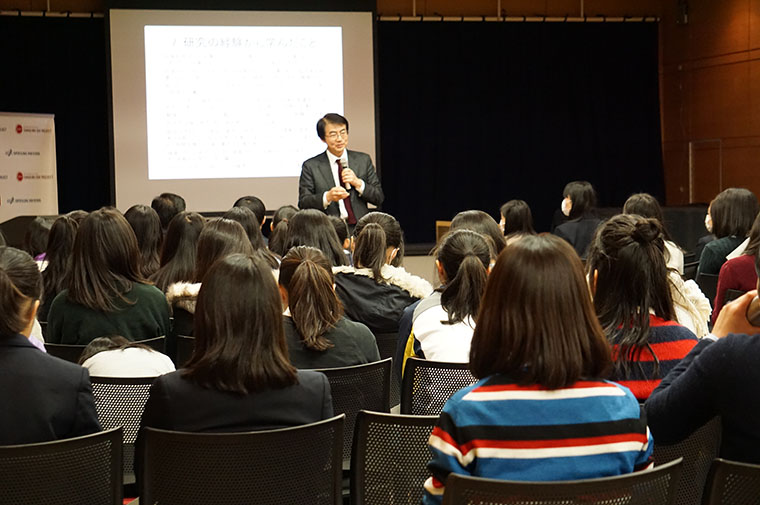 "'Career development' is a process of enhancing our skills so that we can earn enough income to live well mentally and materially. "
As Mr. Sonobe was soft-spoken and gentle, the students attentively listened to his explanations about topic.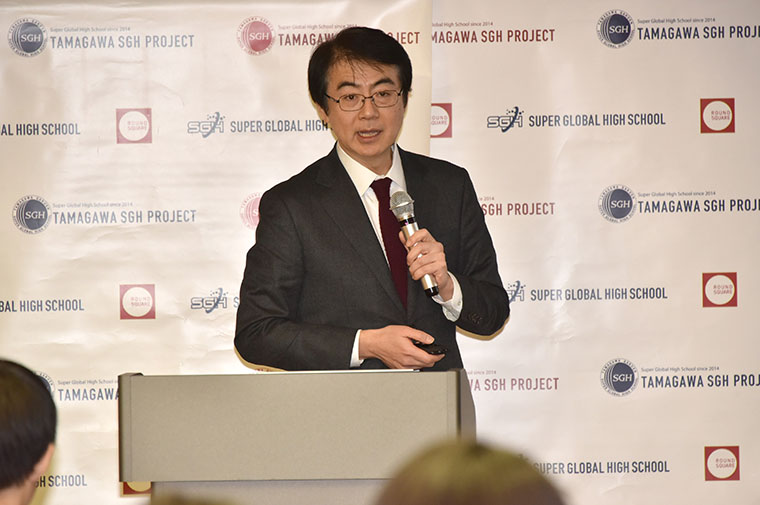 "When you form a career in a global society, it is essential to engage with people from other countries. So it is important to think about what they are like. What are the differences between Japanese people and people from other countries, emotions, abilities, sense of humor? "
"Actually, there is not much difference between us all." He said.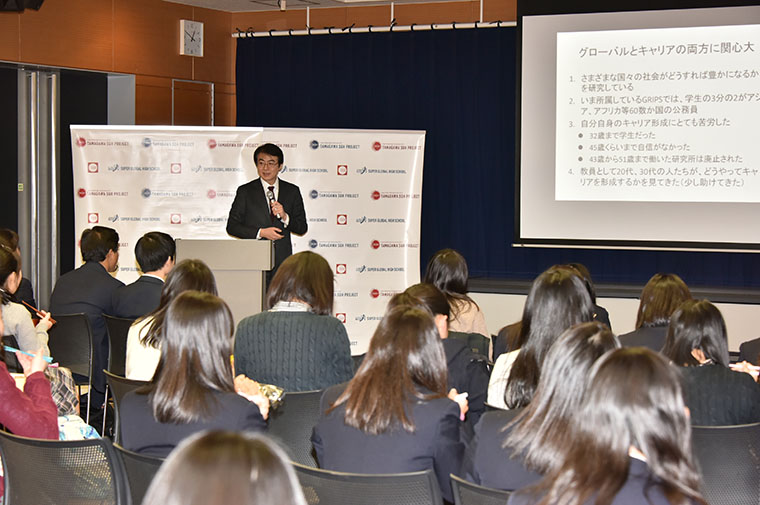 "In Japan and other countries, 'individuals'usually aren't different, but the 'society' in which individuals live can be quite different. Some countries have a peaceful and affluent society, others have war and society as a whole is poor. So unless you understand the differences in the societies behind the individuals, true understanding and friendship can't happen.
Understanding the "society" in which individuals have grown up, serves as the basis for communication with people from all over the globe. That idea was conveyed to the students and backed up by his experiences involving the many people he had met in his life.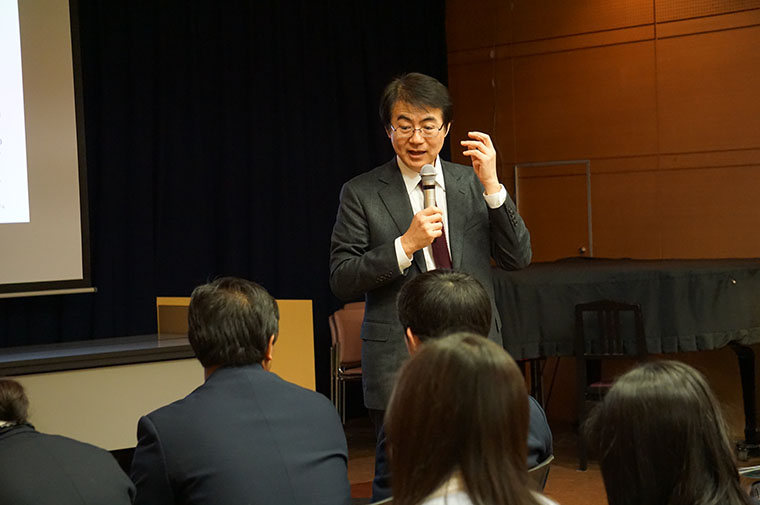 Next, Mr. Sonobe talked about the support and research activities he had done in developing countries.
Development economics, which is the academic field that Mr. Sonobe specializes in, involves thinking about "Why are there poor societies and how can we enrich them.".
To answer this question, he has been exploring effective ways to improve business activities in developing countries for many years.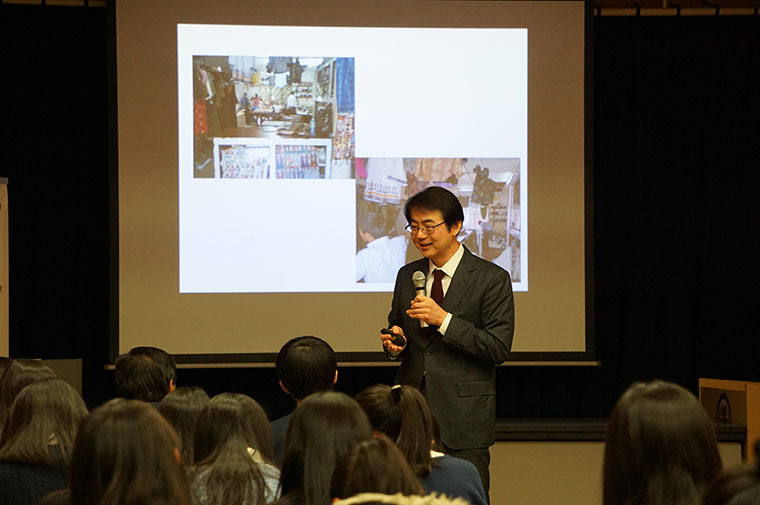 Mr. Sonobe explained the realities of companies working in developing countries. He showed photographs to illustrate his points.
"In Africa, the skill level, even the skills of longtime employees, is lower than in Asia. Also, many mangers in Africa do not know how to motivate young employees and how to decrease their physical or mental burdens."
The students listened eagerly, surprised by the fact that it is often impossible for companies in developing countries to do what is common in Japan.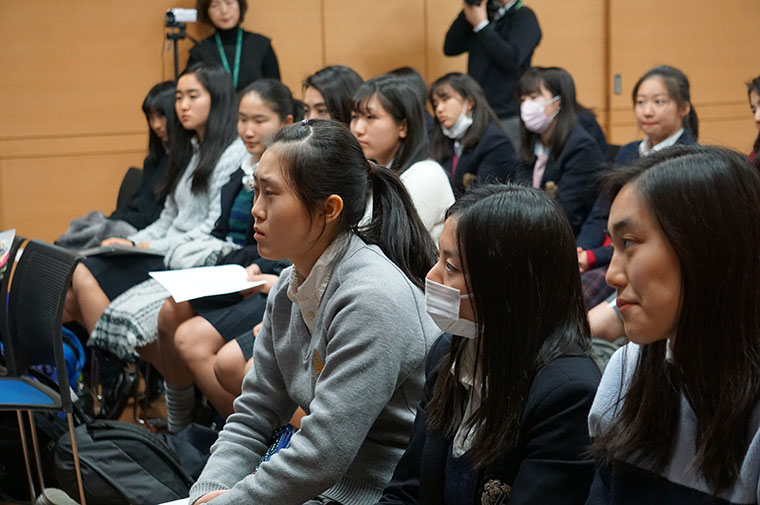 "Despite the lower skill levels and the lower levels of efficiency, many of the managers in developing countries think that 'I am doing well.' So they do not try to improve the work environment even by working on fundamental things such as workplace organization.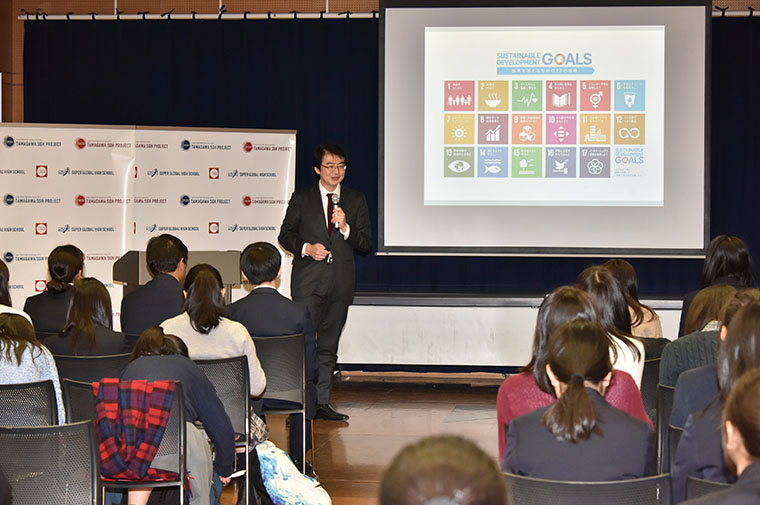 "Also, research in developing countries costs a lot. In order to cover the cost, I have lobbied for funds to carry out reseach."
Mr. Sonobe has been working hard to increase the rate of development other countries. From his point of view, willpower is necessary to accomplish the goals we set.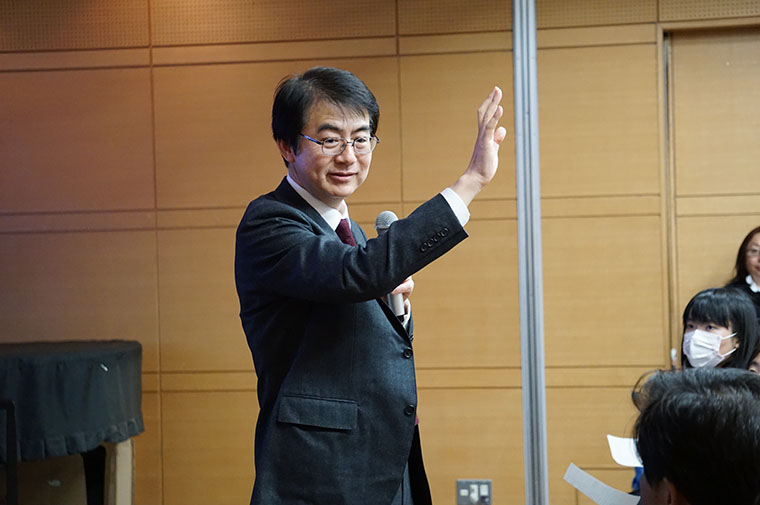 "We need to raise research funds. To do so, we must show our passion for the research no matter what. There is no different between Japanese people and people from other countries on that point."
"There are a lot of excellent people in this world. Sentivity to their situations is important to get them on your side though."
Finally, he said "I would like to share what I learned from my research experience", Mr. Sonobe told students about the necessary attitudes we have to have in international situations and illustrated the reality of that using various actual situations he was involved in.
"In the end, life is like a game of how happy we can make ourselves and others around us. I think that you can change ideas if you look at things in that way."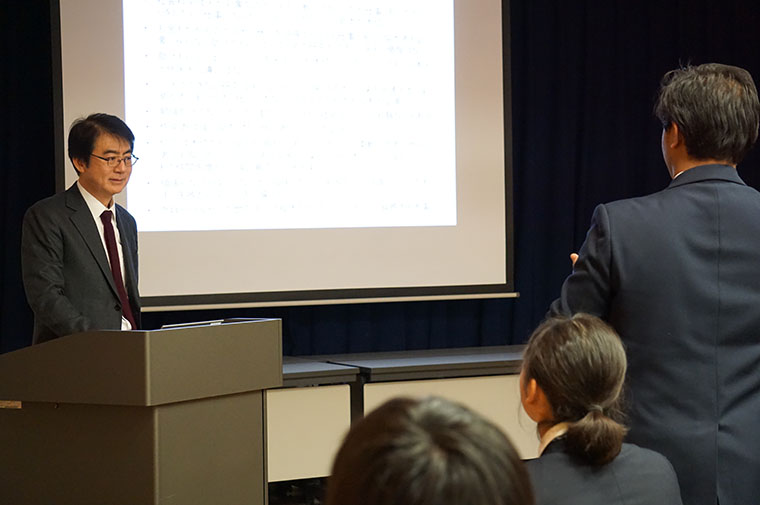 In the question and answer session after the lecture, the students got a lot of nuanced answers from Mr. Sonobe and gained valuable information about the "Reality of the World".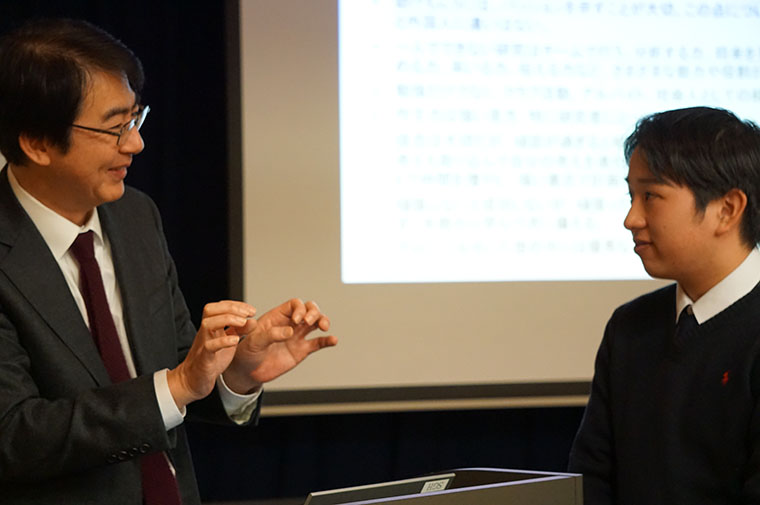 The students learned what skills they need to live together with people who have different backgrounds.
The students made comments like "I am also doing research in my class and had the feeling that I was getting left behind every time something new was introduced. I learned it is important to get ahead of things while building passion and considering people around me to avoid being insensitive. "