In the "Global Career Course" students listen to lectures given by people who are engaged in global activities in various fields.
In this lecture, which was the last of this year, Ms. Chie Murakami, Director of the Non-Profit Organization Diamonds for Peace, talked about international support activities related to diamonds and tips on how to choose a career path from her experience.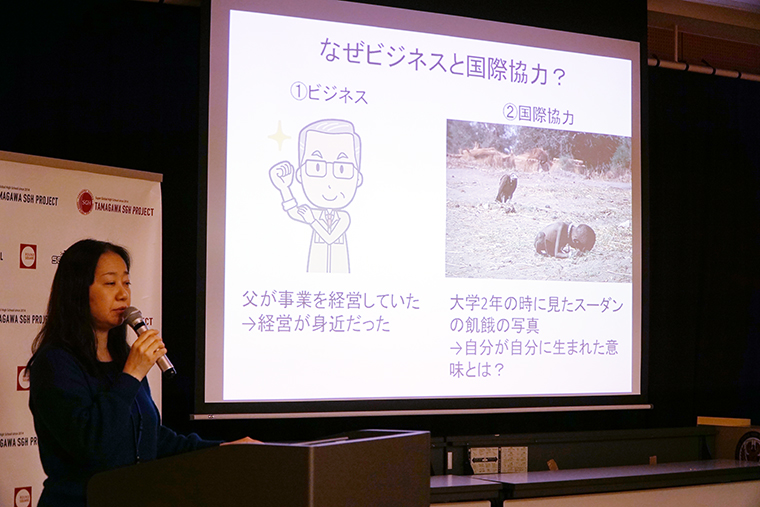 First of all, Ms. Murakami told the students about her career during her self-introduction.
On the screen, the names of advertising agents, consulting firms, cram schools, JICA, etc. were arranged one after another, and the students were surprized at the variety.
The beginning of Ms. Murakami's career path was shown in one picture titled "The vulture and the little girl" that she saw when she was a sophomore in college.
This picture caught a moment where a vulture was focused on a starving girl. When Ms. Murakami saw it, she was shocked by the difference between that girl's circumstances and her circumstances. And she really beganto contemplate "What is the meaning that I was born in Japan, what is it for?".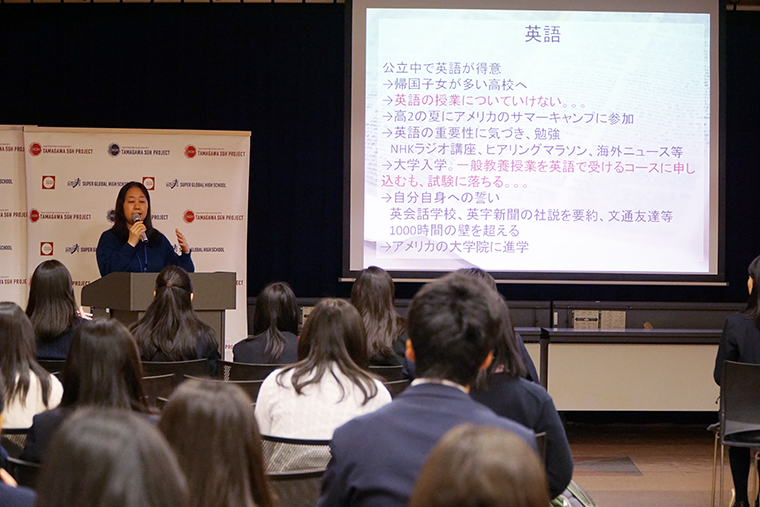 And Ms. Murakami decided to proceed to focus on international cooperation with the feeling that "I want to share the benefits of the wealth that I received in Japan to developing countries". She began studying English in earnest aiming to go on to a graduate school for that purpose.
She took an entrance exam with her friends who grew up overseas and her friends passed but only Ms. Murakami failed. After that, she made up her mind to pass next time and refined her English skills through reading English newspaper editorials and corresponding with people in English, and as a result of her effort, she went on to graduate school in America.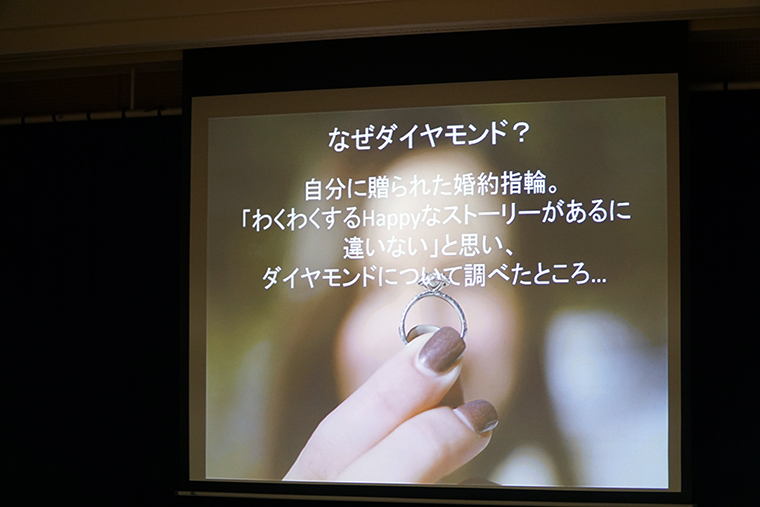 Ms. Murakami has repeatedly worked in various careers abroad and in Japan with a good English proficiency, acquired with steady effort. In 2015, she founded the organization "Diamonds for Peace" which conducts educational activities on diamond trading issues. It was the engagement ring awarded to her when she got married that made the turning point.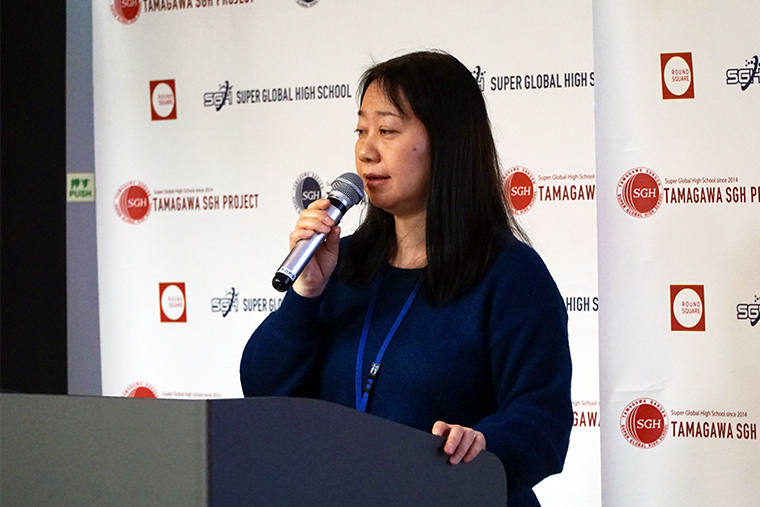 "I thought that there must be a happy story on diamonds surely, but I was surprised to know that it is not actually the case. In the area in Africa where diamond can be collected, people use them to buy weapons for civil wars. Diamonds are a source of funds."
Ms. Murakami learned that there are many problems while examining diamonds with the engagement ring as a trigger.In order to help local workers stand up to resist exploitation, she began doing supporting activities such as teaching about efficient mine technology and ways to increase income through side jobs.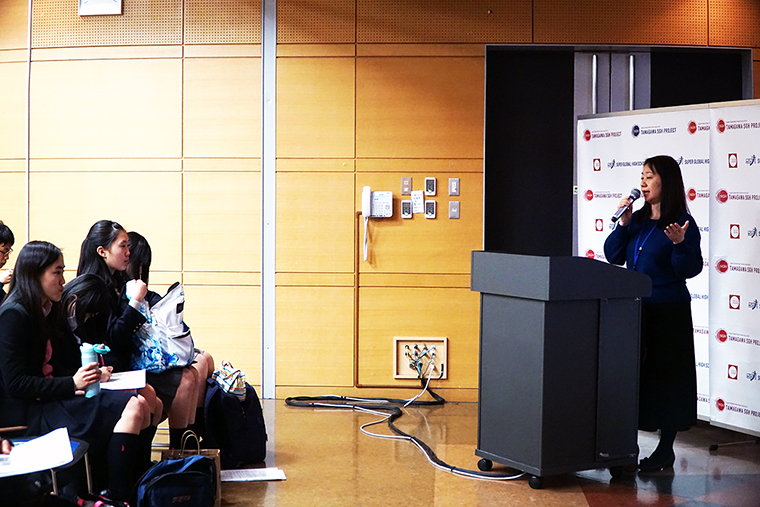 The students heard stories about the negative side of diamonds, such as use in civil wars with weapons being bought with money raised selling diamonds, child labor and problems of exploitation.
While being surprized at the harsh reality, which was far from their image of diamonds, the students gradually accepted that such facts existed.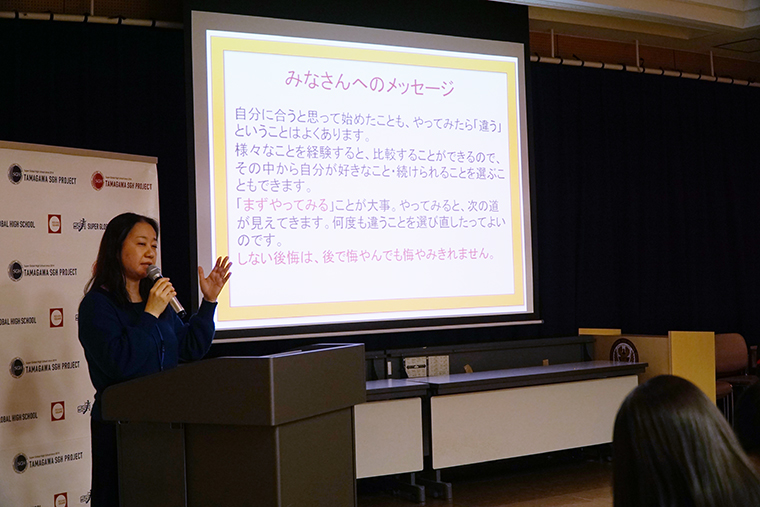 At the end of the lecture, based on Ms. Murakami's wide range of experiences, she told the students some important things to think about when choosing a career path.
"Even if you think you have found your calling, it may not be. But there is no rule that says you have to do the same thing in life. You can choose again. "
"By experiencing various things, you can see what you like, so I think it's important to try things first."
Ms. Murakami jumped into what she thought suited her. These messages reflecting her way of thinking had a great impact on the students.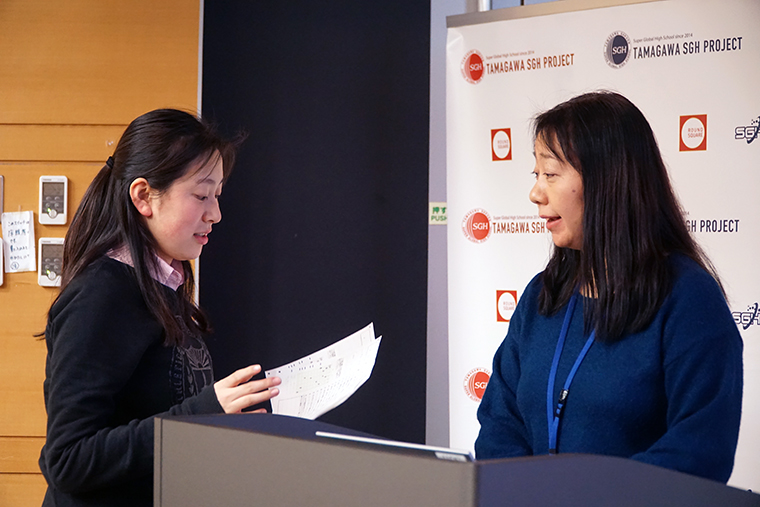 "I thought that Ms.Mrakami was amazing as she had experienced a variety of things, and the experience was linked to her work. Because I was convinced that my current experience is also connected to the future, I could get a lot of courage."
Each student felt as though they had gotten a clue to lead them into the future and their faces reflected that.