The students gathered at the venue each had a pamphlet on "Doctors Without Borders" which was distributed before the lecture. The students looked forward to what stories were coming based on the information in the pamphlets.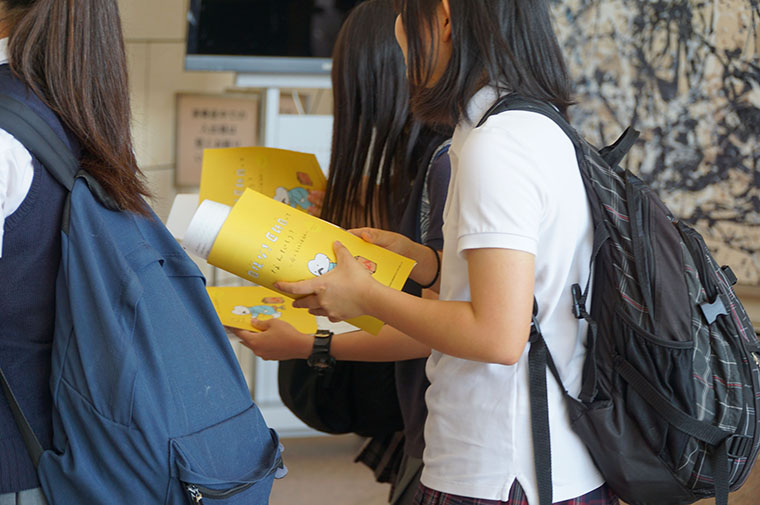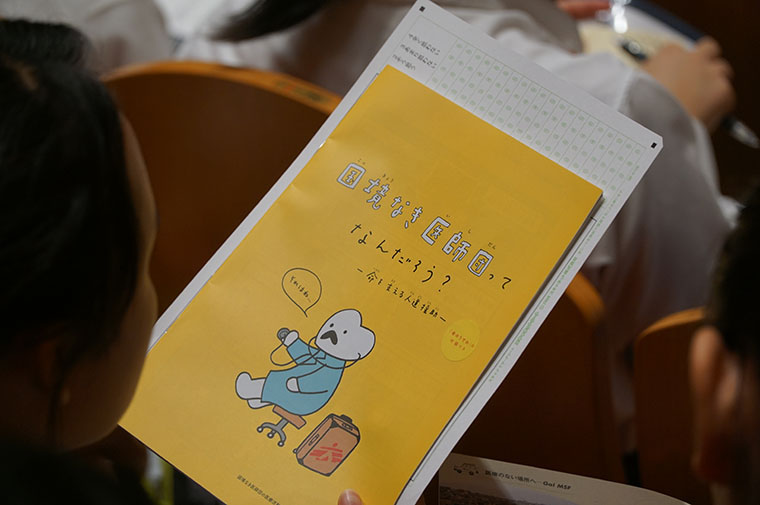 On this day, Ms. Risako Inoue, who is a pharmacist with Doctors Without Borders, was invited to speak. She talked about the activities of the group and her own experiences following the theme "For one life".
"Thank you. I am pleased to have this kind of opportunity." Said Ms. Inoue as she began.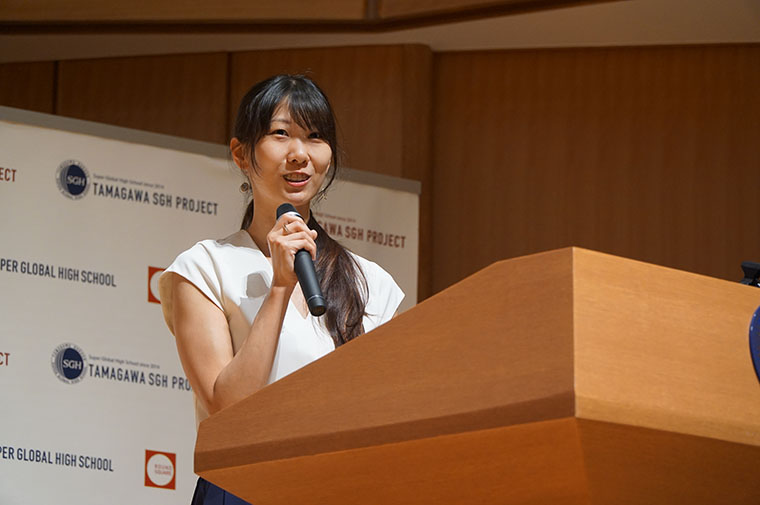 "There are people in many parts of the world who can not get health care. To help these people, various specialists who gather from all over the world, team up and provide medical care beyond their national borders. This is Doctors Without Borders."
Along with the introduction of Doctors Without Borders, she also told the audience about the circumstances in each country where she worked as a medicine specialist.
"Have you ever heard of South Sudan?", "Have you seen a picture like this?" she asked the audience. She showed pictures of the local clothing and food which were very different from those in Japan. The students focused very clearly on her as she explained about these things.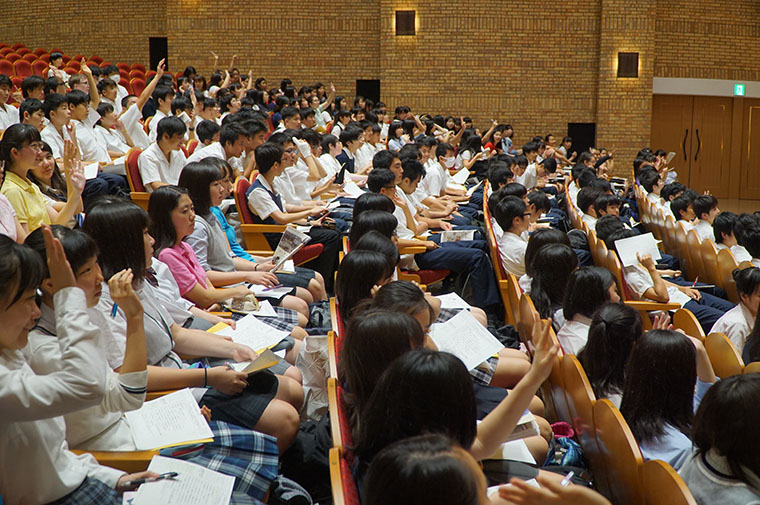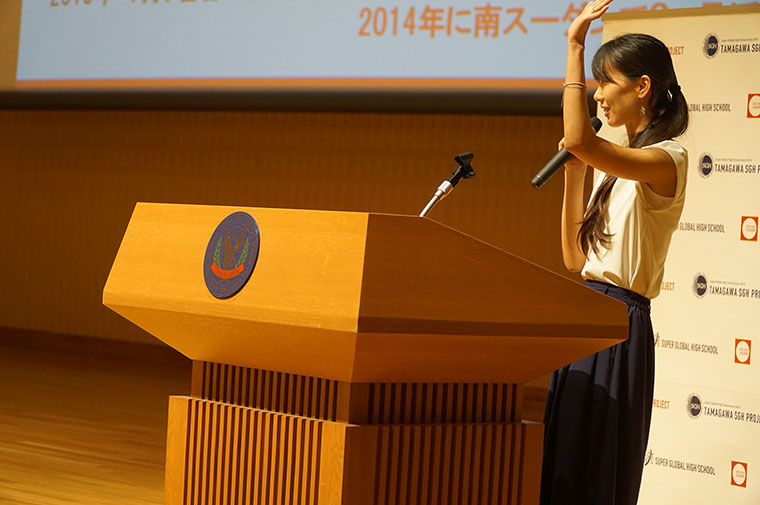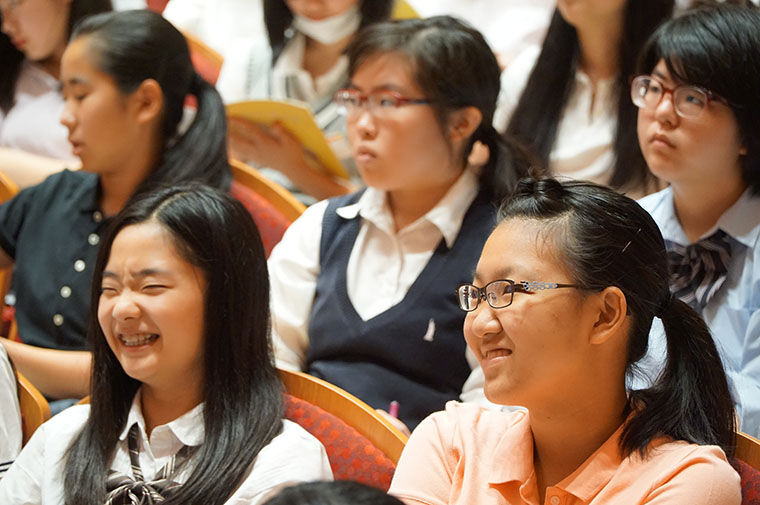 Ms. Inoue chose a career as a pharmacist when she was a high school student planning on what to study in university.
"At that time I was dreaming of working with people from various countries in international organizations.
I believed that special skills were necessary to be active in international organizations. I decided to focus on pharmacological skills, which I was interested in at the time ".
After Ms. Inoue studied pharmacology at university, she then worked at the university hospital for seven years. After that, she registered with the overseas aid group Doctors Without Borders. She was first sent to Malawi. From there she has been involved in activities in South Sudan, Papua New Guinea,
earthquake-stricken areas in Kumamoto, and other places.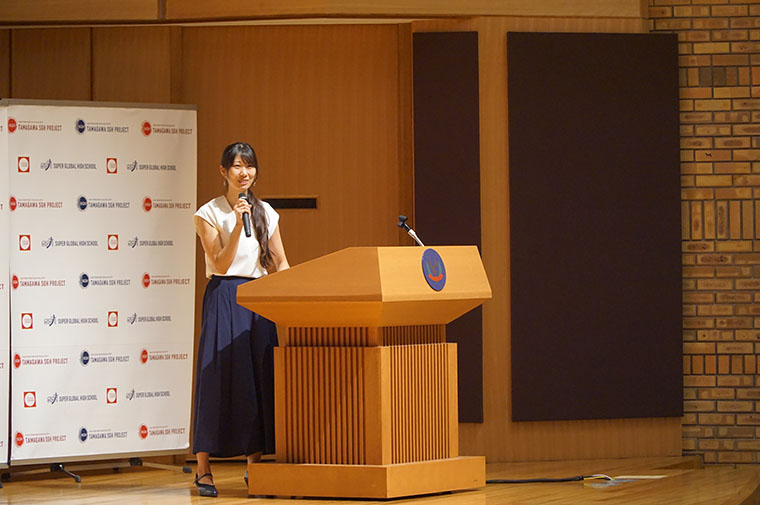 During her time working in various countries, she began to feel more aware of the importance of experts working in teams, cooperating with each other.
"At the Doctors Without Borders clinics, there are not onlymedical staff involved in medical treatment but also various people invloved in other indirect ways. For example, people who procure supplies, set up the Internet, and do assessments on effectiveness and safety. Everyone involved has an important role and the organization can't succeed without all of these people."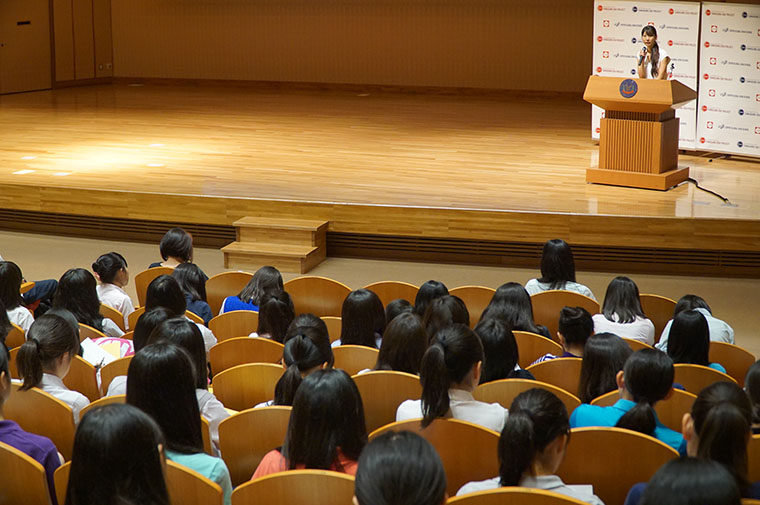 "The general image of a pharmacist is a person provides medicine prescribed by doctors, but there is more to it than just handing out medicine. " Team medicine " means that the doctors and nurses work as a team treating each patient. Pharmacists make proposals on ways to help patients from the viewpoint of a specialist. In addition, the pharmacists in Doctors Without Borders cooperate with each other on a variety of jobs, such as importing drugs and managing pharmacies."
Ms. Inoue has been cooperating with specialists from various countries and they have been solving problems together on a daily basis. Ms. Inoue, while talking about the working in such conditions, was clearly full of pride in the work done and felt it was rewarding.
However, Ms. Inoue said that there were lives which even a well built team can not save.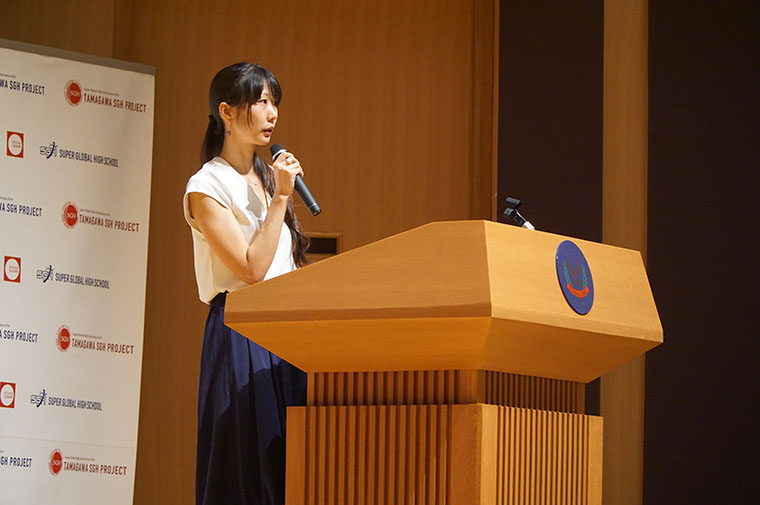 A girl with pneumonia died in a few minutes after Ms Inoue's team thought her condition was stable and moved on to the next patient. A girl with diabetes passed away while team went for a short nap.She witnessed many people die suddenly and unexpectedly.
"In Japan where medical treatment is in place, such things don't occur. I thought that it is unfair. Mr. Hiroyuki Kato, a pediatrician with Doctors Without Borders, spoke after taking a position in South Sudan "I felt that a lot of lives were falling from the palm of my hand." I empathize with that sentiment very much"
She continues to work in spite of facing a tough reality because the mission of "wanting to save lives" drives her. The students, who were touched by her commitment to her mission, listened quietly.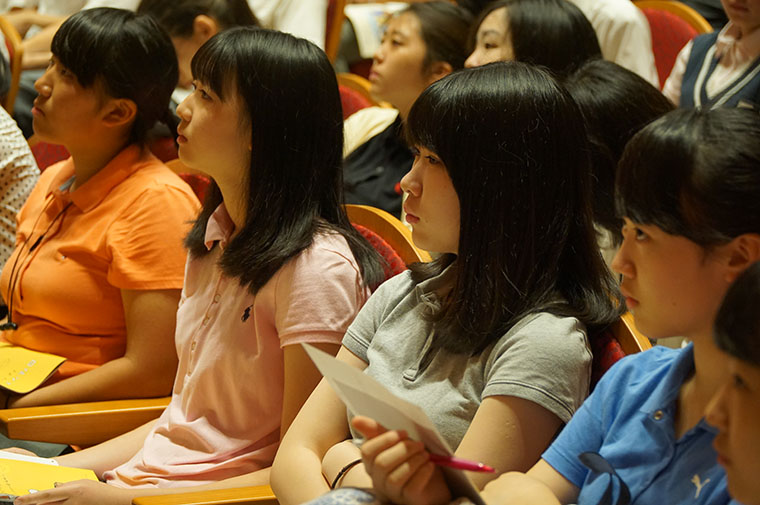 "I sympathized with the vision of solving global issues through medical care and participated in Doctors Without Borders. I think that the challenges in the world could no longer be someone else's affair. I hope you look at global issues somehow and find something that you can do. "
Ms. Inoue has accepted the weight of the life at clinical sites where life and death meet. Her message echoed in the students' hearts with its reality.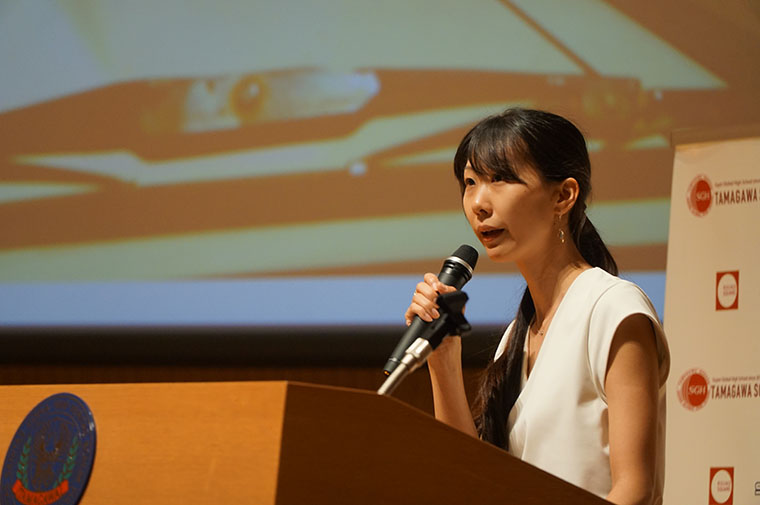 "Please tell me the age group of the patients who are going to be treated. Are there still many small children?" "Have you not been hesitant to go to dangerous areas?" Ms. Inoue answered the questions the students asked with a warm smile.
The students gave a big round of applause as the lecture ended.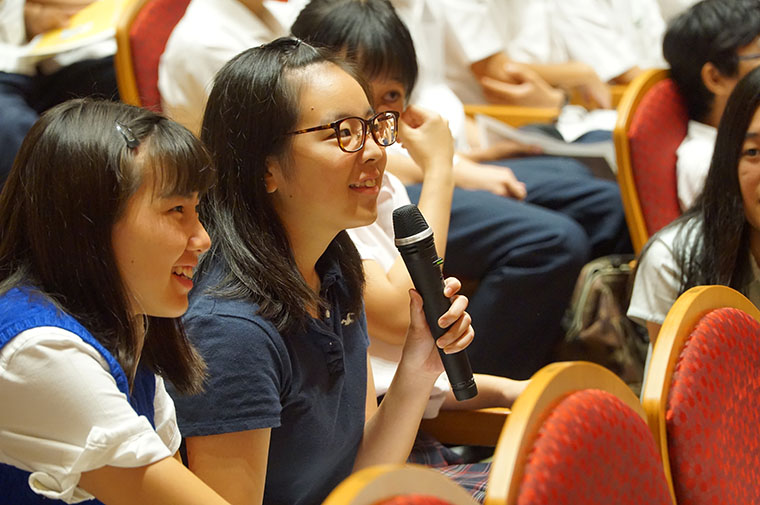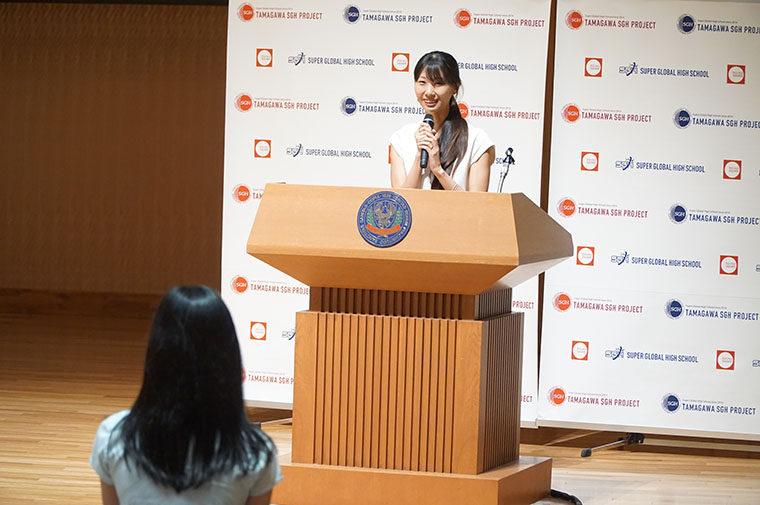 Ms. Inoue had not forgotten the brightness even in such harsh places. She worked with her team as a specialist and been devoted to solving medical problems. The students attitudes resonated with her sense of duty and her facing the challenges of the world.